Updated Nov 23, 2020 -

World
Tracking Biden's first calls to world leaders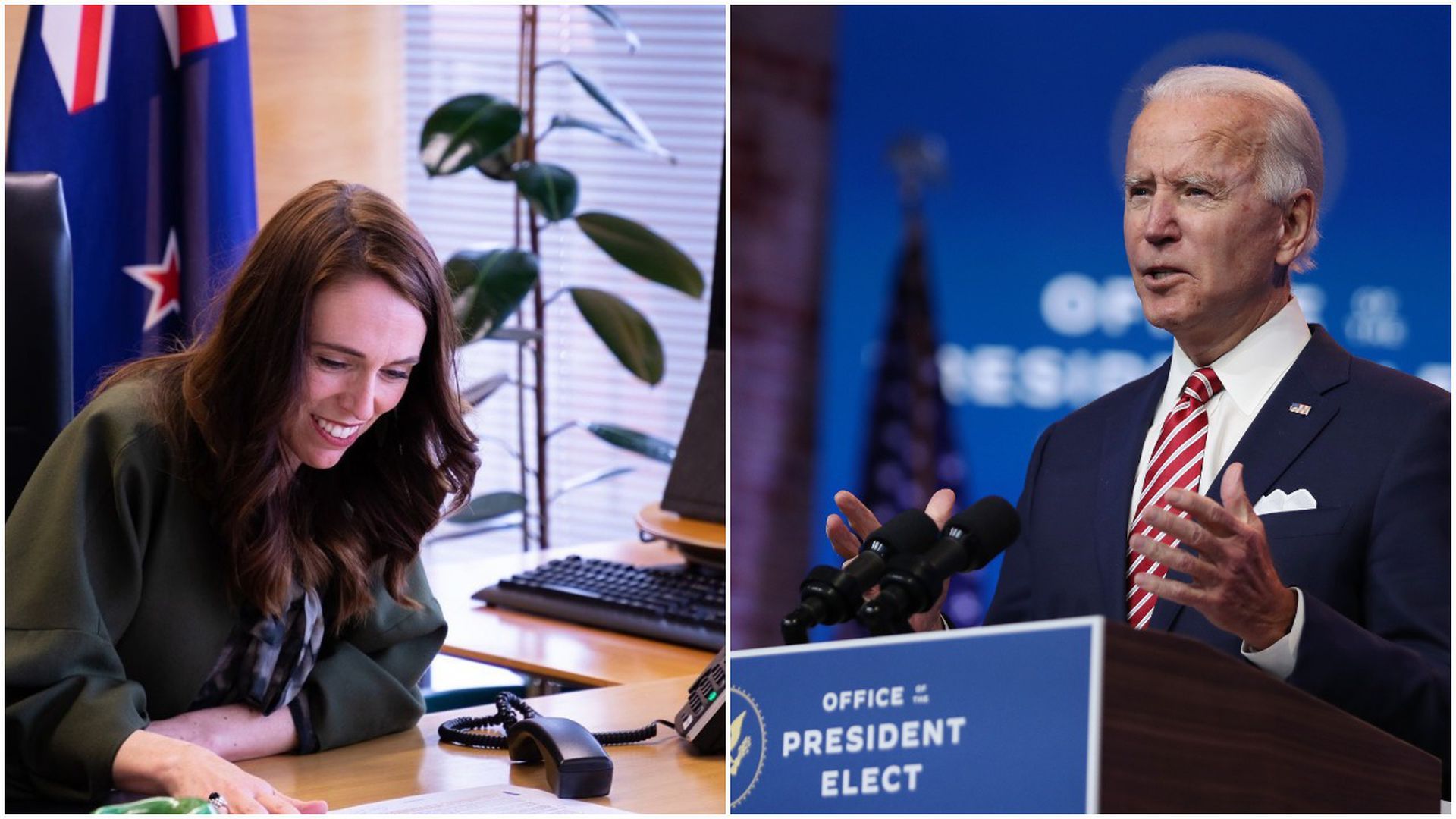 One ritual of becoming president-elect is the carousel of congratulatory phone calls with other world leaders.
What to watch: The order in which the calls are returned is watched closely around the world.
On Monday Nov. 9, Biden began with Prime Minister Justin Trudeau of Canada. Mexican President Andrés Manuel López Obrador might have been next — but he has declined to congratulate Biden.
The following day, Biden moved on to European allies: French President Emmanuel Macron, German Chancellor Angela Merkel, U.K. Prime Minister Boris Johnson and Irish Prime Minister Micheál Martin.
That Wednesday, Biden moved to the Asia-Pacific: Australian Prime Minister Scott Morrison, Japanese Prime Minister Yoshihide Suga and South Korean President Moon Jae-in.
That Thursday, Biden (who will be America's second Catholic president) talked with Pope Francis. He spoke with Italian Prime Minister Giuseppe Conte the following day.
Biden resumed the calls on Nov. 17, abandoning the regional approach from the week prior.
He called both Israeli Prime Minister Benjamin Netanyahu and Israeli President Reuven Rivlin. President Trump, by contrast, spoke only with Netanyahu.
Biden also called Chilean President Sebastián Piñera, Indian President Narendra Modi and South African President Cyril Ramaphosa.
On Nov. 22, his next call went to New Zealand Prime Minister Jacinda Ardern.
The following day, he made his first call to an Arab leader, Jordan's King Abdullah II.
That same day he placed three calls to Brussels. He spoke to Ursula von der Leyen and Charles Michel, the leaders of the European Commission and European Council respectively.
He also underlined his commitment to NATO with a call to Secretary General Jens Stoltenberg.
Flashback: Trump's approach to these calls appeared a bit more scattershot. He quickly returned calls to the leaders of around a dozen countries — including Turkey, India and Egypt — while leaving some close allies like the U.K. waiting.
Trump also angered China by taking a call from Taiwanese President Tsai Ing-wen.
Some of Trump's apparently off-the-cuff remarks in the calls made it into the press, though his transition team did not provide formal readouts as Biden's has done.
Worth noting: These calls would normally be arranged with the help of the State Department — including from interpreters as needed — but the Trump administration declined to make those services available to Biden prior to the official certification from the General Services Administration.
Go deeper: Nearly the whole world considers Biden president-elect
Go deeper