Armenian leader announces "painful" deal to end Nagorno-Karabakh war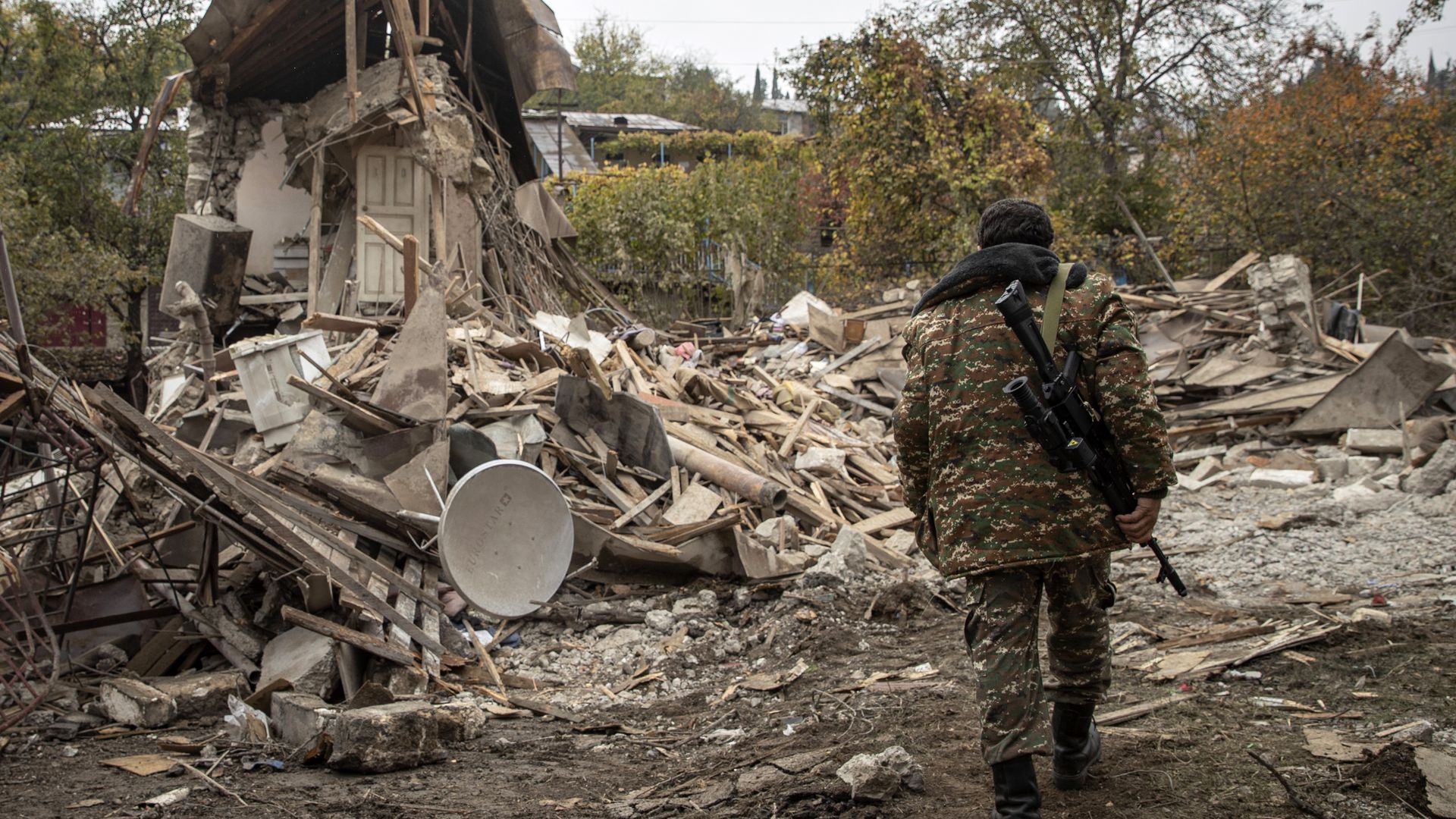 Armenian Prime Minister Nikol Pashinyan surprised his country and the world tonight by announcing that he had agreed to end the war in Nagorno-Karabakh on terms that were "unbelievably painful for me personally and for our people."
Why it matters: The announcement followed confirmation that Azerbaijan had taken a critical town in the breakaway region, which is majority ethnic Armenian but lies within neighboring Azerbaijan.
Pashinyan said he had agreed to the terms of the deal along with the leaders of Russia and Azerbaijan.
In a deeply emotional Facebook post, he conceded that this was "not a victory," but the best outcome Armenia could hope for under the circumstances.
Russia's Vladimir Putin and Azerbaijan's Ilham Aliyev held a live-streamed document signing to mark the deal, but Pashinyan did not take part.
Aliyev later gave a triumphant speech and said Pashinyan had not agreed to peace voluntarily, but "on account of this iron fist."
Driving the news: The announcement has sparked chaotic protests in Armenia's capital, Yerevan. Protesters have reportedly stormed government buildings.
"One protester yells at me 'Nikol has sold us out. He has betrayed this country,'" reports journalist Neil Hauer, who is on the scene.
Pashinyan's current whereabouts are unknown. Opposition parties are already demanding his resignation.
The big picture: Azerbaijan has made significant gains in and around Nagorno-Karabakh during the six-week-long war. It had vowed to change the status quo through military force after three decades of failed diplomacy.
With the help of its ally Turkey, it has now done so.
The deal calls for Russia to deploy peacekeepers to the region for five years, solidifying Russia's influence there. Per news site Meduza:
By Dec. 1, Armenia must return control of territories on the periphery of Nagorno-Karabakh that it has occupied since a war in the 1990s.
"Baku will retain control over the districts in the unrecognized Nagorno-Karabakh Republic that Azerbaijani troops seized during the 2020 war. This apparently includes the strategically and symbolically significant city of Shusha, which Azerbaijani troops captured on November 9," Meduza notes.
The capital of Nagorno-Karabakh, Stepanakert, will remain under Armenian control and Russian peacekeepers will ensure the mountain pass that links it to Armenia remains open.
"The signatories also agreed to refugees' right of return," to be overseen by the UN, Meduza reports. That will prove contentious if Azeris who fled during the 1990s war move into areas now populated by Armenians.
This story has been updated with details of the agreement.
Go deeper