Southern California wildfires grow as extreme winds fan flames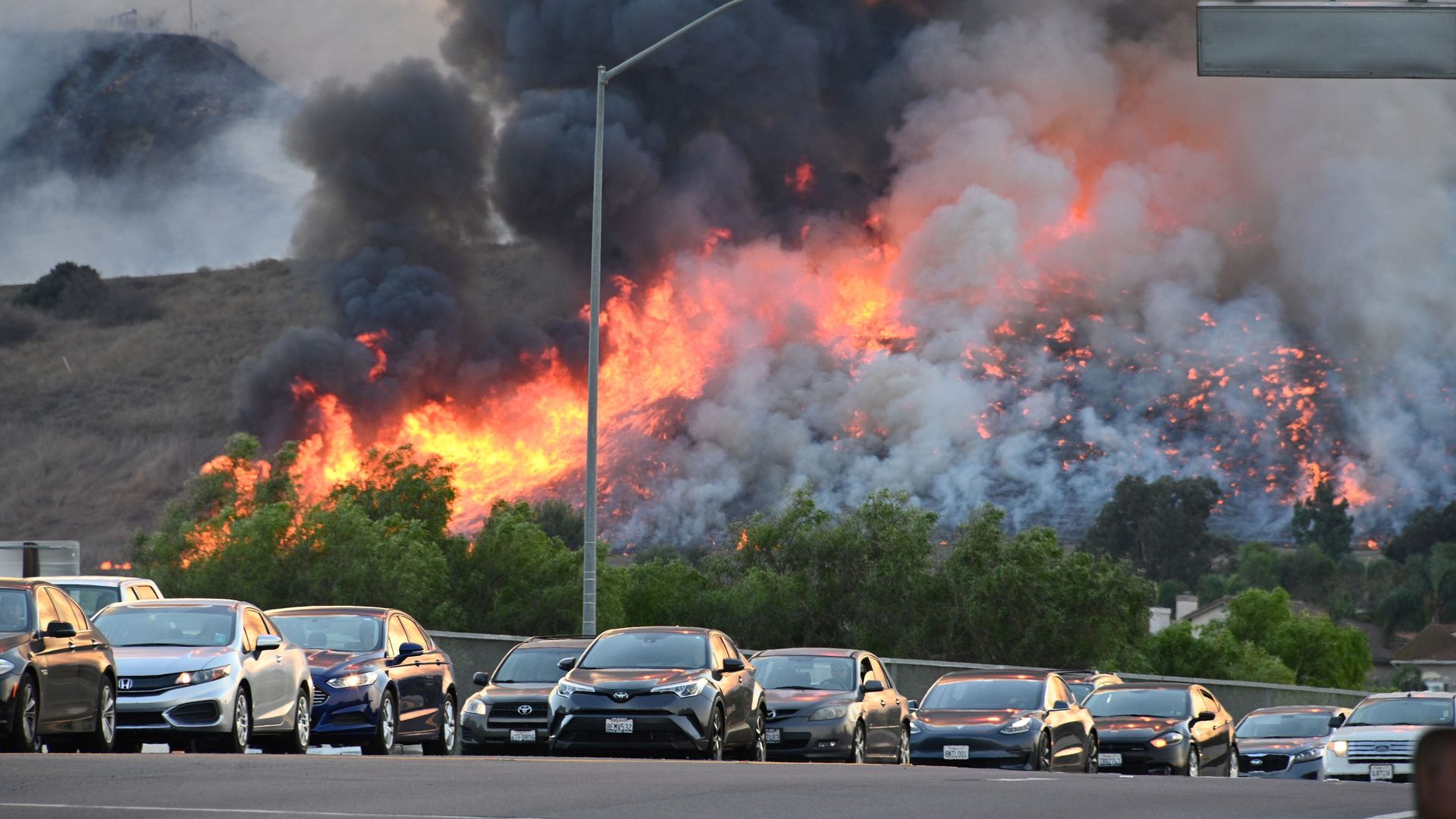 Firefighters in Orange County, Southern California, battled into the night two growing wildfires that have burned across more than 27,000 acres and forced tens of thousands of people to evacuate.
The state of play: The blazes have been driven by strong Santa Ana winds and forced the evacuation of some 92,000 people Monday, per Orange County Fire Authority officials. Mandatory evacuation orders were lifted for some parts of the city of Irvine late Tuesday as the fires continued to grow.
Smoke from the uncontained Blue Ridge Fire that has razed 15,200 acres and damaged 10 homes caused authorities to issue an unhealthy air quality advisory for the southern region of Los Angeles County.
The Silverado Fire has burned across 12,600 acres and was 5% contained by late Tuesday.
Driving the news: The Silverado Fire began at 6:47am Monday as a vegetation fire around Santiago Canyon Road and Silverado Canyon Road in Irvine, the City of Irvine said.
"The fire started in Silverado Canyon, and helicopters and fixed wing aircraft are on the way," Irvine Mayor Christina Shea stated in a press release.
The Blue Ridge Fire broke out Monday afternoon in Chino Hills, above Yorba Linda neighborhoodsy, according to Chino Valley Fire.
The big picture: Dry conditions and powerful winds across the state have prompted power cutoffs to hundreds of thousands of California residents to prevent utility equipment from sparking new fires.
The National Weather Service issued a red flag warning until Tuesday, with LA and Ventura counties potentially seeing gusts of wind up to 80 mph.
Utility Southern California Edison implemented a Public Safety Power Shutoff on Monday that has left 19,614 customers in Los Angeles, Orange, Riverside and San Bernardino counties without electricity until further notice.
Of note: Two firefighters battling the Silverado Fire were critically wounded and "covered in second and third degree burns" on Monday, the Orange County Fire Authority said in a statement.
Editor's note: This article has been updated to include the latest on the evacuation orders and the fires.
Go deeper