Trump says he'll nominate Chad Wolf to be DHS secretary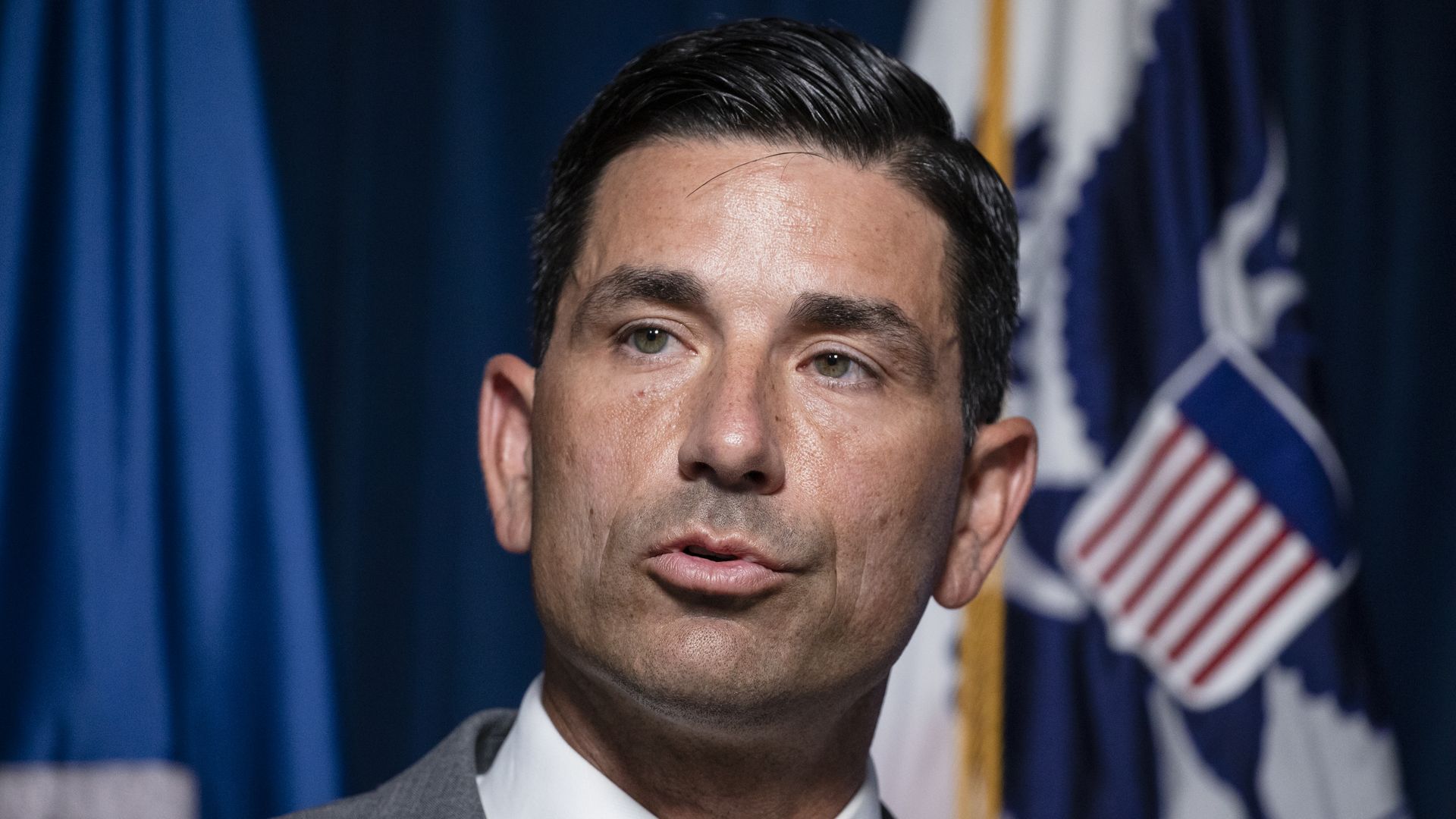 President Trump tweeted on Tuesday that he will nominate acting Homeland Security Secretary Chad Wolf to be the permanent head of the agency.
Why it matters: It's been more than 500 days since a Senate-confirmed secretary led the Department of Homeland Security — a record for any administration.
Wolf himself has served in an acting role since November 2019, taking over from acting Secretary Kevin McAleenan. Kirstjen Nielsen, who resigned in April 2019, was the last Senate-confirmed DHS secretary.
Earlier this month, the Government Accountability Office found that Wolf and his acting deputy Ken Cuccinelli are ineligible to serve in their positions because the administration did not follow federal law governing how certain leadership vacancies can be filled.
The big picture: Wolf has led the department through a tumultuous period, including riots in Portland that prompted the administration to deploy DHS agents to protect the city's federal courthouse.
Democrats have accused the Trump administration of orchestrating federal crackdowns in Portland and other Democrat-led cities, through DHS and the Justice Department, as part of an effort to burnish President Trump's "law and order" image ahead of his re-election campaign.
In response to Wolf's nomination, Senate Minority Leader Chuck Schumer told reporters in a call on Tuesday, "I think given his past action, he is an awful choice."
Our thought bubble, via Axios' Stef Kight: Although some hardliners were skeptical of Wolf's commitment to Trump's immigration agenda when he was chosen to lead the agency as acting secretary late last year, he has consistently been supportive of Trump— no more clearly than in his repeated defense of sending federal agents into Portland.
Flashback: Sen. Kamala Harris, now Joe Biden's running mate, grilled Wolf on the agency's deployment of federal agents in Portland during a Senate Homeland Security and Government Affairs Committee hearing earlier this month.
HARRIS: "Have you discussed deployments with any of the president's campaign staff?"
WOLF: "No."
HARRIS: "Has party affiliations come up in conversations with anyone about the deployments?"
WOLF: "Not in my conversations. … I'm not going to comment on any specific conversations with the president."
Go deeper: Watch "Axios on HBO's" interview with Wolf earlier this month
Go deeper