The pandemic's impact on NCAA fall sports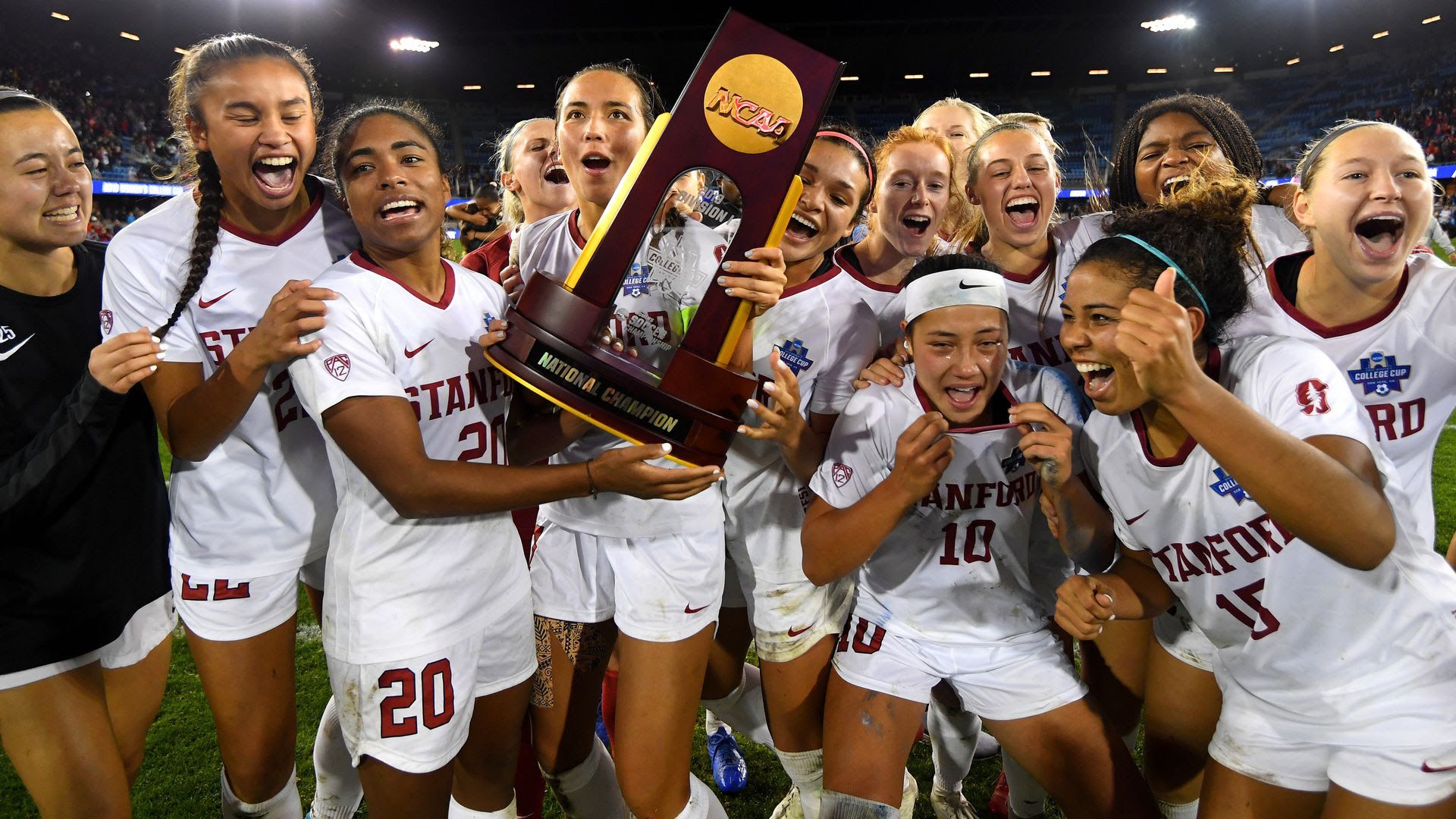 With college football grabbing most of the headlines, it's easy to forget the other fall sports that have been affected by the pandemic.
The state of play: The NCAA has postponed all fall championships (outside of FBS football), while regular season decisions are up to conferences and schools.
Three Power 5 conferences (SEC, ACC, Big 12) and three Group of 5 conferences (American, C-USA, Sun Belt) plan to play fall sports.
"We have to go on a crusade to not delay fall sports. We've got to hang in there. If we don't, it weakens the case to play football," said one Group of 5 athletic director.
Men's soccer:
Reigning champs: Georgetown (D-I), U of Charleston (D-II), Tufts (D-III)
The impact: While the number of USMNT members who played college soccer decreased dramatically last decade, the NCAA is still a primary source of national team talent. In 2018, nearly 40% of the roster played in college.
Women's soccer:
Reigning champs: Stanford (D-I), Grand Valley State (D-II), Williams (D-III)
The impact: The NWSL season begins in the spring, and with the addition of an expansion team (Racing Louisville), the demand for rookies will be greater than ever (more than a dozen rookies played in last month's Challenge Cup). Postponing fall soccer will impact that pipeline.
Women's volleyball:
Reigning champs: Stanford (D-I), San Bernardino (D-II), Johns Hopkins (D-III)
The impact: Top seniors often leave school after the fall season ends to play overseas, and a new domestic option will emerge in February with the debut of Athletes Unlimited. A spring season complicates things for those with professional ambitions.
Field hockey:
Reigning champs: UNC (D-I), West Chester (D-II), Middlebury (D-III)
The impact: Field hockey was one of the 11 sports that Stanford permanently dropped last month to help offset financial losses.
Cross country:
Reigning champs: BYU men and Arkansas women (D-I), Grand Valley State men and Adams State women (D-II), Pomona-Pitzer men and Johns Hopkins women (D-III).
The impact: Cross country runners often participate across all three seasons, with indoor and outdoor track following XC. So moving the season to the spring would require athletes to train on multiple surfaces at once.
Go deeper