Ford names James Farley as new CEO amid ongoing turnaround effort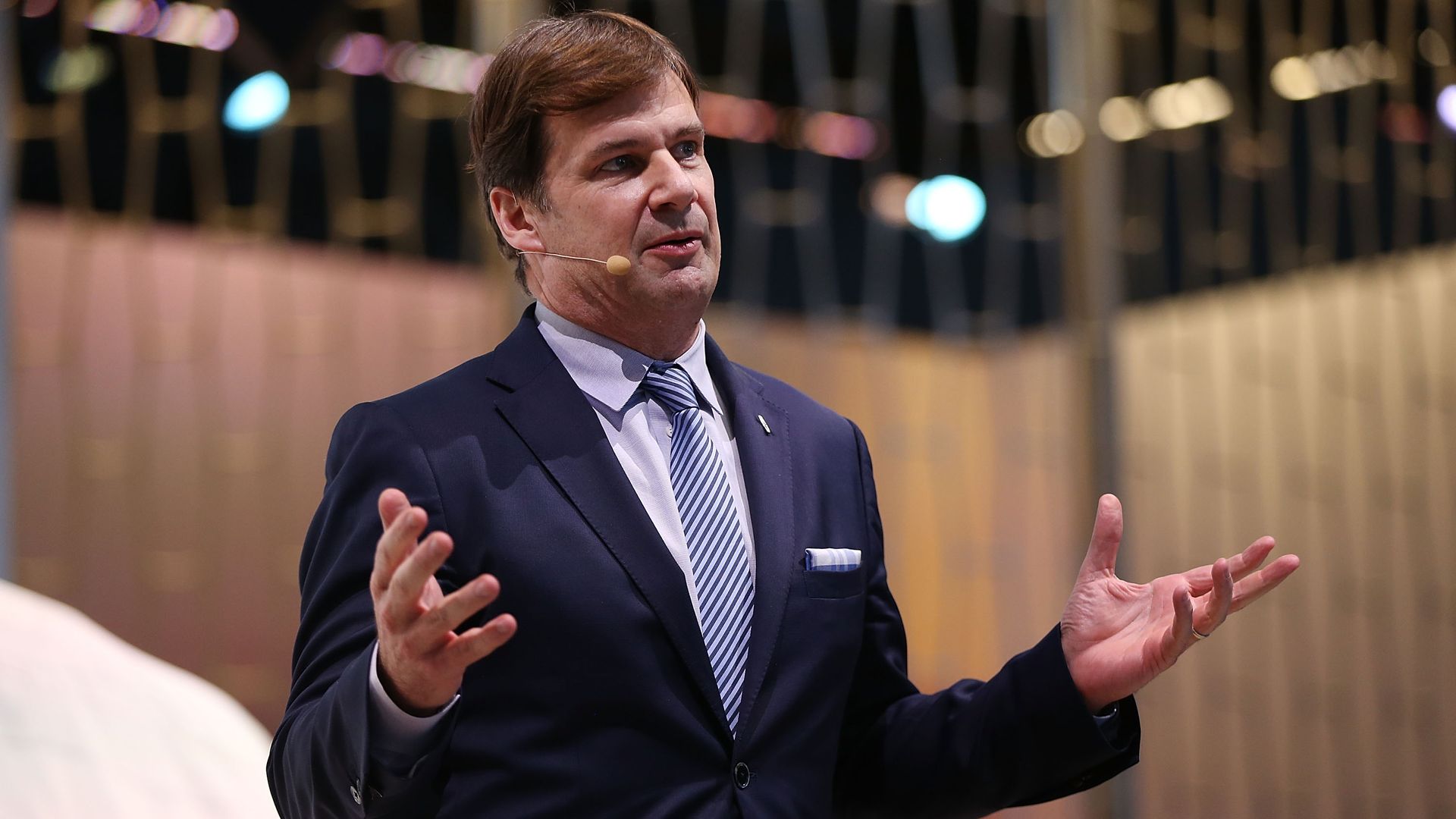 Ford Motor Co.'s new CEO, Jim Farley, is taking the reins from his predecessor, James Hackett, at a critical time.
Why it matters: The global auto industry is shifting quickly toward electrification, automation and transportation services, but Ford has been unable to keep pace. Hackett's $11 billion global transformation, launched in 2017, was slow to materialize, frustrating investors as Ford's stock dropped almost 40% during his tenure.
It's up to Farley, a former Toyota executive who joined Ford 13 years ago, to accelerate the restructuring while focusing on growth opportunities like software and fleet management services.
"We know our competition today is Amazon, Baidu, Tesla, Apple, Toyota, and others. They're well-financed and voracious companies," Jim Farley, incoming Ford CEO, told reporters Tuesday.
Farley described four goals during a call with reporters and said he'll provide more details soon:
To grow and expand its strengths, especially battery-powered commercial vehicles like vans.
To make software and infrastructure just as important as its products.
To expand its lineup of affordable vehicles and services.
To lower the cost of moving people and goods through automated vehicle technology.
Farley said the company must "swing for the fences" to fulfill its mission, including a return to 10% profit margins in North America.
Yes, but: Doing so will be difficult in the face of the economic collapse triggered by the pandemic, which shuttered Ford plants for two months and saddled the company with debt.
For the record: While Hackett was often misunderstood because of his Socratic leadership style, the former Steelcase CEO and University of Michigan athletic director succeeded in setting the automaker on the right course, said Executive Chairman Bill Ford Jr.
Hackett made the controversial decision to stop building unprofitable sedans, negotiated an important partnership with Volkswagen and pushed Ford into new mobility initiatives.
"He still doesn't get enough credit for taking on the tough issues, and slaying the sacred cows of our business. He cared more about the company's reputation than his own."
— Bill Ford Jr.
What to watch: "Nothing makes me happier than having a smooth transition," Bill Ford said. "And now we have it."
Farley takes over on Oct. 1 and Hackett will remain a strategic advisor to the company until March 2021.
This story has been updated with new details.
Go deeper