How the U.S.-China consulate closures could impact espionage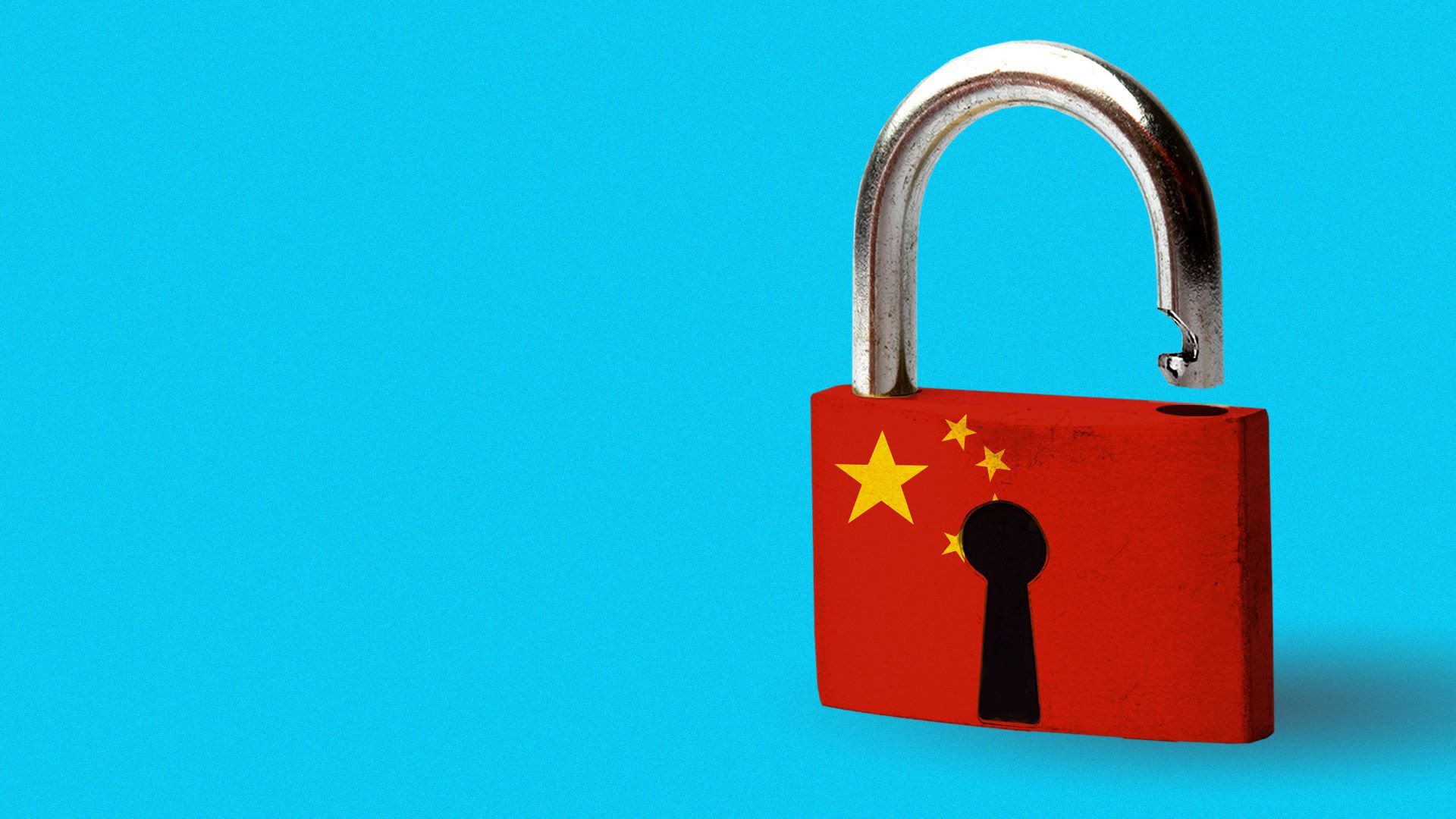 It is a universally accepted international convention that diplomatic facilities can be used as cover for espionage activities. But the system only works if states pretend not to acknowledge it.
The state of play: A decision last week by the Trump administration to shutter the Chinese consulate in Houston over allegations that China used it for spying set off a predictable diplomatic firestorm.
Beijing retaliated by ordering the U.S. consulate in the western Chinese city of Chengdu closed.
The big picture: No major diplomatic incident or significant norm-breaking act of espionage between the two economic superpowers preceded the Houston closure.
That's unlike the administration's targeted 2017 closure of the Russian consulate in San Francisco, which was a reverberation from Moscow's covert interference in the 2016 U.S. presidential election, and its 2018 shuttering of the Russian consulate in Seattle, which was explicitly linked to Moscow's use of the world's deadliest nerve gas on a Russian defector in the U.K.
Details: After the closure announcement, the New York Times obtained a dossier that "broadly outlined" investigations by FBI counterintelligence into espionage and influence activities emanating from the facility. These included:
Attempted medically focused intellectual property theft.
The courting of local academics performing sensitive research.
Hard-edged pressure on Chinese dissidents in the area.
Yes, but: Jarring as it may sound, this is unremarkable activity for a Chinese consular establishment.
Though its collection priorities differ, the U.S. also conducts widespread intelligence operations out of its diplomatic facilities abroad.
Indeed, in 2016, China reportedly snatched, accosted and temporarily detained a suspected U.S. intelligence operative off the streets of Chengdu. This person was formally working out of the now-shuttered U.S. consulate there.
Reality check: Countries spy on each other, and they do it out of embassies and consulates. (China's kidnapping of this U.S. operative, however, was a significant violation of the unofficial rules of the game.)
The Chinese consulate in Houston wasn't even one of its top-tier facilities for intelligence collection within the U.S., say former intelligence officials.
It was "the lowest priority of all the consulates" for U.S. counter-spies, said a former senior counterintelligence official.
The Houston consulate was "not a hotbed, but there was certainly enough intelligence activity" emanating from there, said another former senior intelligence official.
The Houston closure without a doubt hurts China's intelligence collection capabilities domestically, and U.S. officials have said that the FBI strongly supported the move.
In the past, there have been a few well-identified intelligence officers operating out of the facility, said the second former senior intelligence official, including one recently engaged in "blatant handling" of a human asset at a large American company.
But China doesn't generally emphasize using its diplomatic outposts for spying, say intelligence officials. Instead, it employs an amorphous mix of operatives — from graduate researchers to tourists to pro-Beijing community leaders — to carry many of its collection priorities.
Indeed, Chinese spies under diplomatic cover in the U.S. have often had a narrow focus, says the former senior counterintelligence official.
They "were more concerned about keeping tabs on overseas Chinese," says this person. "It was an internal security issue for them."
China has also been engaged in a well-documented cyber espionage spree targeting U.S. intellectual property, vast tranches of personally identifiable information, as well as defense and other technology secrets.
None of these activities will be affected by closing a single diplomatic outpost. "It won't deter them domestically," says the former senior intelligence official.
Between the lines: The Houston closure may have been designed to send a general warning to China about Beijing's ubiquitous spying, and Houston may have been selected precisely because it is such a low-profile facility.
But there are also potential costs to the U.S.'s actions. For instance, we don't know what the CIA thinks of the move.
It relies on America's diplomatic outposts abroad for its own spying, and now, with the shuttering of the U.S. consulate in Chengdu, it just lost its window into western China.
And how might the Chengdu closure affect the State Department's insight into China's vast repression of the Uighurs in Xinjiang, or the political, economic and public health situation in western China more broadly?
The bottom line: The Trump administration's moves against Russia's diplomatic facilities in San Francisco and Seattle were carefully calibrated reactions to major normative violations of U.S. and U.K. sovereignty. But the rationale for the Houston closure rests on far murkier grounds.
Many will wonder whether, in this case, the Trump administration let politics — the desire to ratchet up pressure on China, which it blames for the pandemic — eclipse the prerogatives of national security.
Go deeper