Oregon governor announces "phased withdrawal" of federal agents from Portland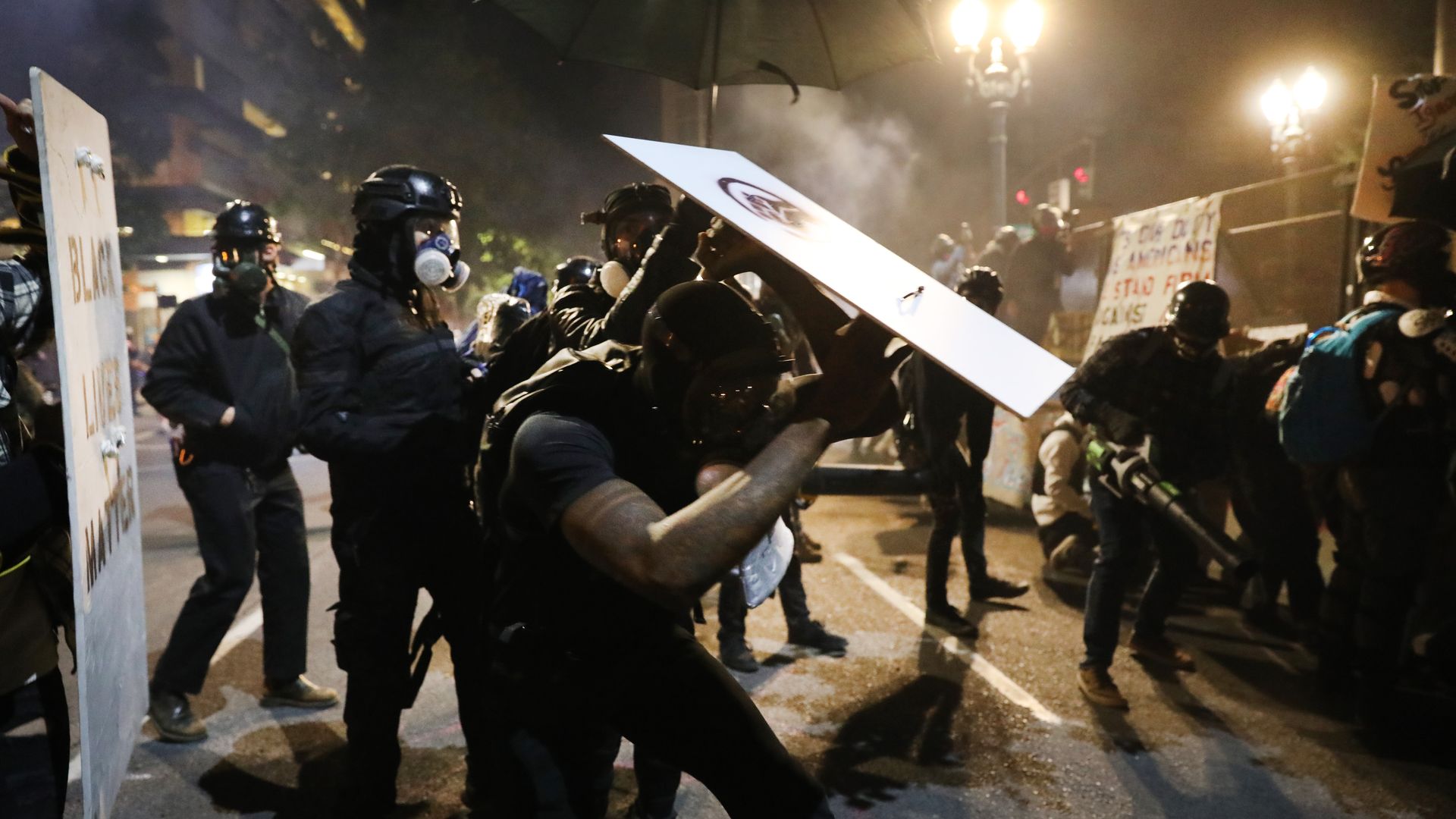 The Trump administration has agreed to a "phased withdrawal" of Customs and Border Protection and ICE agents from Portland, Oregon Gov. Kate Brown (D) announced on Wednesday.
Why it matters: The news comes after weeks of violent clashes between protesters and federal law enforcement deployed by the Trump administration to protect Portland's federal courthouse.
Democrats have accused federal law enforcement of escalating violence against civilians and detaining protesters in unmarked vehicles.
Attorney General Bill Barr, echoing other Trump top officials, said Tuesday that protesters' nightly attacks on the courthouse are "an assault on the government of the United States."
What they're saying: "After discussions with the Vice President and administration officials this week, the federal government has agreed to my demand and will withdraw these officers from Portland. They will also clean up the Courthouse, removing the graffiti," Gov. Brown said.
"I have grown increasingly concerned at the nightly confrontation between local community members and federal officers. We need to recognize that the protests in Portland are not solely about the federal presence. They started before federal agents descended on our city and they will likely continue after they leave," Brown said.
The other side: Acting Homeland Security Secretary Chad Wolf said in a statement that the administration and Oregon had agreed to a "joint plan to end the violent activity in Portland directed at federal properties and law enforcement officers," which would include a "robust presence" of Oregon State Police to secure federal property.
Yes, but: Wolf said that Homeland Security personnel would stay in Portland "until we are assured that the Hatfield Federal Courthouse and other federal properties will no longer be attacked."
"The Department will continue to re-evaluate our security posture in Portland, and should circumstances on the ground significantly improve due to the influx of state and local law enforcement, we anticipate the ability to change our force posture, as we do everyday at our other 9,000 federal properties we protect across the country," he added.
Go deeper: Justice Department to send federal agents to Cleveland, Detroit and Milwaukee
Go deeper