Conservatives aim to cool GOP's newfound antitrust fervor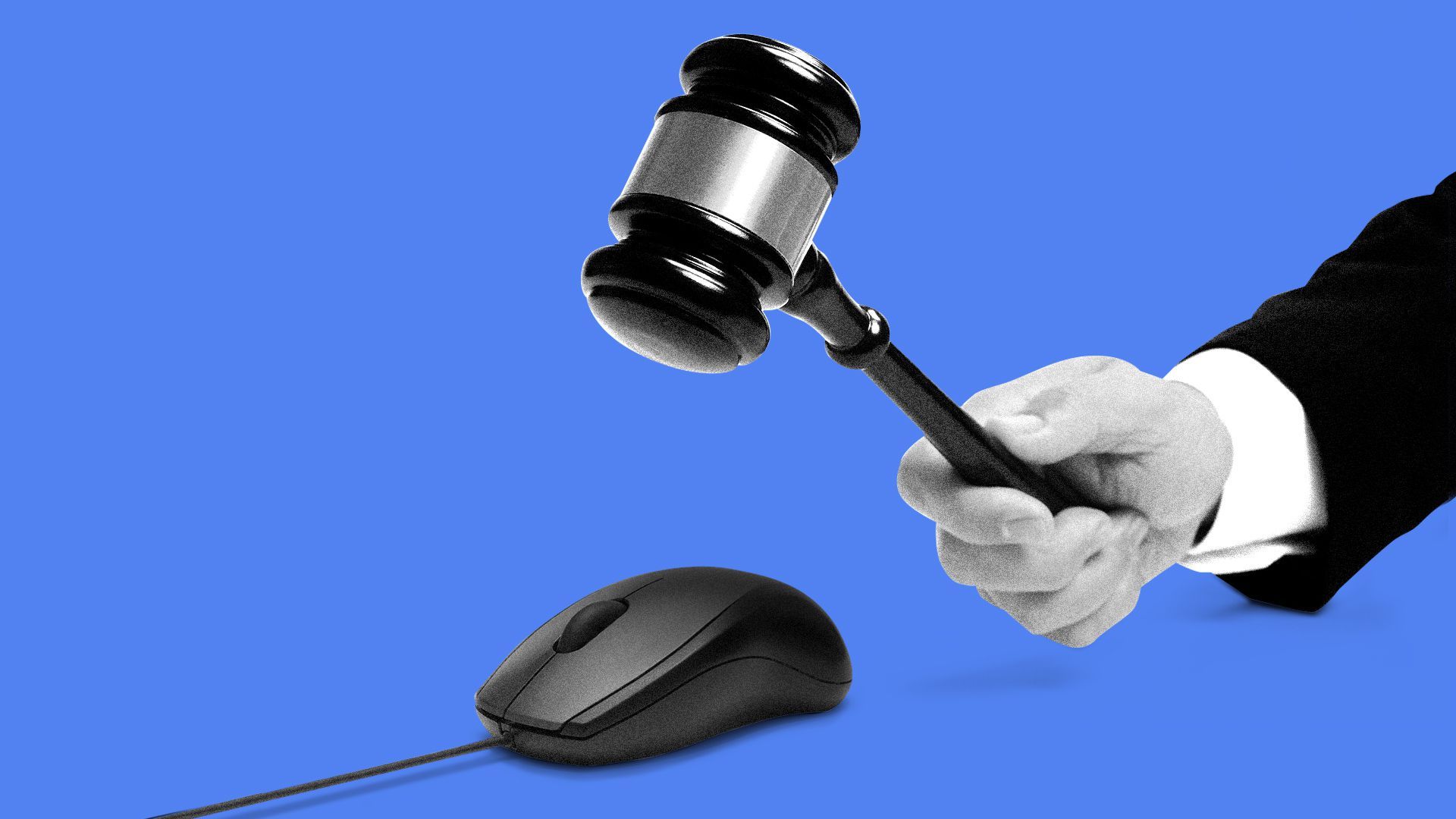 Antitrust laws don't need updating, big isn't bad and American success should not be punished, argues a new conservative coalition pushing back on Republicans who view antitrust action as the remedy for their grievances with Big Tech.
Why it matters: A fragile bipartisan consensus that there's too much power concentrated in Silicon Valley is helping to propel federal and state antitrust investigations of major tech firms. Right-leaning groups troubled by that development are looking to rally like-minded conservatives to their side.
Driving the news: The Alliance on Antitrust officially launches today, the same day the CEOs of Apple, Amazon, Google and Facebook are set to testify in a major antitrust hearing. The new group brings together more than a dozen right-of-center groups and individuals and is spearheaded by the Committee for Justice, a Republican group that promotes conservative judicial nominees.
The coalition formed in response to calls to weaponize antitrust for broader purposes, Ashley Baker, director of public policy at the Committee for Justice, told Axios.
Context: Some Republicans in the Trump administration, Congress and state AGs' offices say antitrust action can help address concerns like their claim that tech platforms are biased against conservatives.
That's a sharp break from decades of GOP agreement that the government should give private enterprise a wide berth and only step in with antitrust enforcement if there's clear evidence of harm to consumers, chiefly measured by whether powerful companies raise prices.
"We're concerned about the direction this debate is taking," Baker said. "The debate is all over the place, and people are conflating content moderation with antitrust."
Members include traditionally Republican groups, including: Conservatives for Property Rights, National Taxpayers Union, the American Legislative Exchange Council, FreedomWorks, Innovation Defense Foundation, Citizens Against Government Waste, Institute for Policy Innovation, Taxpayers Protection Alliance and Digital Liberty.
Four state-based policy groups have joined as well, due to concerns over what they see as politicization of antitrust by state attorneys general who are investigating major technology companies.
What next: Baker said group members will be sending letters to Congress, including one sent this morning to the House Judiciary antitrust subcommittee convening today's hearing, urging lawmakers to not let conversations about antitrust get mixed up in privacy and content moderation concerns.
Former Trump administration official Stephen Moore, now working with the Committee to Unleash Prosperity, has signed onto the letter as well.
The U.S. Chamber of Commerce is also defending the antitrust status quo with a new campaign this week urging policymakers not to rewrite competition laws or politicize the enforcement of existing ones.
The other side: Rep. Ken Buck, a Republican on the antitrust panel, told Axios that he too thought the government should leave American companies alone until his panel spent a year investigating the platforms.
"I understand where some conservatives are coming from, because I was there a year ago, and after listening to testimony and field hearings and after reading documents and many reports, I'm convinced that these players have such a dominant position in the marketplace that they are able to act in ways that are anti-competitive," he said.
Congress should update antitrust law to reflect today's market, Buck contended. "I don't think you can get to privacy issues and bias if you didn't have this anti-competitive behavior, and so I think they're all related," he said.
Meanwhile: Public opinion continues to darken on large technology companies. Per results shared exclusively with Axios of a survey from Utah State University's Center for Growth and Opportunity and YouGov, 70% of Americans polled said they believe tech companies are too big. (The survey polled 1,000 Americans, with a demographic breakdown reflecting that of the U.S. overall.)
Yes, but: Far fewer — some 44% — said big tech firms should be broken up.
Of the four companies appearing at today's hearing, Facebook saw the most negative sentiment in the poll, with 47% of respondents saying the world would be better off if it were broken up and more than two-thirds saying they do not trust the company with their data.
Go deeper: Big Tech marshals a right-leaning army of allies for antitrust fight
Editor's note: This story has been corrected to reflect that the American Action Network is not a charter member of the coalition.
Go deeper