The push to remove statues honoring Spanish conquistadors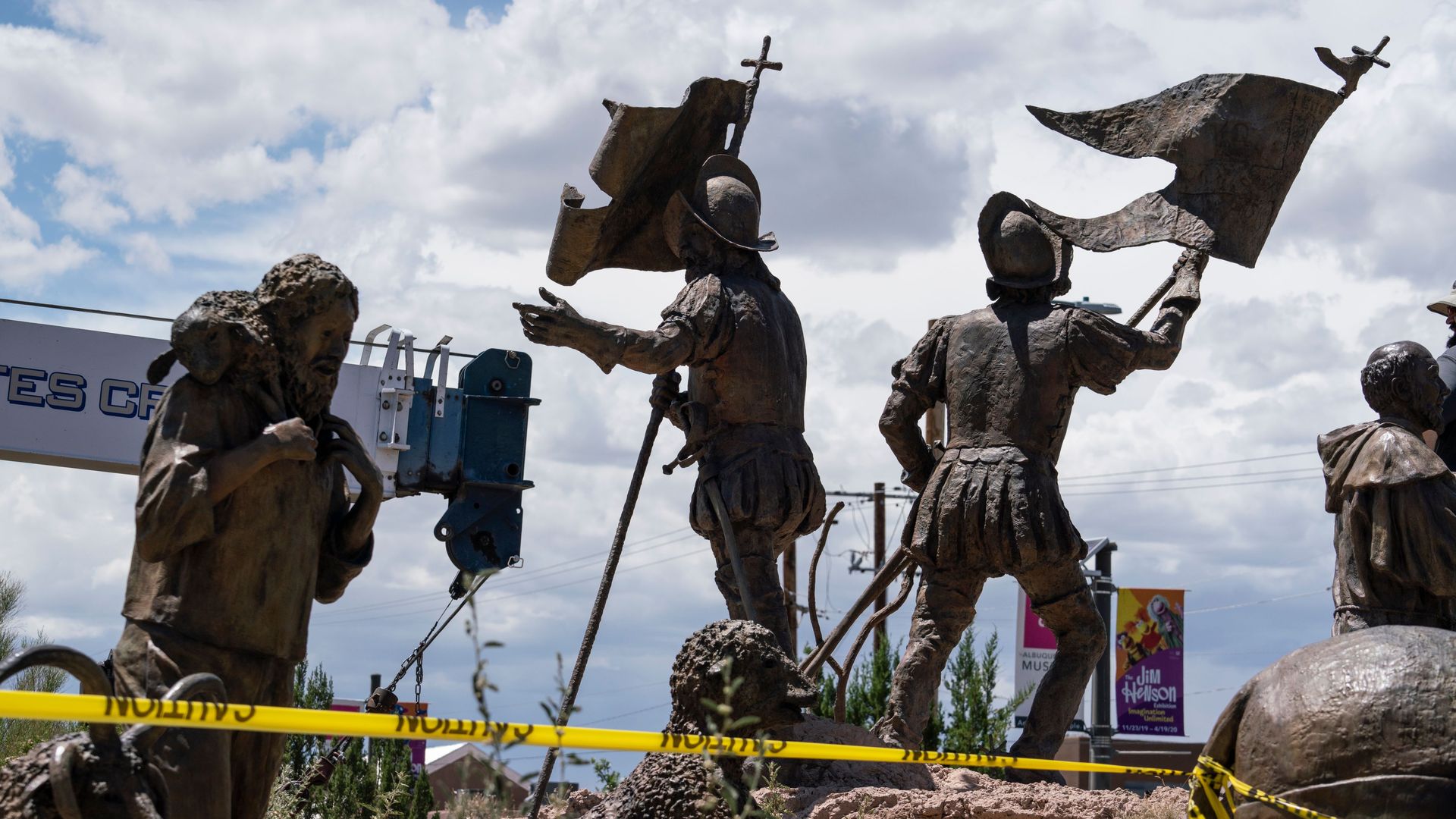 Native Americans are pushing for the removal of statues memorializing conquistadors, particularly in the Southwest, as the country continues to reckon with systemic racism in the aftermath of George Floyd's death.
The big picture: Native Americans have long claimed the statues honor colonizers who ravaged their communities, enslaved their people and committed other atrocities, AP reports. Some Hispanic and Latino communities argue against removing the statues, however, claiming that doing so erases history and expunges Hispanic culture, The Guardian reports.
The other side: Some view the conquistadors as resistance in their own right against the "dominance that Anglos have often wielded," The New York Times writes.
The Spanish Embassy in the U.S. has said it will defend Spanish legacy in America and will continue educational efforts for "the reality of our shared history to be better known and understood," per AP.
The state of play: Protestors in San Francisco and Los Angeles have toppled statues of Junípero Serra, according to USA Today. Serra founded many of California's missions, which were established to convert Native Americans to Christianity.
A statue of Diego de Vargas in Santa Fe, N.M., has also been removed. He reconquered areas of what today are New Mexico and Arizona following the Pueblo Revolt in the 17th century.
The statue of Juan Ponce de León was vandalized in Miami, covered in spray paint and rotten eggs. De León led the first European expedition to what is today Florida.
Zoom in: Controversy has clouded statues honoring Spanish conquistador Don Juan de Oñate in Albuquerque, N.M., for years. The city recently ordered the statue to be removed and taken to storage after protesters threatened to topple it, AP notes.
The 16th-century conquistador came to America with the intention of colonizing the Southwest. He ordered the killing of 800 people in Acoma Pueblo, sent Indigenous girls to convents in Mexico City, enslaved adolescents and ordered his men to amputate a foot of at least 24 male captives, the Times notes.
"For the first time in many years, we don't have to stare at Oñate. The presence of that statue was an act of violence upon Pueblo people from the moment it was put up and now, finally, it's gone."
— Elena Ortiz, a Red Nation leader,
told the Santa Fe New Mexican
The bottom line: Chris Eyre, a Cheyenne-Arapaho filmmaker, told The New York Times, "Trump asked if all this stops with Washington or Jefferson. For me, that's actually where it starts because we need to go back a whole lot further to examine the crimes upon which these lands were claimed."
Go deeper