Lawmakers come under scrutiny for stock sales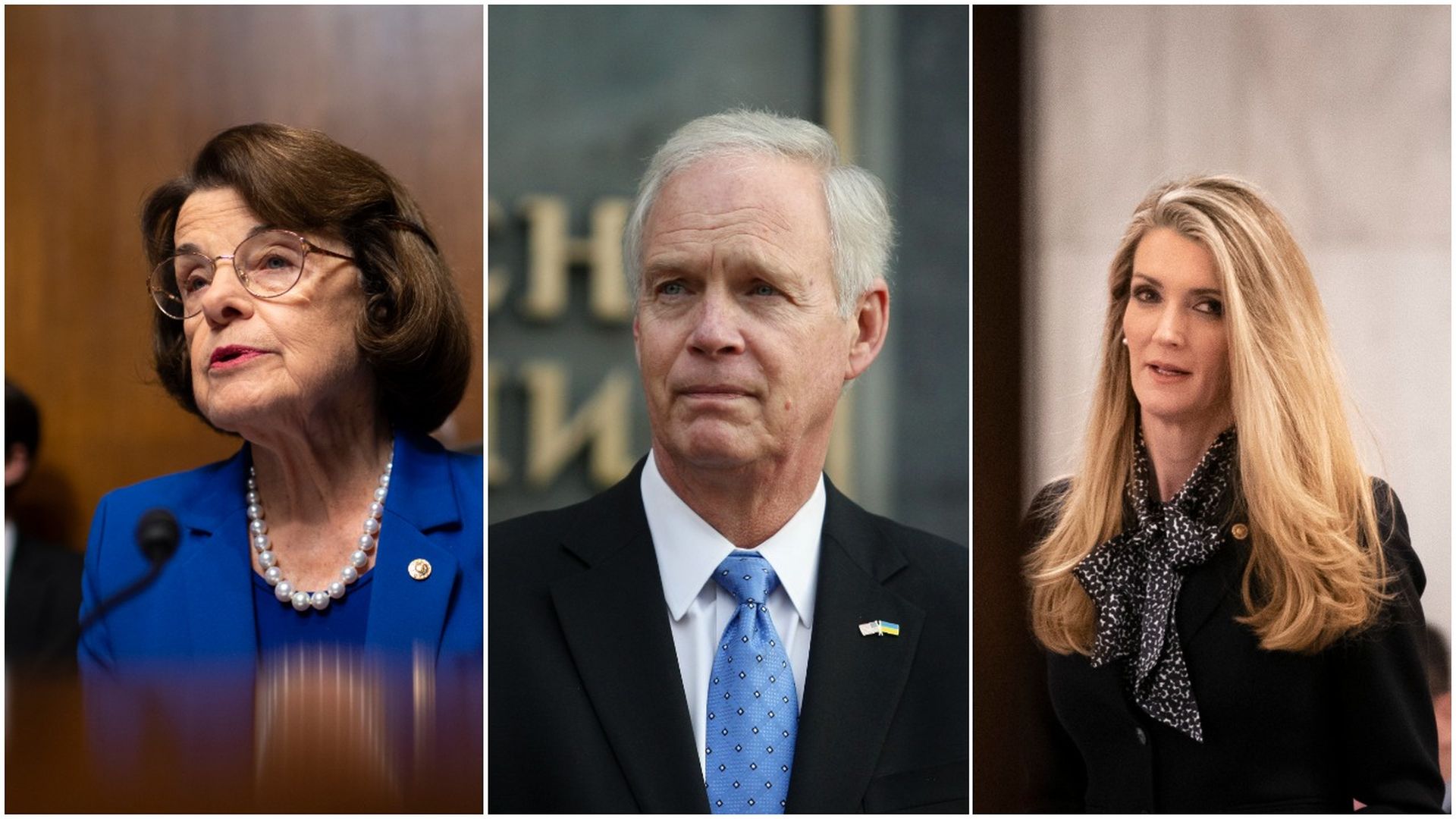 Several U.S. senators have come under fire for making large stock trades while President Trump and other federal officials publicly downplayed the novel coronavirus threat, but after the lawmakers received a private briefing on the potential seriousness of COVID-19.
The state of play: The trades have sparked insider trading accusations, but it's impossible to know for sure without an investigation by the Justice Department or the Securities and Exchange Commission.
On Jan. 24, senators reportedly were invited to a private briefing on COVID-19. Among those presenting were Dr. Anthony Fauci, head of the National Institute of Allergy and Infectious Diseases, and Dr. Robert Redfield, director of the Centers for Disease Controls and Prevention.
Sen. Kelly Loeffler (R-Ga.) that same day sold shares in smart home product company Resideo Technologies, and over the next several weeks made another 28 trades, per her financial disclosures. Only two of the trades were purchases ⁠— including between $100,000 and $200,000 worth of shares in Citrix, a videoconferencing software maker whose stock price has risen as people are forced to work from home.

Loeffler has said her trades are made by an outside manager, and she doesn't learn of them until after the fact. It is impossible to know, sans investigation, if she relayed inside information to that outside manager.

Sen. Richard Burr (R-S.C.), chairman of the Senate Intelligence Committee, sold more than $1.72 million of stock on Feb. 13, including holdings in hotel chains Wyndham and Extended Stay America.

Two weeks later he told a private luncheon that coronavirus is "much more aggressive in its transmission than anything that we have seen in recent history." He did not make similar comments publicly.
Burr, who did not claim to use an outside advisor, has called for an probe into his trades by the Senate Ethics Committee.

Sen. Diane Feinstein (D-Calif.) disclosed the sale of between $1.1 million and $5.5 million of stock in cancer drug company Allogene Therapeutics in February.

She says the trades were made by her husband, as her personal assets are in a blind trust, and that she did not attend the Jan. 24 meeting.
Allogene shares on Friday closed lower than on any other day since the company went public in 2018.

Sen. James Inhofe (R-Ok.) sold between $170,000 and $400,000 of stock on Jan. 27, including in Apple, Paypal and an investment firm with large commercial property holdings.

Inhofe says he didn't attend the Jan. 24 briefing and that the trades were made by an outside manager.

Sen. Ron Johnson (R-Wisc.) on March 2 sold between $5 million and $25 million in Pacur, a plastics company he previously ran.

This one might not require investigation. Pacur isn't publicly traded, and Johnson sold his stock to a private equity firm that in mid-February announced plans to buy Pacur.
There was social media speculation on Friday that the SEC already filed charges against three of the senators, but an agency spokeswomen declined to confirm or deny.
The bottom line: It's improper to jump to conclusions. It's necessary for those with subpoena power to ensure that elected officials aren't illegally profiting from their positions.
Go deeper: Senate Intel chair sold up to $1.6 million in stock before market crash
Go deeper