House Democrats lose appeal to force McGahn testimony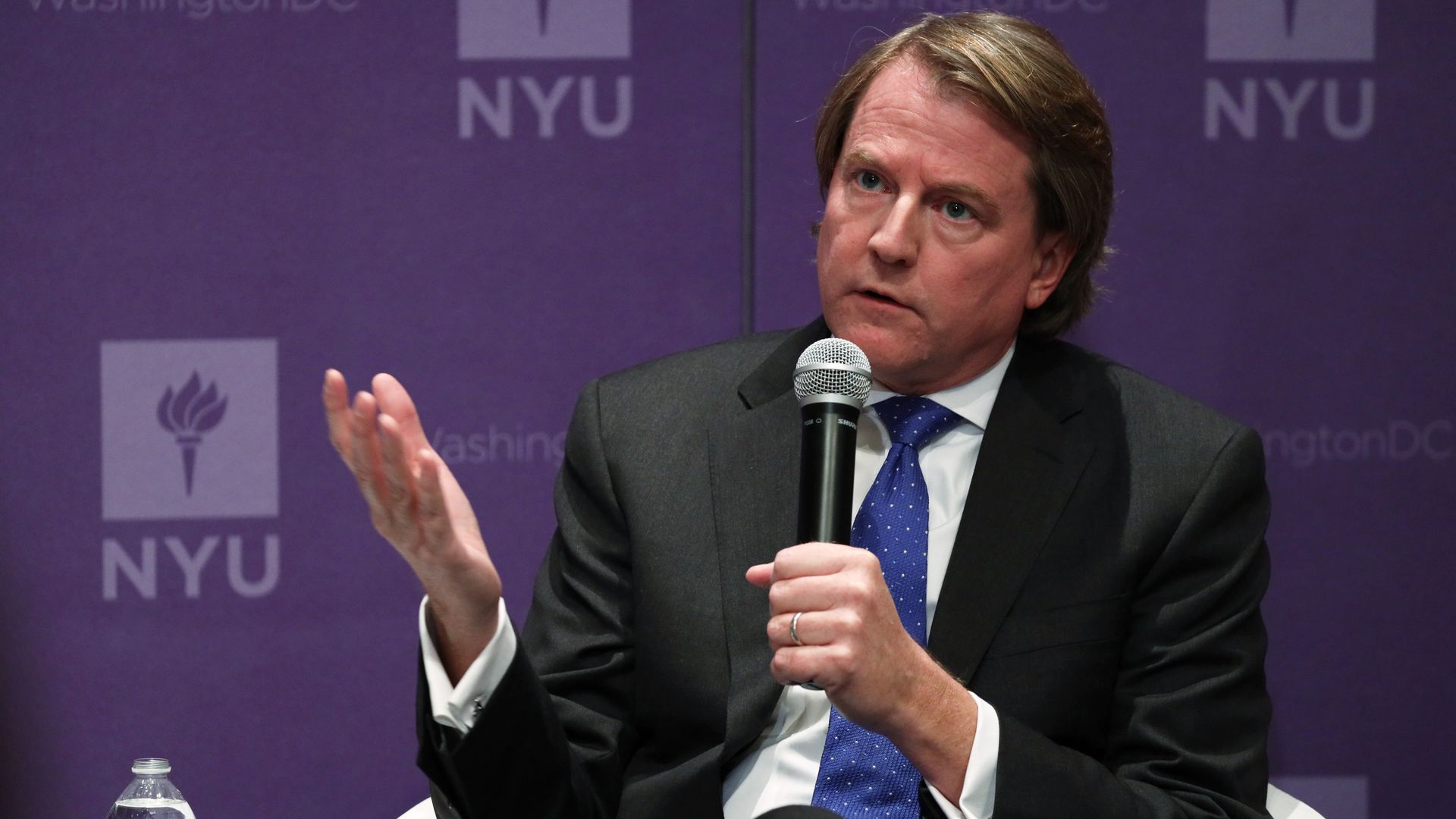 Democrats in the House lost an appeal to force former White House counsel Don McGahn to comply with a subpoena, Politico was the first to report.
Why it matters: McGahn was seen as a crucial witness in the House investigation into whether President Trump tried to obstruct the Mueller inquiry into Russian interference in the 2016 presidential election . The U.S. Court of Appeals for the District of Columbia Circuit ruled 2-1 on Friday that it did not have the authority to resolve the dispute between the executive and legislative branches.
The state of play: The decision overturns a district court ruling in November that compelled McGahn to testify before the House Judiciary Committee. But the Justice Department appealed that ruling and won in the higher court Friday.
Judge Thomas Griffith, in his majority opinion, cautioned that imposing the committee's subpoena would amount to overreach by "unelected judges" — and risk politicizing the judicial branch.
"The Committee's suit asks us to settle a dispute that we have no authority to resolve. The Constitution does not vest federal courts with some 'amorphous general supervision of the operations of government,'"
"If federal courts were to swoop in to rescue Congress whenever its constitutional tools failed, it would not just supplement the political process; it would replace that process with one in which unelected judges become the perpetual 'overseer[s]' of our elected officials. That is not the role of judges in our democracy, and that is why Article III compels us to dismiss this case,"
— Judge Thomas Griffith in the majority opinion
Judge Judith Rogers, a Bill Clinton appointee, was the lone dissenter, arguing the majority's finding could set precedent for presidents to block oversight requests from the legislative branch with impunity.
What they're saying: "We are extremely pleased with today's historic ruling from the D.C. Circuit recognizing that the House of Representatives cannot invoke the power of the courts in its political disputes with the Executive Branch," said Justice Department spokeswoman Brianna Herlihy.
"I strongly disagree with today's split decision. It is fundamentally hostile to reason and precedent, as the dissent recognized. If upheld, it would destroy the power of Congress to gather information and hold this or any future administration accountable ... Now more than ever, the courts cannot abandon their responsibility to resolve legal disputes involving the President. The Judiciary Committee will work in the coming days with House leadership and the Office of the General Counsel to pursue further review and to seek rehearing en banc before the full D.C. Circuit."
— House Judiciary Committee Chairman Jerry Nadler, in a
statement
What's next: The ruling could still face additional appeals, including to the Supreme Court, per CNN.
Go deeper