Murkowski rebukes Trump, Senate, but says she will vote to acquit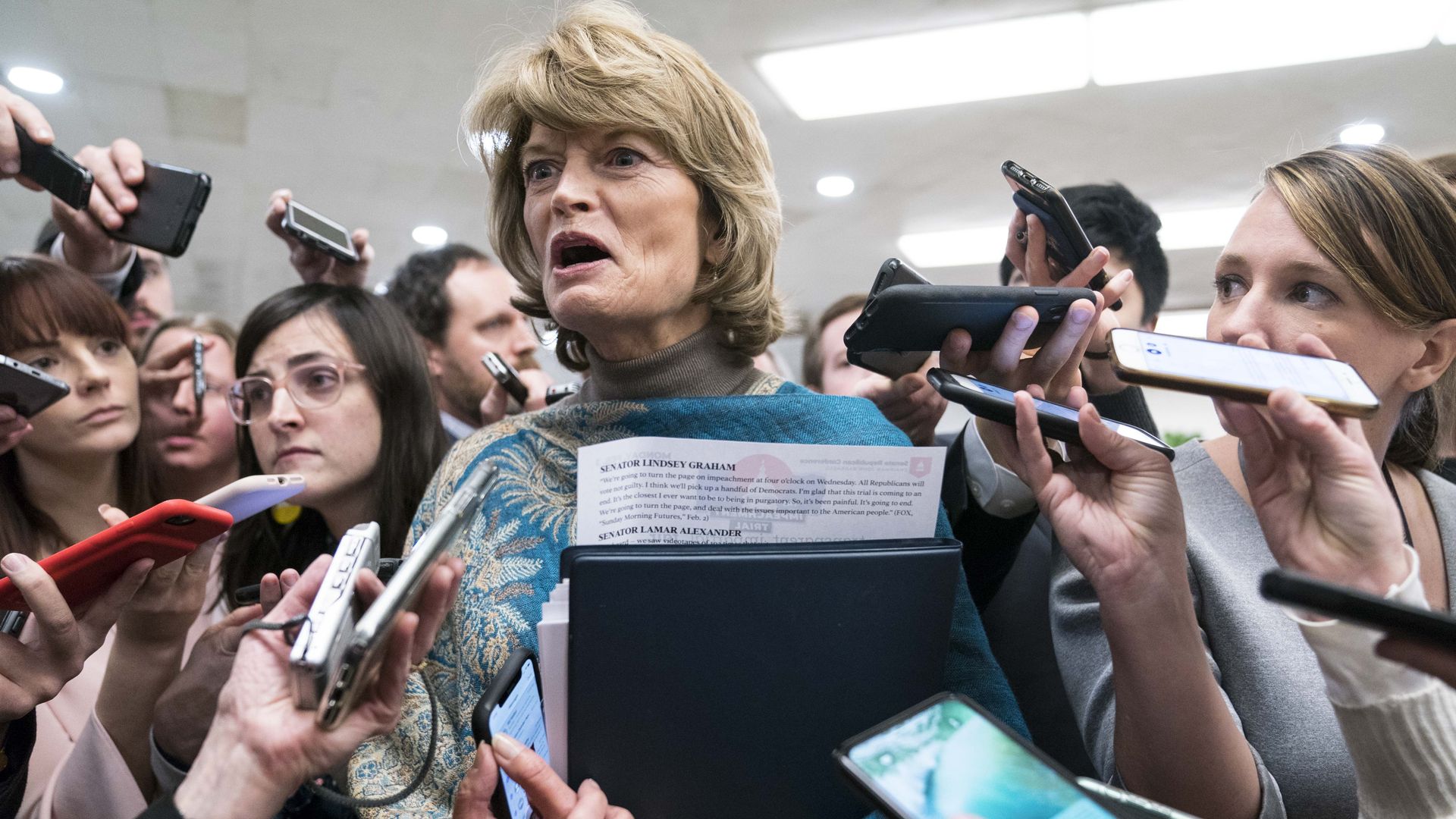 Sen. Lisa Murkowski (R-Alaska) said in a speech on the Senate floor Monday that she "cannot vote to convict" President Trump, but condemned his actions toward Ukraine as "shameful and wrong."
Why it matters: The moderate senator was thought to be among the likeliest of the Republicans to vote to convict Trump. During her speech Monday, which followed the conclusion of closing arguments in the impeachment trial, Murkowski also tore into the House for rushing through the process and the Senate for what she called "rank partisanship."
The Congress, as an institution, has failed."
— Lisa Murkowski
What she's saying: A vote to remove the president would "disenfranchise nearly 63 million Americans" who voted for Trump, Murkowski said. "The constitution provides for impeachment, but does not demand it in all instances," she added.
"The House could have pursued censure and not immediately jumped to the remedy of last resort," Murkowski continued. "The voters will pronounce a verdict in nine months, and we must trust their judgment."
Yes, but: The Alaska Senator also said that "the president's behavior was shameful and wrong."
"His personal interests do not take precedence over those of this great nation," Murkowski said.
"The president has the responsibility to uphold the integrity and the honor of the office. ... Degrading the office by actions, or even name-calling, weakens it for future presidents, and it weakens our country."
Of note: Murkowski said her vote last week against summoning witnesses to the trial was to avoid splitting the Senate 50-50, which could have resulted in Supreme Court Justice John Roberts having to break the tie.
Go deeper ... Trump impeachment trial recap, day 11: Closing arguments conclude
Go deeper