Bloomberg says he hopes Sanders changes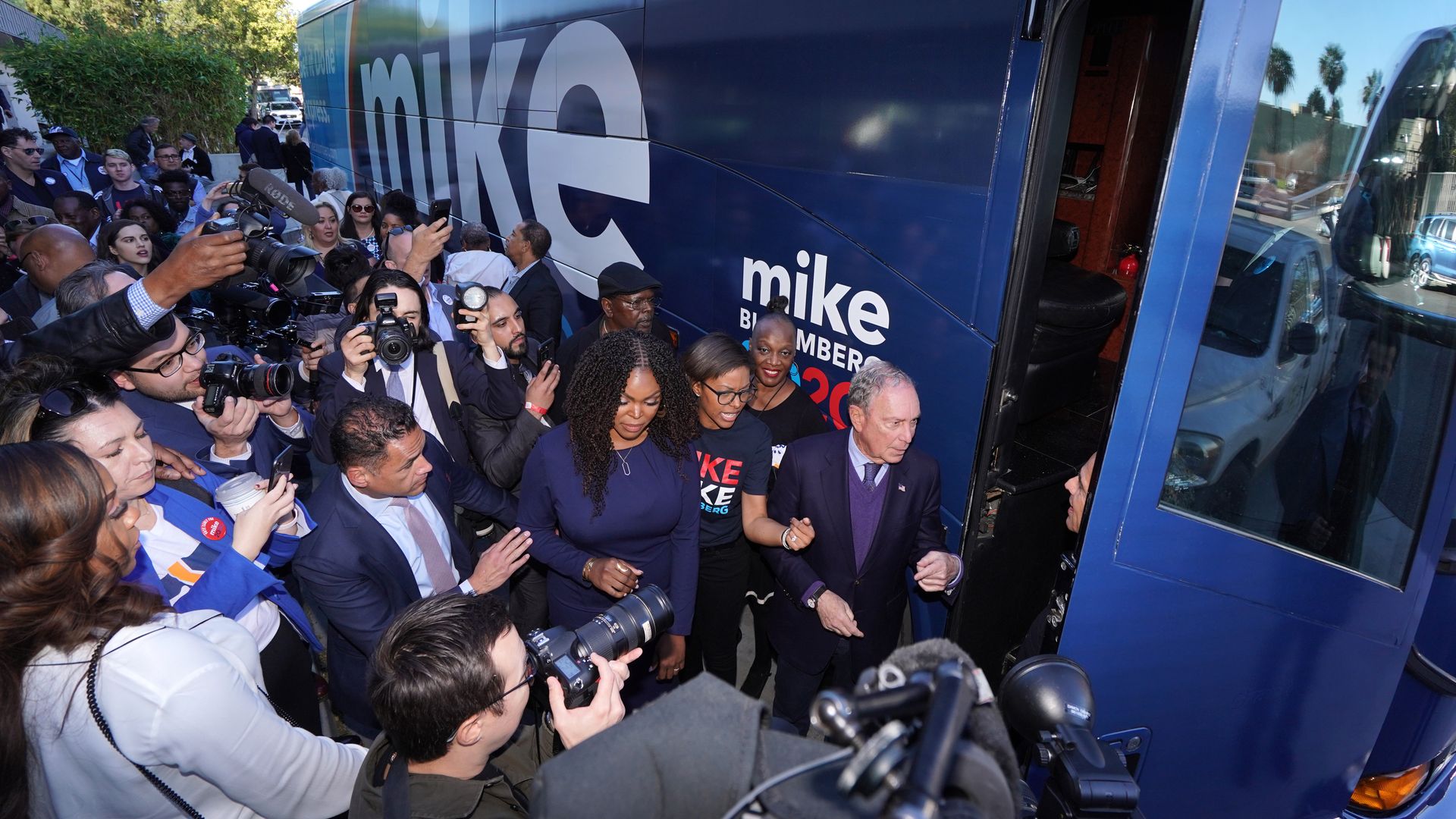 Mike Bloomberg tells me he'd support Bernie Sanders over Donald Trump if those were his two options, but that people should understand Sanders at this moment is "so far to the left it's not practical" and that "what he wants to do would never get through Congress."
Why this matters: While Bloomberg's also seeking the Democratic nomination, he's committed to supporting whoever wins it.
"I don't agree with him on virtually anything," Bloomberg said of Sanders in an interview Monday at a campaign stop in Compton, Calif. "But I have committed to support the Democratic candidate because I find Trump so unsuited for the job."
"I would hope that if Bernie did win he would change some of his policies, or Congress would make him change some of his policies," Bloomberg said.
A billionaire who's self-funding his own run, Bloomberg skipped Iowa to campaign in California, the most populous state in the nation and in the March 3 Super Tuesday contests.
Driving the news: Public polling suggests Sanders could harness momentum through the first three nominating states, testing assumptions about his limits in states beyond.
This scenario terrifies the party establishment and corporate America — as Sanders gleefully highlighted in a recent commercial.
While Bloomberg made his fortune by understanding financial data, he said "I have no idea" whether Sanders or Trump would be better for the U.S. economy.
"Listen to me. Nobody, nobody, ever thought that Donald Trump would preside over the country and the stock market would go up 40 or 50 percent and unemployment would go down to essentially zero," he said.
I put it to Bloomberg that Trump has put in place some traditional Republican policies like aggressive deregulation and tax cuts. "He has," Bloomberg allowed. "There are people that like what he did but that hate the way he's done it."
In his speeches, Bloomberg pitches himself as the "un-Trump." He describes Trump as dishonest, a poor manager, erratic, and a bully. He tells the crowd he's an engineer who knows how to build teams, nurture relationships, and "get it done" on climate change, gun safety and health insurance for everyone.
Bloomberg's states director, Dan Kanninen, said by skipping the first four states, Bloomberg has the Super Tuesday and later states effectively to himself for the next month.
The campaign says it will have 800 full and part-time staff and 20 field offices in California by March 3.
No other campaign will have the money to match that.
California has 415 delegates to Iowa's 41.
"We have staff in 35 states," said Kanninen, who worked for Barack Obama's 2008 and 2012 campaigns and Hillary Clinton's 2016 campaign. "There probably isn't a state in the country that's not getting some of our advertising, besides the first four."
Go deeper