Jared's peace plan finally arrives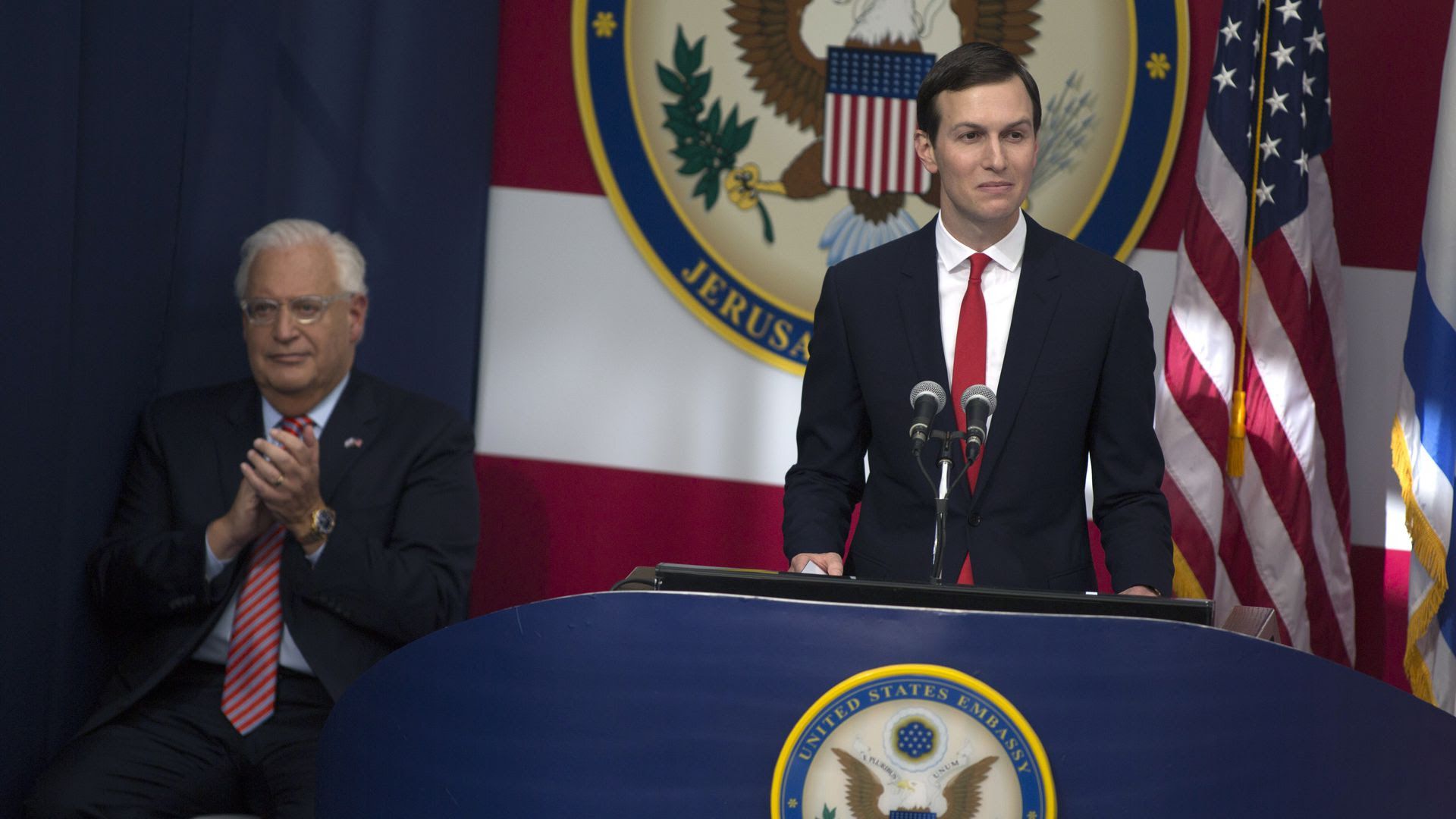 The Trump administration is expected to release its long-awaited Middle East peace plan on Tuesday, sources familiar with the plan tell me.
Between the lines: The Israeli-Palestinian peace plan has been the most secretive effort inside an extraordinarily leaky administration. Not a single detail has leaked for three years about how the Trump administration will propose to divide territory between Israel and the Palestinians.
The details have been closely held among Jared Kushner and his small team — Ambassador to Israel David Friedman, special representative for international negotiations Avi Berkowitz, and senior State Department official Brian Hook. Trump's former negotiator Jason Greenblatt also played a key role in crafting the plan.
The Palestinian leadership, which cut off contact with the Trump administration after Trump recognized Jerusalem as Israel's capital, are totally out of the loop and have preemptively rejected Kushner's effort.
And some key allies who have been asked to provide statements of support have yet to see details of the plan.
What to watch: Israel's internal politics are extremely fraught with an election on March 2. So it's significant that both Prime Minister Benjamin Netanyahu and his opponent Benny Gantz will be visiting Washington this week.
Gantz toyed with rejecting the invitation to Washington, but he announced yesterday he would come on Monday to meet one-on-one with Trump, Axios contributor Barak Ravid reported.
Gantz had previously said that if Trump released his peace plan before March 2, it would be "a harsh interference in the electoral process in Israel." But Gantz couldn't afford to be seen to be snubbing Trump, who is very popular in Israel.
Berkowitz met with Gantz when he traveled to Israel earlier this month.
It's expected that Trump and Kushner will privately brief both Gantz and Netanyahu on the plan on Monday and then publicly reveal the details on Tuesday.
Behind the scenes: The White House has reached out to the Jordanians, Egyptians, Emiratis, Saudis and a number of European countries to encourage them to issue supportive statements when the plan is finally released. It's unclear how much they have told them about the plan, but it's not believed to be much detail, per sources familiar with the outreach.
Some of these countries are expected to provide encouraging statements. It would be a significant diplomatic achievement if Arab countries that are traditionally sympathetic to the Palestinians offer supportive or even neutral statements.
Go deeper