Pelosi confirms House will vote to send impeachment articles on Wednesday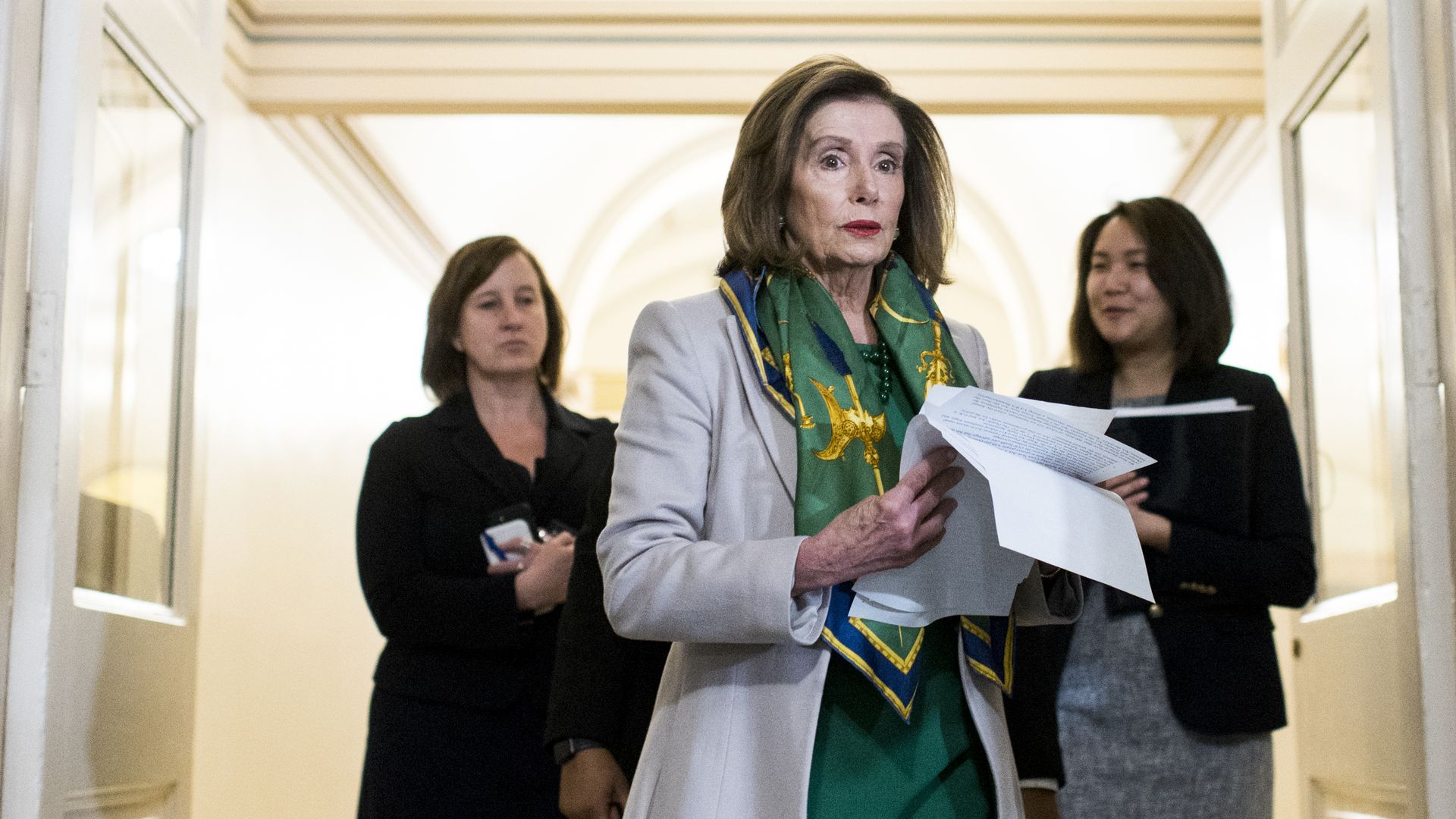 House Speaker Nancy Pelosi confirmed in a statement Tuesday that the House will vote Wednesday on a resolution that would name impeachment managers and transmit the articles of impeachment against President Trump to the Senate.
Why it matters: The vote would end Pelosi's pressure campaign against Senate Majority Leader Mitch McConnell to allow additional documents and witnesses in the Senate's impeachment trial. McConnell said at a press conference that the trial will likely begin next Tuesday, with "housekeeping" measures like the swearing-in of senators taking place this week.
Of note: Pelosi declined to name those who would serve as impeachment managers in the Senate trial during a private Democratic caucus meeting.
What's next, via Axios' Alayna Treene: The first few days of trial are expected to be procedural — including the swearing-in of Chief Justice John Roberts, senators as jurors and additional housekeeping items.
Simultaneously, senators will debate the resolution laying out the terms for the trial, a Republican leadership aide told Axios.
The big picture: Pelosi recently defended her decision to delay the impeachment trial by several weeks, and she said the ball is now in McConnell's court.
What they're saying:
"In December, the House upheld its Constitutional duty to defend democracy For The People: passing two articles of impeachment against President Donald Trump – abuse of power and obstruction of Congress.  I am proud of the moral courage of Members to honor the vision of our Founders for a Republic, the sacrifice of our men and women in uniform to defend it and the aspirations of our children to live freely within it.
"The Senate GOP Leader has signed on to a dismissal resolution.  A dismissal is a cover-up.  The American people will fully understand the Senate's move to begin the trial without witnesses and documents as a pure political cover-up.  Leader McConnell and the President are afraid of more facts coming to light."
"The American people deserve the truth, and the Constitution demands a trial.  The House will now proceed with a vote on transmitting the articles of impeachment and naming impeachment managers on Wednesday, January 15.
— Speaker Pelosi
Go deeper:
Go deeper