FDA issues ban on fruit and mint-flavored vape cartridges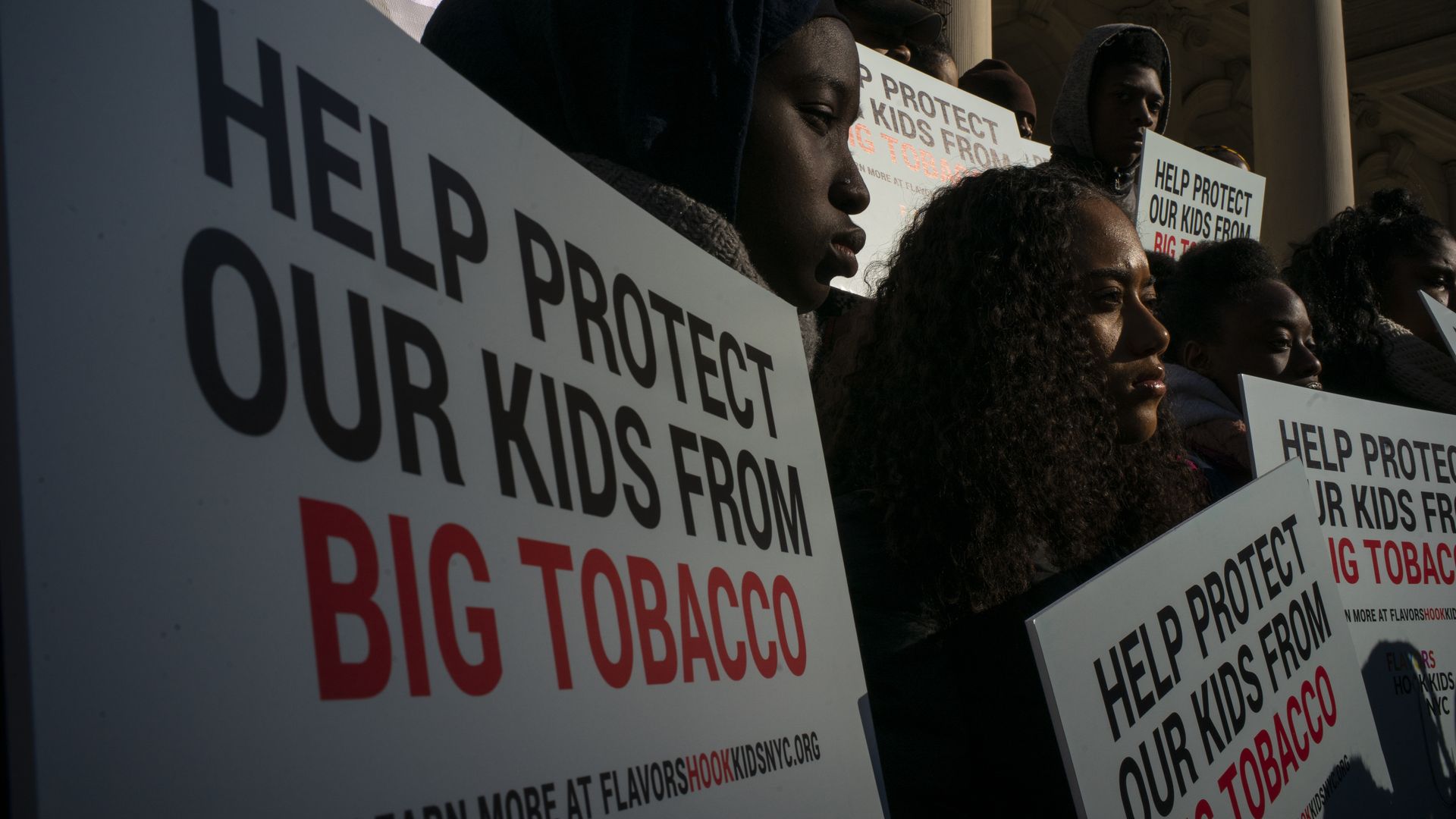 The Food and Drug Administration issued a ban on Thursday on fruit and mint-flavored vaping cartridges like the pods made by Juul, but with exemptions for tobacco and menthol.
Why it matters: The ban is meant to curb e-cigarette use among children who have been attracted to cartridge vapes due to their flavors, cheap price and concealing features of size and small vape clouds.
"The United States has never seen an epidemic of substance use arise as quickly as our current epidemic of youth use of e-cigarettes. HHS is taking a comprehensive, aggressive approach to enforcing the law passed by Congress, under which no e-cigarettes are currently on the market legally."
— Health and Human Services Secretary Alex Azar
The big picture: The Trump administration is keeping vape shop owners in mind with this new rule, which will not apply to the sale of flavored vials for tank vaping systems, the New York Times reports. President Trump has previously expressed concern for business owners.
Juul already announced months ago that it would no longer sell flavored cartridges in-store and online in anticipation of a federal ban.
The FDA said it still could authorize non-menthol or tobacco flavors if it meets "applicable standards."
Companies that don't cease sale of these products within 30 days risk FDA "enforcement actions," according to the new policy.
The other side: Heads of several major public health organizations who had met with President Trump in November said they were "disappointed" in the new guidelines and accused the administration of siding with industry and lobbyists.
On a media call Thursday, presidents and CEOs of physician and medical associations expressed concern that children will migrate to menthol and tobacco cartridges or that more will start using tank systems.
Matthew Meyers, president of the Campaign for Tobacco-Free Kids: "There is an illusion out there that vape shops don't allow people of a certain certain age into them. ... More kids who purchase e-cigarettes today purchase them from vape shops and they have the worst track record for selling to underage youth. There's no reason to think that's going to change."
Meredith Berkman, co-founder of Parents Against Vaping E-cigs: "We sat in that meeting, all of us, and we heard from the president just how much he cared and how much he wanted to protect our kids. ... This really feels like a betrayal."
Go deeper:
Go deeper