DNC rejects Andrew Yang's request to commission more polls ahead of debate deadline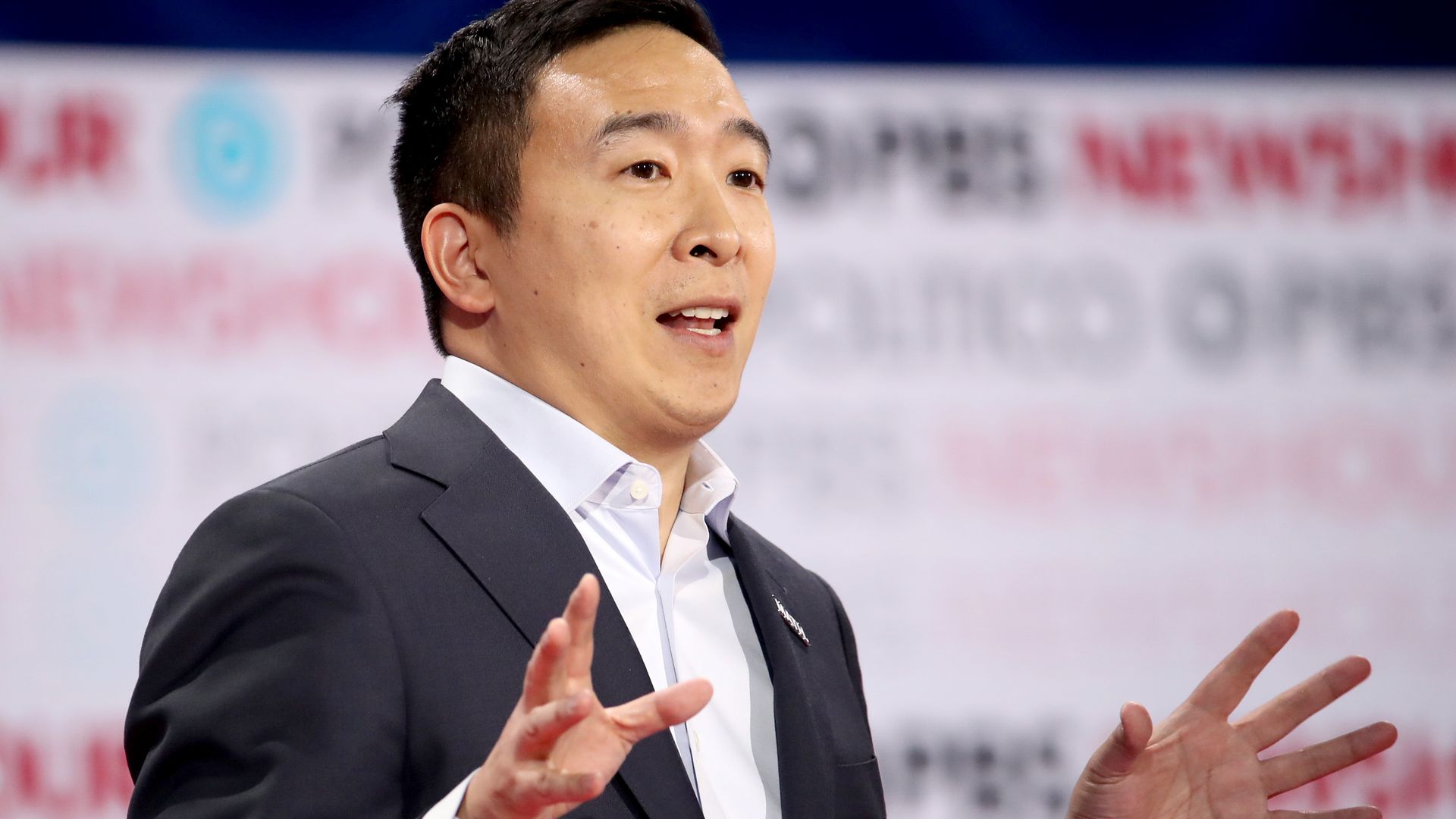 The Democratic National Committee has rejected 2020 candidate Andrew Yang's request to commission more early-state polls in order to help a more "diverse set of candidates" qualify for the next debate in Iowa, arguing that doing so could appear partial to particular candidates, The Hill reports.
The big picture: Four candidates of color remain in the Democratic primary, but all five candidates who have qualified for the Jan. 14 debate are white. Eight candidates signed on to a request by Sen. Cory Booker earlier this month for the DNC to ease qualification requirements for the debate stage.
Yang, who was the only non-white candidate at the December debate in Los Angeles, has met the individual donor threshold for January's debate but has only reached 5% in one out of the four early-state polls needed to qualify.
Where it stands: It's been more than a month since the most recent poll in Iowa, New Hampshire, Nevada or South Carolina.
That means the most recent polling would not account for any boost a candidate may have received from the debate on Dec. 19, Yang wrote in a letter sent to DNC chairman Tom Perez and obtained by the Daily Beast.
"As you know, big shifts can happen within short periods in this race, as we've already witnessed multiple times," he argued.
What he's saying: "With the upcoming holidays and meager number of polls currently out in the field, a diverse set of candidates might be absent from the stage in Des Moines for reasons out of anyone's control," Yang wrote.
"This is a troubling prospect for our party. Regardless of the DNC's best intentions, voters would cry foul and could even make unfounded claims of bias and prejudice."
Introducing more polls "would provide an accurate snapshot of the current state of the race and where voters' hearts and minds are, thus getting ahead of an imminent problem," he added.
The other side: In a response sent to The Hill, a DNC spokesperson said the party "has been more than inclusive" during the debate process.
"The DNC will not sponsor its own debate-qualifying polls of presidential candidates during a primary. This would break with the long standing practice of both parties using independent polling for debate qualification, and it would be an inappropriate use of DNC resources that should be directed at beating Donald Trump."
Go deeper: Democrats call out lack of diversity in 2020 race after Harris' exit
Go deeper