Updated Dec 13, 2019 -

World
U.K. election: Boris Johnson's big win means Brexit is coming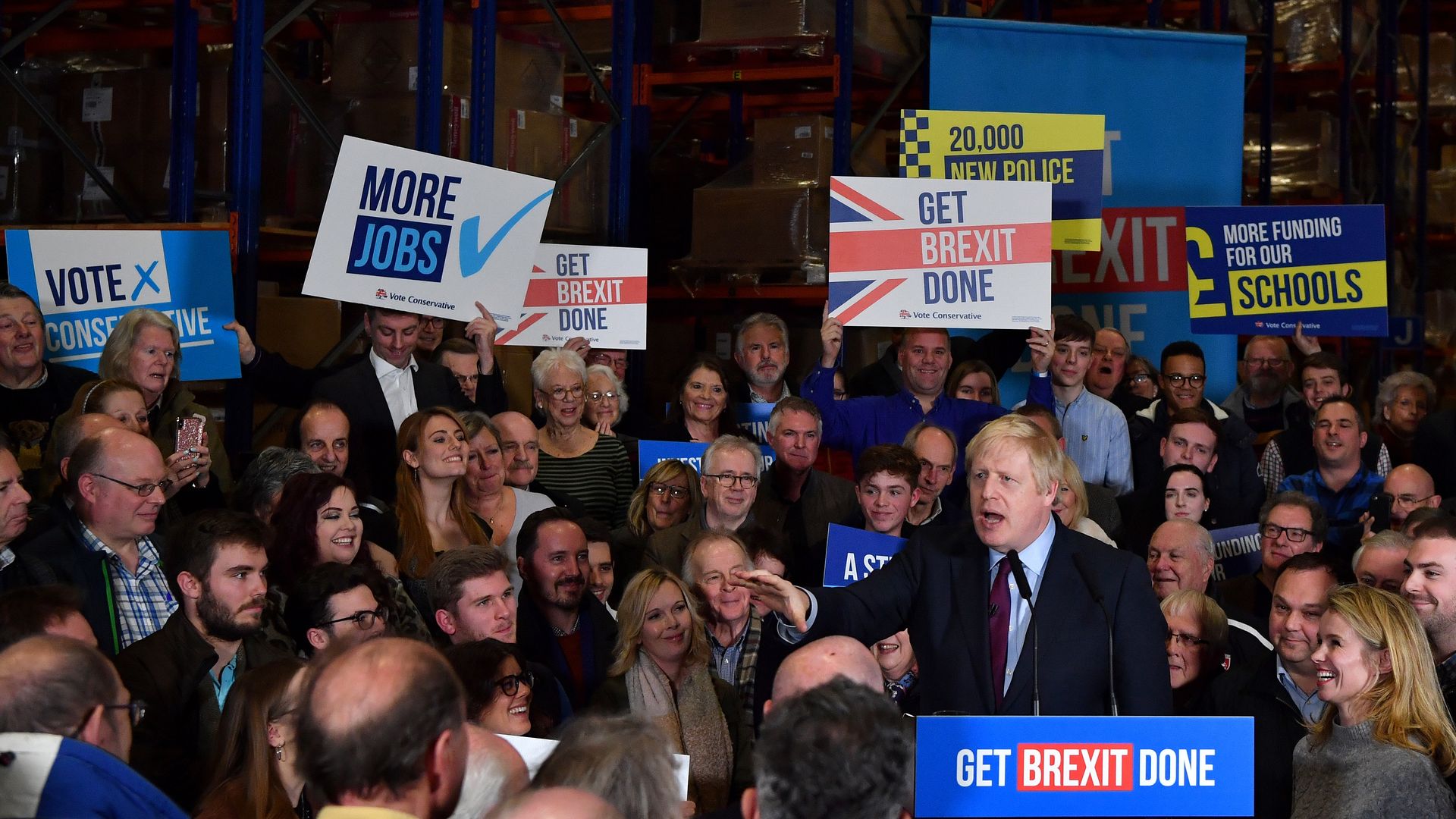 Prime Minister Boris Johnson exceeded all expectations in Thursday's U.K. general election, and his landslide victory makes the U.K. all but certain to exit the European Union early next year.
Driving the news: With 649 out of 650 constituencies reporting, the Conservatives won 364 seats, securing the biggest Conservative majority since Margaret Thatcher's 1987 victory. It's an utter disaster for the opposition Labour Party and its leader, Jeremy Corbyn, who has announced he will step down after a "period of reflection."
By the numbers so far (with the change from 2017's results):
Conservatives: 364 seats (+47)
Labour: 203 (-59)
Scottish National Party (SNP): 48 (+13)
Liberal Democrats: 11 (-1)
Brexit: 0 (0)
Why it matters: After years of political gridlock, this election has ended the debate over whether the U.K. will be leaving the EU while reshaping the U.K.'s political map.
This result is a massive vindication for Johnson — long mocked and little trusted, but now set to steer the U.K. through what should be a crucial five years for the country.
Labour is now entering into a power struggle, with Corbyn's allies intent on keeping control of the party within their hard-left flank. The party membership is on their side, but the national electorate clearly wasn't.
This was also a collapse for the Liberal Democrats, which campaigned hard on stopping Brexit. In the end, party leader Jo Swinson couldn't win her own seat.
How he did it: Johnson was successful on three closely connected fronts:
Centering the election around Brexit and his oft-repeated message: "Get Brexit done."
Uniting the "Leave" (anti-Brexit) vote behind him, while the "Remain" vote was split.
Flipping long-held Labour seats, particularly in the north of England, where most voters backed "Leave" in 2016.
What to watch: The other big winner last night was the pro-independence Scottish National Party, which took 48 of Scotland's 59 seats.
The SNP wants another independence referendum. While Scotland voted to remain in the U.K. in 2014, it also voted overwhelmingly against Brexit — leading to speculation the result would be different this time.
Johnson is opposed to the idea of a second referendum.
Go deeper