Myanmar leader heads to Hague for Rohingya Muslim genocide hearings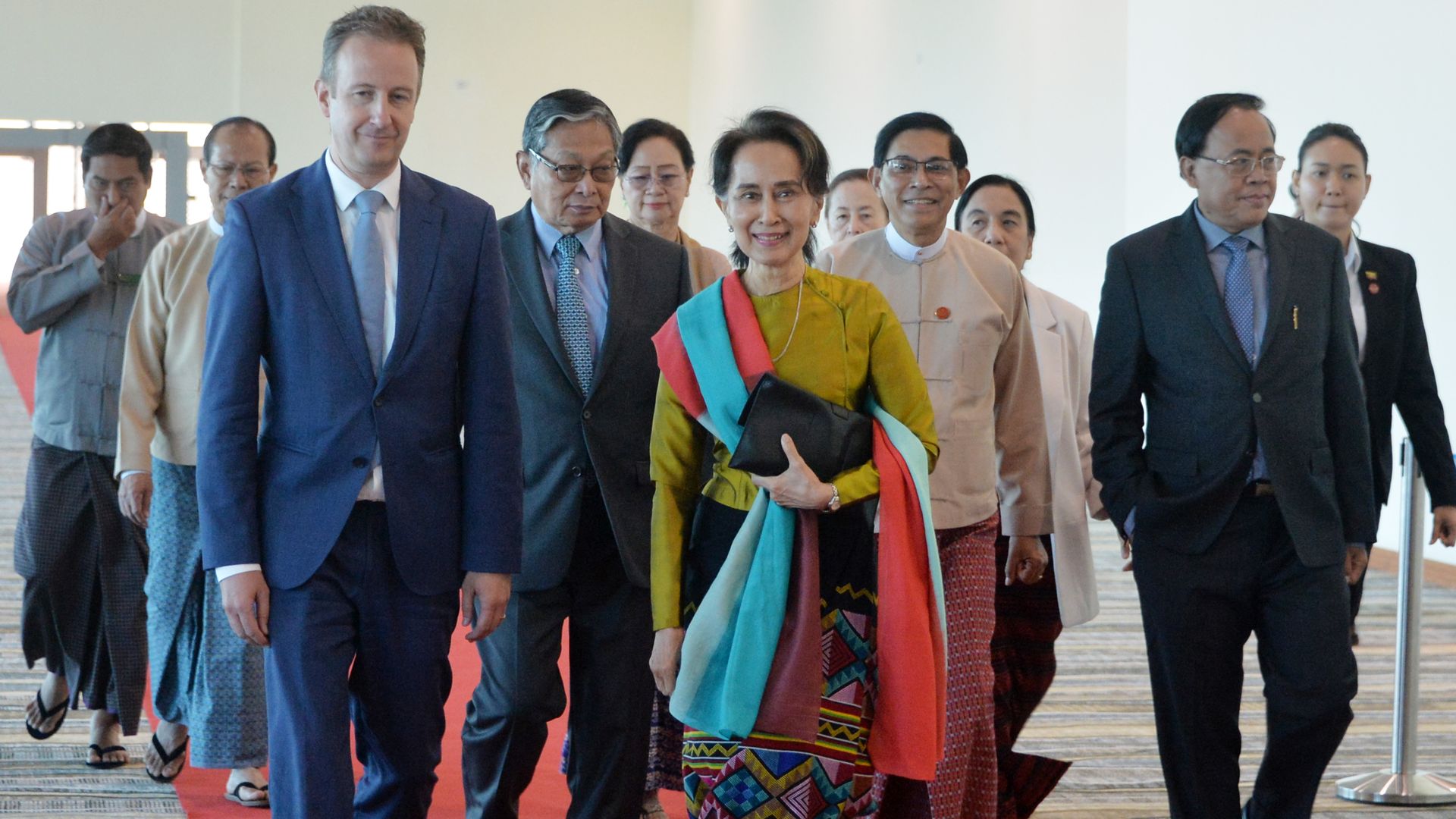 Myanmar's leader Aung San Suu Kyi departed the nation's capital for The Hague on Sunday to defend the government in the UN's high court against charges that it committed genocide against the country's Rohingya Muslims, Reuters reports.
The big picture: Suu Kyi, who won the Nobel Peace Prize in 1991, has defended Myanmar's military crackdown as a legitimate response to Rohingya militants, despite international condemnation. More than 700,000 have fled Myanmar to neighboring Bangladesh as a result of a campaign that the UN said was executed with "genocidal intent," according to Reuters.
In March 2018, Suu Kyi was stripped of the U.S. Holocaust Memorial Museum's prestigious Elie Wiesel Award as a result of her failure to acknowledge the ethnic cleansing.
Gambia, a small nation in West Africa, filed a lawsuit against Buddhist-majority Myanmar in the International Criminal Court of Justice in November, accusing it of murdering, raping and displacing Rohingya Muslims.
What to watch: During three days of hearings starting on Dec. 10, Gambia will ask the 16-member panel of UN judges overseeing the case to impose measures to protect the Rohingya people before the case can be heard in full.
Suu Kyi, who remains popular in Myanmar, met the evening before her departure with Chinese Foreign Minister Wang Yi.
Both countries pledged stronger ties, and Suu Kyi thanked China for defending Myanmar's national sovereignty by opposing foreign interference.
Go deeper:
Go deeper