Ahead of NATO summit, Erdogan condemns Macron for "brain death" comments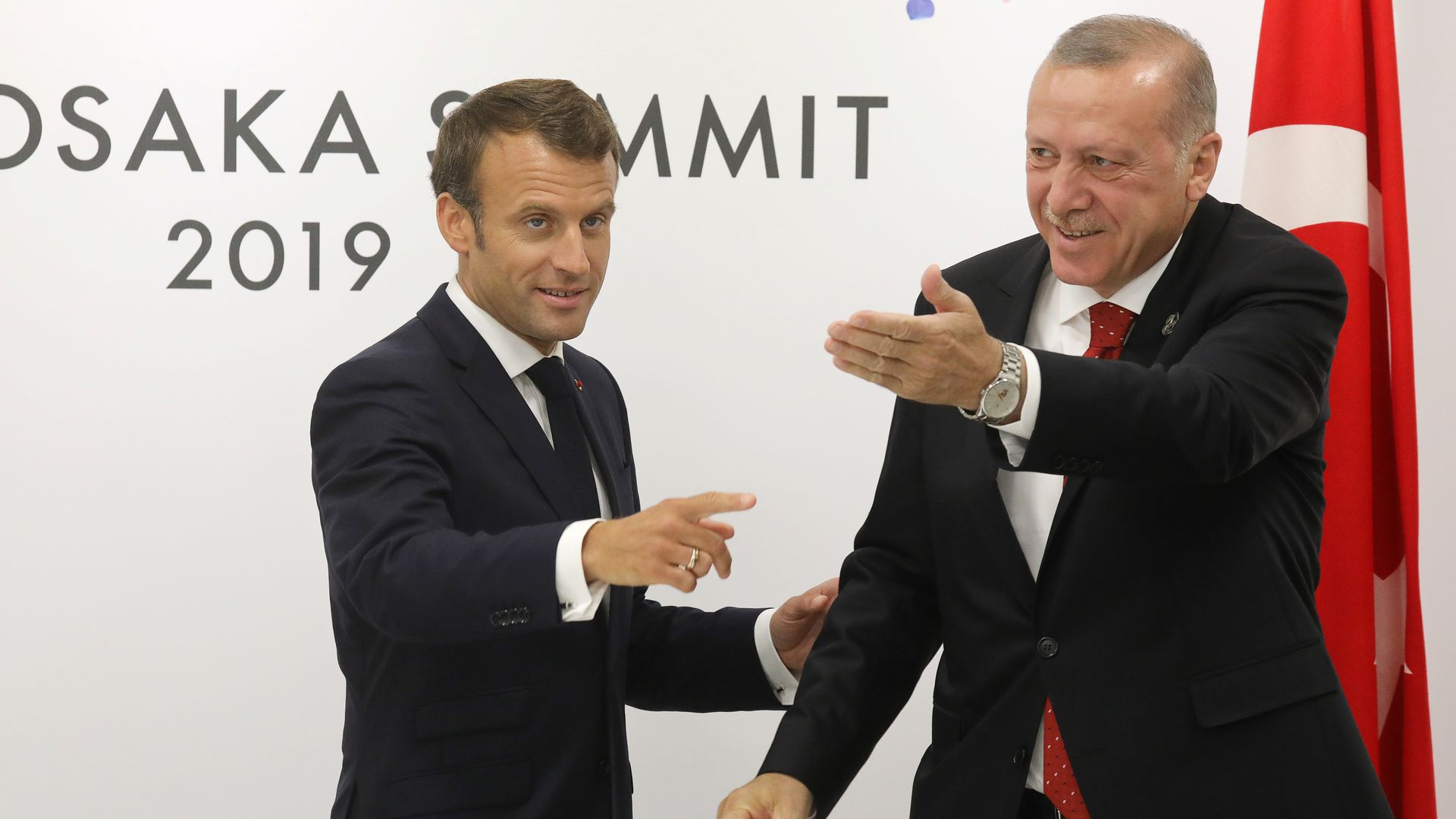 Turkish President Recep Tayyip Erdoğan said in a televised speech Friday that Emmanuel Macron's recent warning about NATO was a "sick and shallow" interpretation, sniping at the French president to have his own "brain death" checked, Reuters reports.
Why it matters: Erdogan's attacks on Macron, whom he also called a "novice" that knows how to "show off," come just days before NATO leaders are set to meet in London for a summit.
The big picture: Macron said in a November interview that the trans-Atlantic alliance faces "brain death" because of U.S. unpredictability under President Trump and strained relations with Turkey.
The French and Turkish leaders have been exchanging criticism since Ankara's offensive in northeast Syria against Kurdish forces in the region, who are backed by the U.S., France and other NATO allies.
Turkey has refused to back NATO's defense plan for three Baltic states and Poland until it receives political support for its incursion in northern Syria.
What they're saying: "I am talking to France's President Emmanuel Macron, and I will also say this at NATO. First of all, have your own brain death checked. These statements are suitable only to people like you who are in a state of brain death," Erdoğan said in the speech, according to Al Jazeera.
The French Foreign Ministry responded by summoning Turkey's ambassador to Paris. "Let's be clear, these are not statements, they are insults," a French presidential adviser said. "The president says things clearly. It's up to Turkey to provide the answers that we and many allies expect."
"Turkey can't take the defense plans of Poland and the Baltic countries hostage," the adviser added.
Go deeper:
Go deeper