Nunes suggests CNN, Daily Beast committed crimes with reporting on Ukraine prosecutor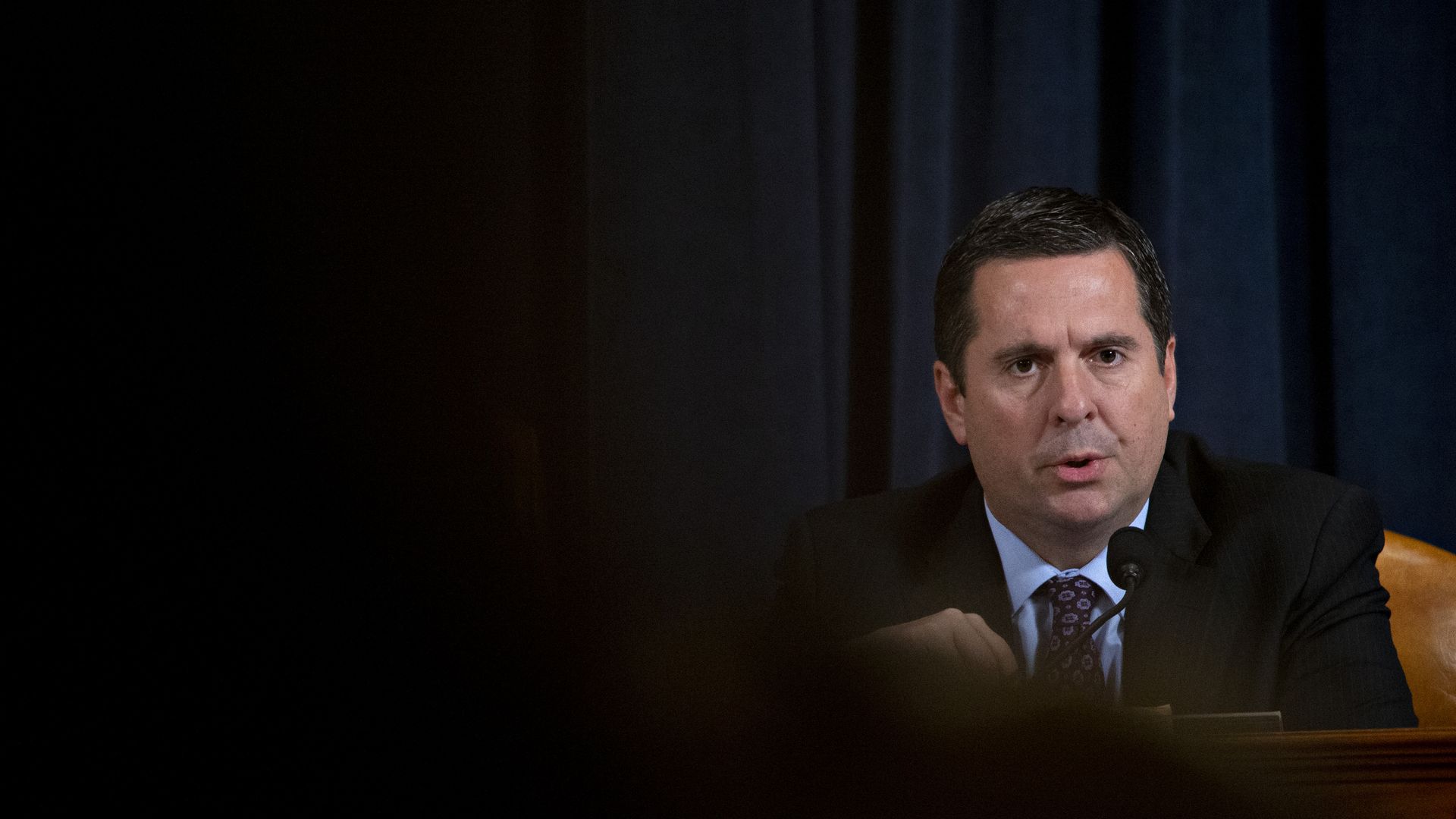 House Intelligence Ranking Member Devin Nunes (R-Calif.) claimed on Fox News' "Sunday Morning Futures" that he is taking CNN and the Daily Beast "likely into federal court" for their reporting on allegations that he met with former Ukrainian prosecutor Viktor Shokin to discuss digging up dirt on Joe Biden.
The backdrop: The Daily Beast and CNN reported last week that the attorneys for Lev Parnas, an associate of Rudy Giuliani's who was indicted last month, said their client is willing to tell Congress about phone calls and meetings in Vienna in 2018 between Nunes and Shokin. Nunes said on Fox that by working with someone under indictment, the two outlets were "likely conspiring to obstruct justice."
It's unclear what Nunes would sue the publications for. If he sues for defamation, he would have to prove as a public official that the outlets acted with actual malice and reckless disregard for the truth.
However, both publications reported on statements that Parnas' attorneys released and neither issued any claims regarding the truth of the statements.
What he's saying: Nunes said the reports are false but would not answer a direct question from Fox's Maria Bartiromo about whether he met with Shokin in 2018.
"I really want to answer all of these questions, and I promise you I absolutely will come back on the show and answer these questions. But because there is criminal activity here, we're working with the appropriate law enforcement agencies, we are going to file all this," Nunes said.
"Everyone's going to know the truth, everybody is going to know all the facts, but I think you can understand that I can't compete by trying to debate this out with the public media when 90% of the media are totally corrupt," he continued.
"And because this is criminal in nature and because it is so bad, so slanderous, we've got all the facts on our side and we are going to file in federal court because I'm not going to sit here and try to compete against the media that I have no chance of winning this."
Nunes also told Breitbart last week that the "scandalous stories published by the Daily Beast and CNN are the perfect example of defamation and reckless disregard for the truth."
Go deeper: Devin Nunes suing Twitter over anti-conservative "shadow bans"
Go deeper