Trump praises Turkey's Erdoğan as "great ally" despite Syria tensions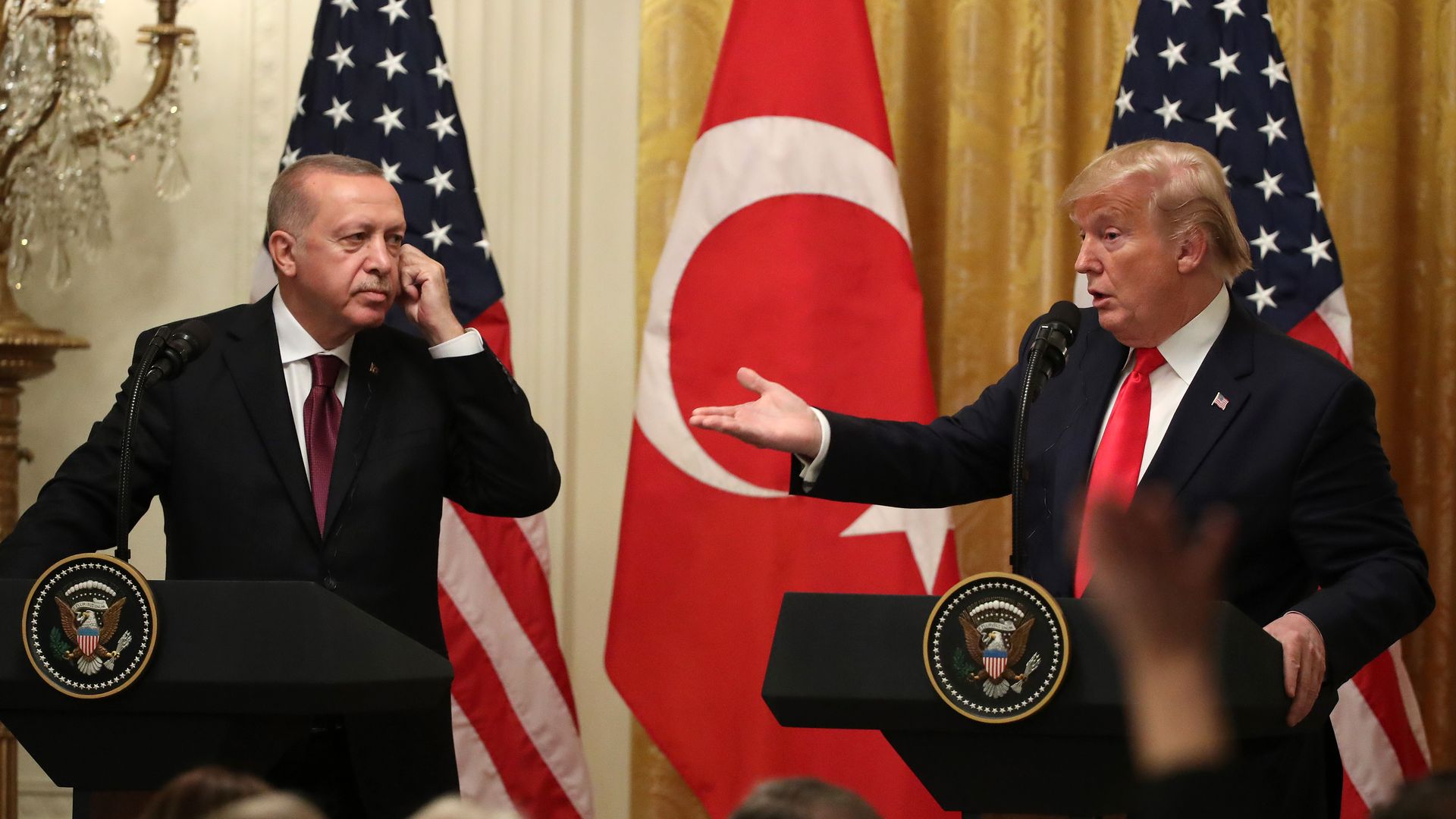 President Trump lauded Turkey as a "great NATO ally" during a press conference with Turkish President Recep Tayyip Erdoğan on Wednesday in which tensions between the countries simmered beneath the surface.
The big picture: Erdoğan's invasion of northern Syria last month sparked bipartisan outrage in Washington and came with the countries already locked in a dispute over Turkey's purchase of a Russian s-400 missile system. Erdoğan was defiant on those points, and he lashed out over votes in the House of Representatives to back sanctions on Turkey and recognize the Armenian genocide.
What they're saying: "I'm a big fan of the president," Trump said, expressing a view that many in Washington do not share these days.
Erdoğan, for his part, repeatedly referred to Trump as "my dear friend," while drawing a distinction between the president and others in Washington whom he accused of attempting to "dynamite" the relationship.
Erdoğan reiterated his plan to repatriate 2 million Syrian refugees in the "safe zone" he's attempting to establish across the Syrian border. Experts say that plan violates international law.
Trump echoed Erdoğan's claims that European countries haven't done enough to help Turkey shoulder the migrant burden from Syria, or to take back ISIS captives.
Trump's most jarring remark was perhaps that Erdoğan has "a great relationship with the Kurds," apart from "some factions." Erdoğan insisted that Turkey was "just fighting terrorists," not the Kurdish people.
What to watch: Trump did note that the s-400 issue "creates some very serious challenges for us," and he said top officials from both countries were working to resolve it.
While Trump claimed the ceasefire in northern Syria was holding, meanwhile, Erdoğan said Turkey's troops continue to come under attack.
Worth noting: Erdoğan was asked about a letter from Trump, sent prior to the Syria invasion, urging him not to "be a tough guy." He replied: "We gave back the letter that we have received."
Go deeper: Top diplomat says U.S. abandoned Kurds to "catastrophic" Turkish assault
Go deeper