Global response to Venezuelan refugee crisis falling short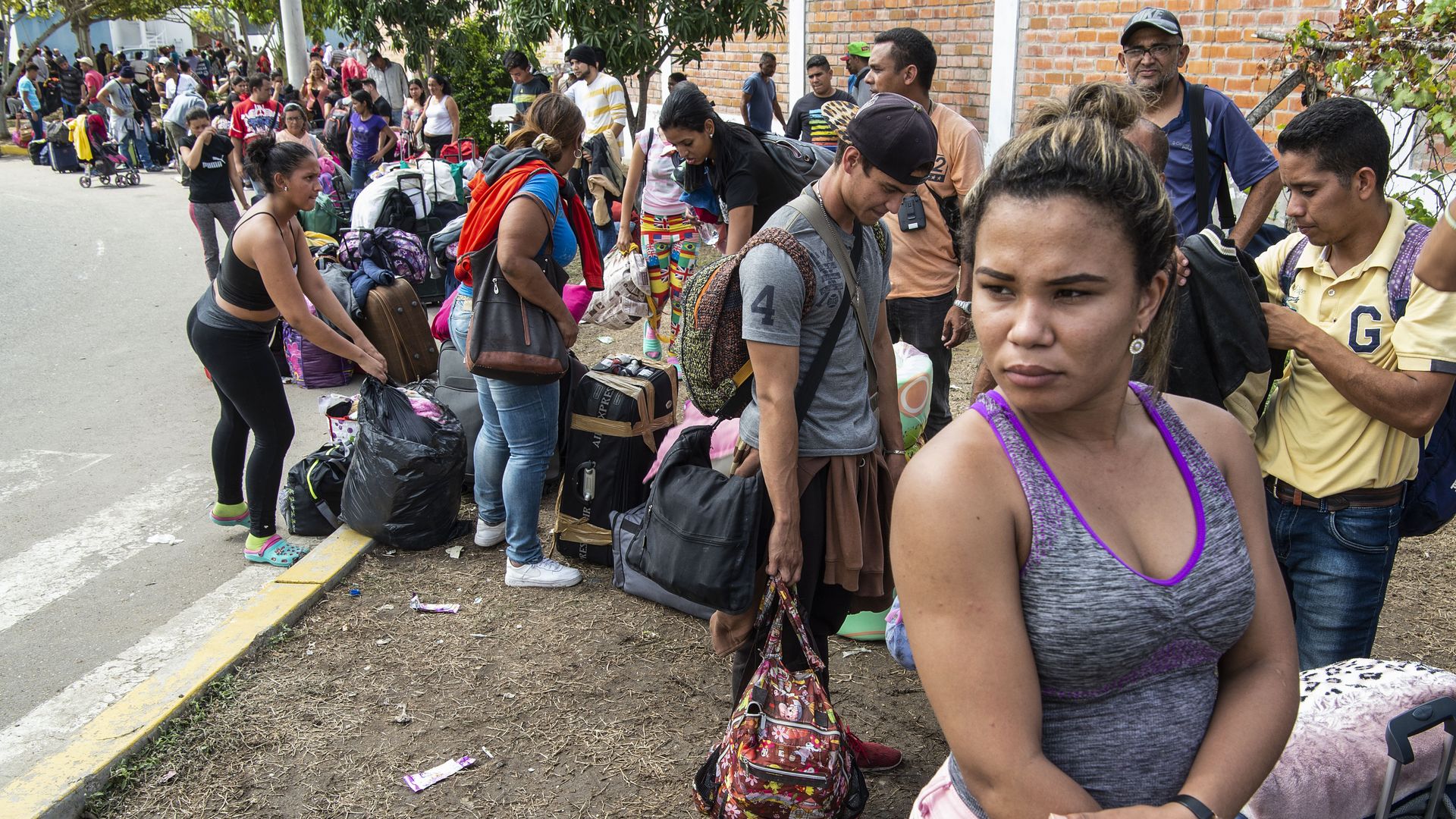 Venezuela's neighbors are struggling to incorporate the stream of refugees who have poured across their borders, yet the international response has paled in comparison to other recent humanitarian crises.
The big picture: An estimated 4.6 million Venezuelans have fled their country since 2015. Their arrival has severely strained social services, housing and labor markets in host countries and in some cases has provoked xenophobic backlash.
By the numbers: At the current rate of more than 5,000 people fleeing the country per day, there will be more than 5 million Venezuelan refugees by the end of 2019 and more than 7 million by the end of 2020.
Countries in Latin America and the Caribbean currently host the vast majority of these refugees — roughly 1.6 million in Colombia, 900,000 in Peru, 400,000 in Chile and 350,000 in Ecuador, according to a UN report.
The impact: Receiving countries face a tremendous economic burden.
The UN High Commissioner for Refugees Joint Special Representative for Venezuelan Refugees and Migrants, Eduardo Stein, has estimated that addressing refugees' needs will require $3,000 per refugee per year (almost $1.4 billion per year at current levels).
Per a Financial Times report, "The World Bank estimated the influx could shave 0.5% off Colombia's gross domestic product in 2019."
Where it stands: International commitments to support refugee resettlement and expand social safety net programs have been far from adequate.
Through September, 95 organizations in 16 countries had committed only $738 million for 2019. The U.S., the largest donor, recently increased its commitment to $655 million, and EU countries agreed to do more at an October meeting in Brussels. But that still won't be enough.
By comparison, the international community — mostly the U.S. and EU countries — has directed $33 billion to Syria's 7 million refugees.
Between the lines: One factor constraining the response has been a belief — perpetuated by the Venezuelan opposition and former U.S. national security adviser John Bolton — that regime change is imminent and would simplify the return of refugees. Donor fatigue following the Syria and Rohingya tragedies may also have contributed.
The bottom line: Without greater international assistance, Venezuela's already struggling neighbors could be dragged down with it. A major public donor conference — led by the U.S., and free of regime change talk — will likely be needed to secure assistance equal to the challenges of this ongoing crisis.
Go deeper: Read the Global Americans report on the refugee crisis.
Christopher Sabatini is a senior research fellow at Chatham House, a lecturer at Columbia University and the director of Global Americans.
Go deeper