Google CEO: The company is "genuinely struggling" with transparency, employee trust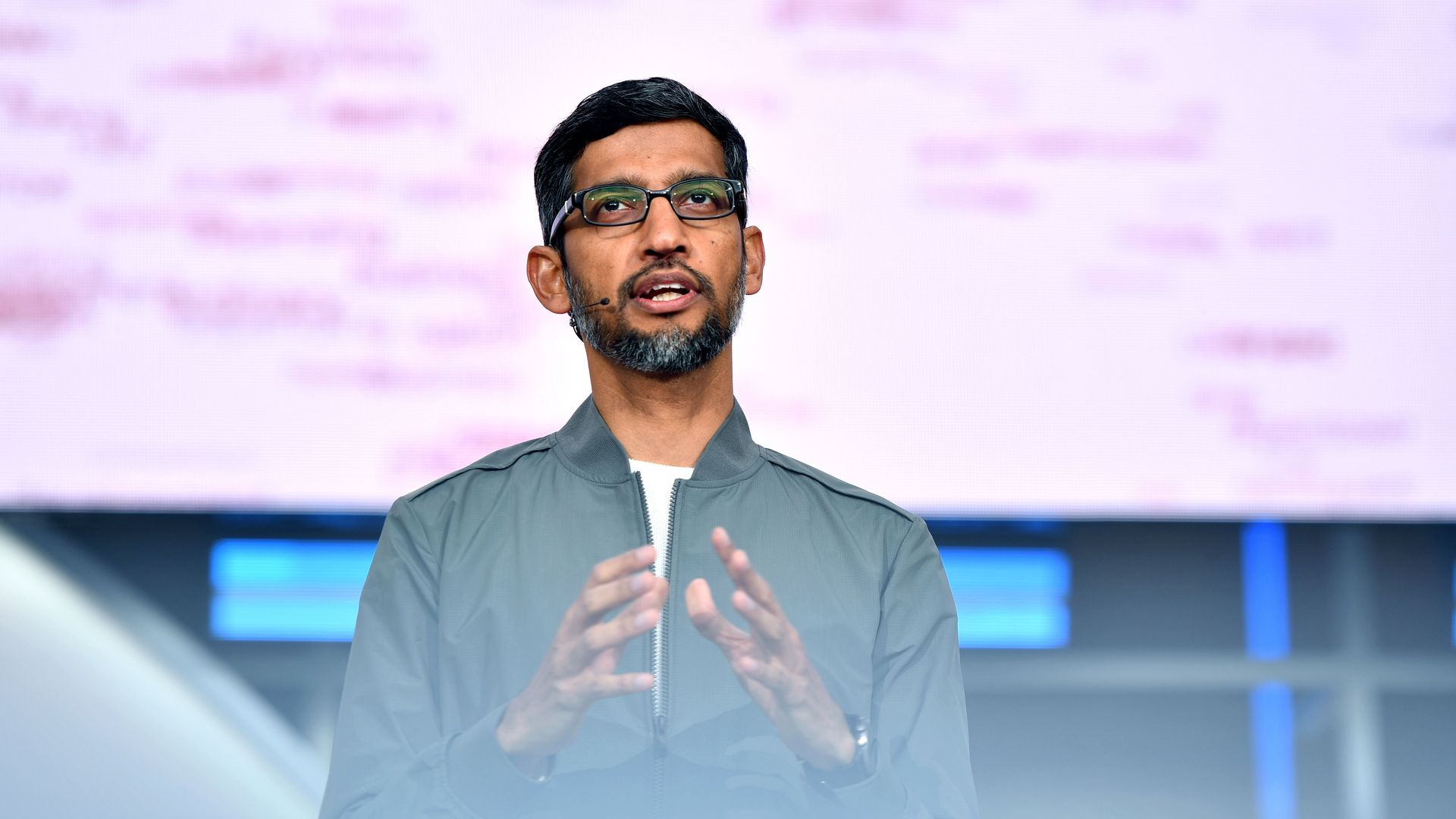 Google CEO Sundar Pichai told employees at an all-staff meeting this week that "it's definitely gotten harder" to see how to make improvements after breaking employees' trust at the company's current scale, the Washington Post reports.
Our thought bubble, via Axios' Ina Fried: Google has prided itself on having a vocal employee base. In recent months, the tech giant has struggled with handling workers who question its every move and want a say in everything from who is hired or retained to who the company does business with.
Driving the news: In early October, Google employees reportedly discovered a previously unknown team within the company that is building a surveillance tool to "monitor workers' attempts to organize protests and discuss labor rights," Bloomberg reports.
On Thursday, Pichai and Google's Global Head of Policy Karan Bhatia defended he company's hiring of former Department of Homeland Security official Miles Taylor.
Google management deleted two employee questions about Taylor ahead of the all-hands meeting on Thursday, Buzzfeed reports.
What they're saying: "We are genuinely struggling with some issues — transparency at scale," Pichai said at the closed-door meeting, the Post reports. He said trust is "one of the most foundational things for the company."
"[H]e wasn't involved in the ban, and he was also not involved in the family separation policy," Bhatia said of Taylor at the all-hands.
Taylor served as counselor to former DHS Secretary Kirstjen Nielsen during the implementation of the Trump administration's "zero tolerance" or family separation policy.
Background: Google employees have protested the company's work with U.S. Customs and Border Protection and the its policies on sexual harassment — the latter of which resulted in a walkout of 20,000 Google staff.
Google has moved to more comprehensive e-learning format as part of its updated mandatory sexual harassment training, which is available only in the U.S. until it goes global in 2020, a Google spokesperson confirmed to Axios.
Go deeper