Pelosi and Graham team up to oppose Trump's Syria decision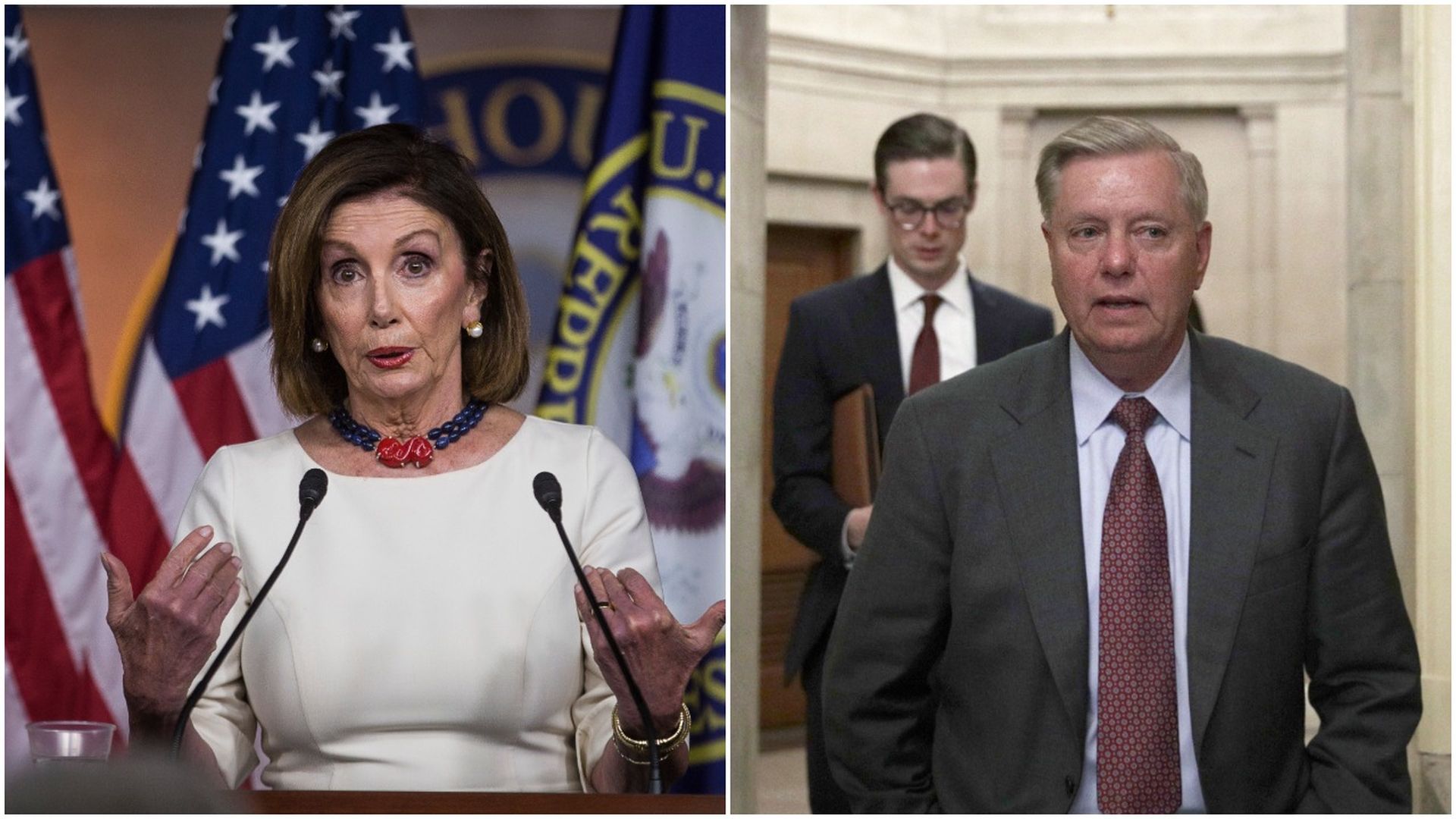 House Speaker Nancy Pelosi (D-Calif.) and Sen. Lindsey Graham (R-S.C.) spoke Monday to discuss bipartisan efforts to overturn President Trump's decision to withdraw U.S. troops from northern Syria and sanction Turkey for its military offensive against Syrian Kurdish forces.
Why it matters: Trump's decision has sparked bipartisan backlash and accusations that he is abandoning the Kurdish allies who helped the U.S. in the fight against ISIS. Trump has voiced approval for the idea of sanctioning Turkey for its invasion, but he has stood by his decision to move U.S. troops out of the way despite the overwhelming criticism he's received from even his most loyal allies.
The big picture: The primarily Kurdish Syrian Democratic Forces (SDF) announced on Sunday that they had struck a previously unthinkable alliance with the Syrian government, which is allied with U.S. adversaries Russia and Iran, to help protect the border with Turkey.
The military offensive by Turkey has forced the SDF to abandon some of the camps where ISIS fighters and supporters were being detained, leading to reports of prison breaks.
What they're saying:
Pelosi: "Our first order of business was to agree that we must have a bipartisan, bicameral joint resolution to overturn the President's dangerous decision in Syria immediately. Next, we must put together the strongest bipartisan, bicameral sanctions package similar to the bipartisan bill the House is advancing. As we find ourselves in a situation where the President gave a green light to the Turks to bomb and effectively unleashed ISIS, we must have a stronger sanctions package than what the White House is suggesting."
Graham: "Speaker [Pelosi] supports bipartisan sanctions against Turkey's outrages in Syria. She also believes we should show support for Kurdish allies and is concerned about the reemergence of ISIS. I will be working across party lines in a bicameral fashion to draft sanctions and move quickly, appreciating President Trump's willingness to work with the Congress. The Speaker indicated to me that time was of the essence."
Go deeper: Behind the scenes of the Trump bluff that kicked off Turkey's invasion
Go deeper