Turkish attack on Kurdish-held town allows 950 ISIS detainees to escape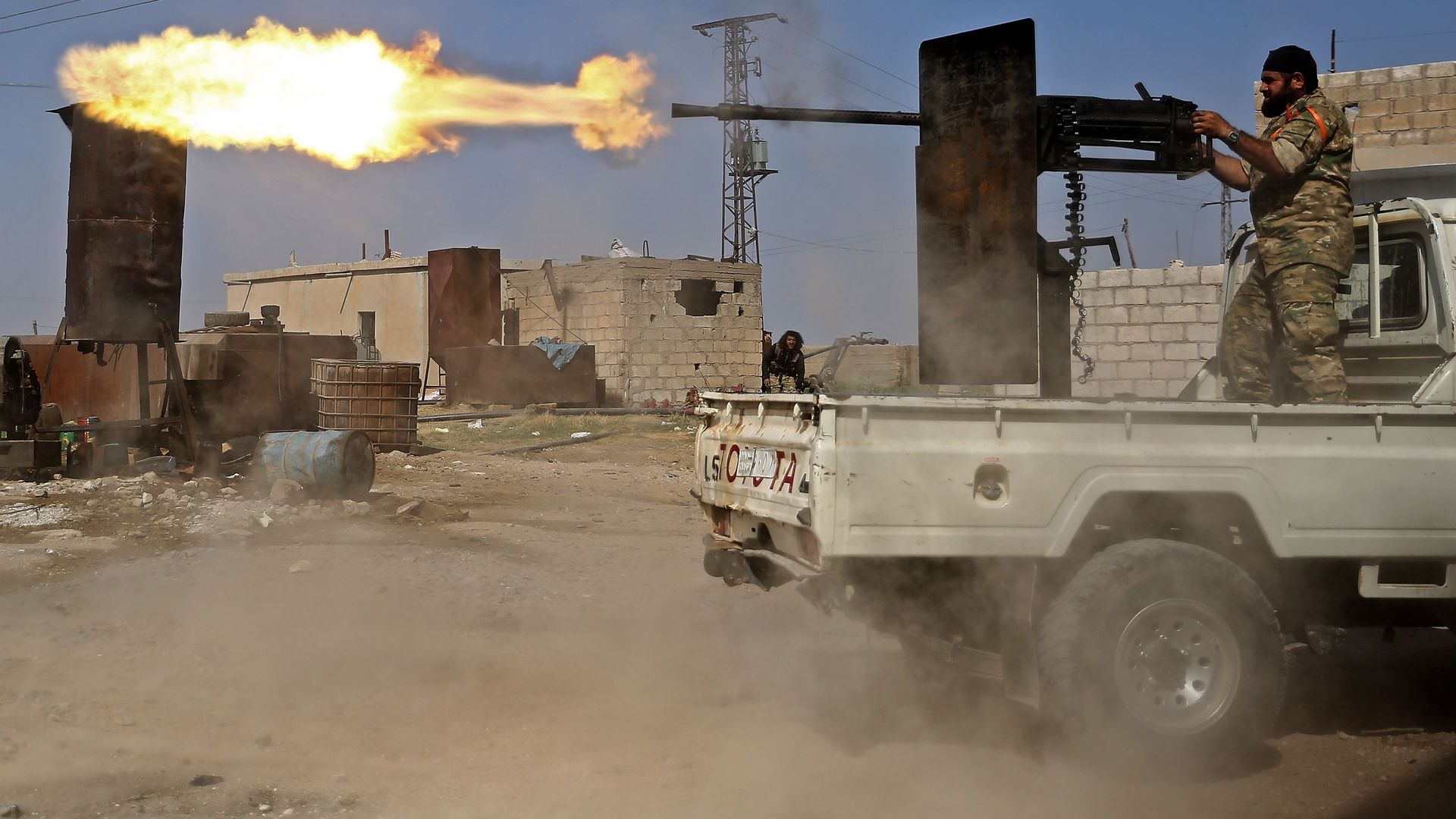 Syrian Kurdish officials on Sunday said clashes near Ain Issa, a key Kurdish-held town in northern Syria, allowed 950 Islamic State, or ISIS, supporters to escape from a camp for displaced people near a U.S.-led coalition base, AP reports.
Why it matters: One of the fears stemming from President Trump's withdrawal of U.S. forces from northern Syria was that a Turkish assault would force Kurdish forces to desert the prison camps where about 12,000 ISIS fighters and their families are being held.
Details: The Kurdish-led administration in northern Syria said in a statement that the supporters escaped after they attacked camp guards and stormed the gates, per AP, which said it was not immediately possible to confirm the number of escapees.
What they're saying: A U.S. military official told AP that northeastern Syria was "deteriorating rapidly" and that U.S. troops on the ground are at risk of being "isolated" and of clashing with Turkey-backed Syrian forces.
The president addressed the prison break in a tweet Sunday evening, insisting the United States has "the worst of the ISIS prisoners."
Reality check: The New York Times noted earlier on Sunday that Trump's earlier claims that the U.S. "had already gotten the very worst ISIS detainees out of Syria" was "largely untrue" and "largely aspirational."
The United States had got out only 2 high-value detainees, the British militants El Shafee Elsheikh and Alexanda Amon Kotey, who are in detention at a U.S. base in Iraq, the NYT notes.
Per a July report by The Atlantic, "Some 2,000 suspected fighters from dozens of countries, including hundreds from Europe, languish in Kurdish detention in northeastern Syria."
Go deeper ... James Mattis on Trump's Syria decision: ISIS will resurge
Editor's note: This article has been updated with Trump's latest comments.
Go deeper