Ex-Ukraine ambassador to Congress: Trump told State Department to remove her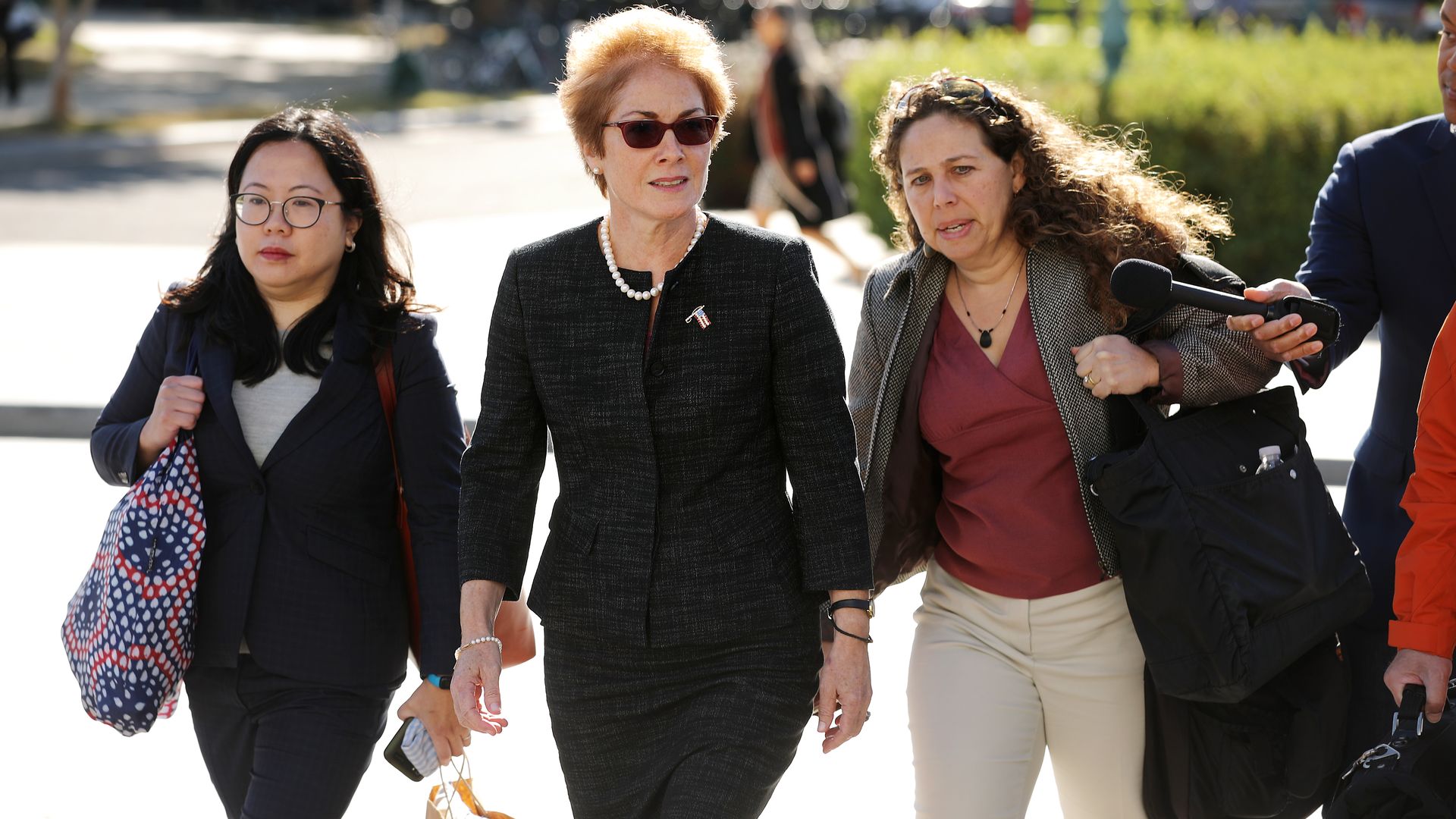 Former U.S. ambassador to Ukraine Marie Yovanovitch appeared Friday before the 3 House committees investigating President Trump and Ukraine and said the president pressured a top State Department official to oust her, according to her prepared remarks obtained by the Washington Post.
Why it matters: The Trump administration said it would block officials from appearing before the committees, but Yovanovitch's appearance coupled with U.S. ambassador to the European Union Gordon Sondland's planned testimony next week undermines its position. The AP notes that it's unclear whether Yovanovitch's appearance "signals a shift in that strategy or if she is breaking with White House policy."
Background: Trump replaced Yovanovitch in May in part because of former Ukrainian Prosecutor General Yuri Lutsenko's corruption allegations against former Vice President Joe Biden, according to the whistleblower.
What she's saying: In her closed-door deposition, Yovanovitch said she was accused by Trump's personal attorney Rudy Giuliani of disparaging the president and trying to protect the interests of Biden and his son. Yovanovitch called those allegations "fictitious," on Friday.
"Contacts of Mr. Giuliani may well have believed that their personal financial ambitions were stymied by our anti-corruption policy in Ukraine," Yovanovitch said.
Yovanovitch said, "Today, we see the State Department attacked and hollowed out from within." She added that she was let go by Deputy Secretary of State John Sullivan, who said she had done nothing wrong, but that the president had "lost confidence" in her and the State Department had been under significant pressure to remove her since the summer of 2018.
"Although I understand that I served at the pleasure of the President, I was nevertheless incredulous that the U.S. government chose to remove an Ambassador based, as best as I can tell, on unfounded and false claims by people with clearly questionable motives."
— Marie Yovanovitch said in front of Congress
She also noted that her removal was "based, as far as I can tell, on unfounded and false claims by people with clearly questionable motives."
The big picture: Though Yovanovitch's opening statement offered new details about her sudden exit from Kiev, it did not shed new light on Trump's attempt to pressure Ukrainian President Volodymyr Zelensky to investigate Hunter Biden.
Go deeper ... Trump-Ukraine scandal: The key players, dates and documents
Go deeper