Lindsey Graham on Trump's Syria decision: "He's putting the nation at risk"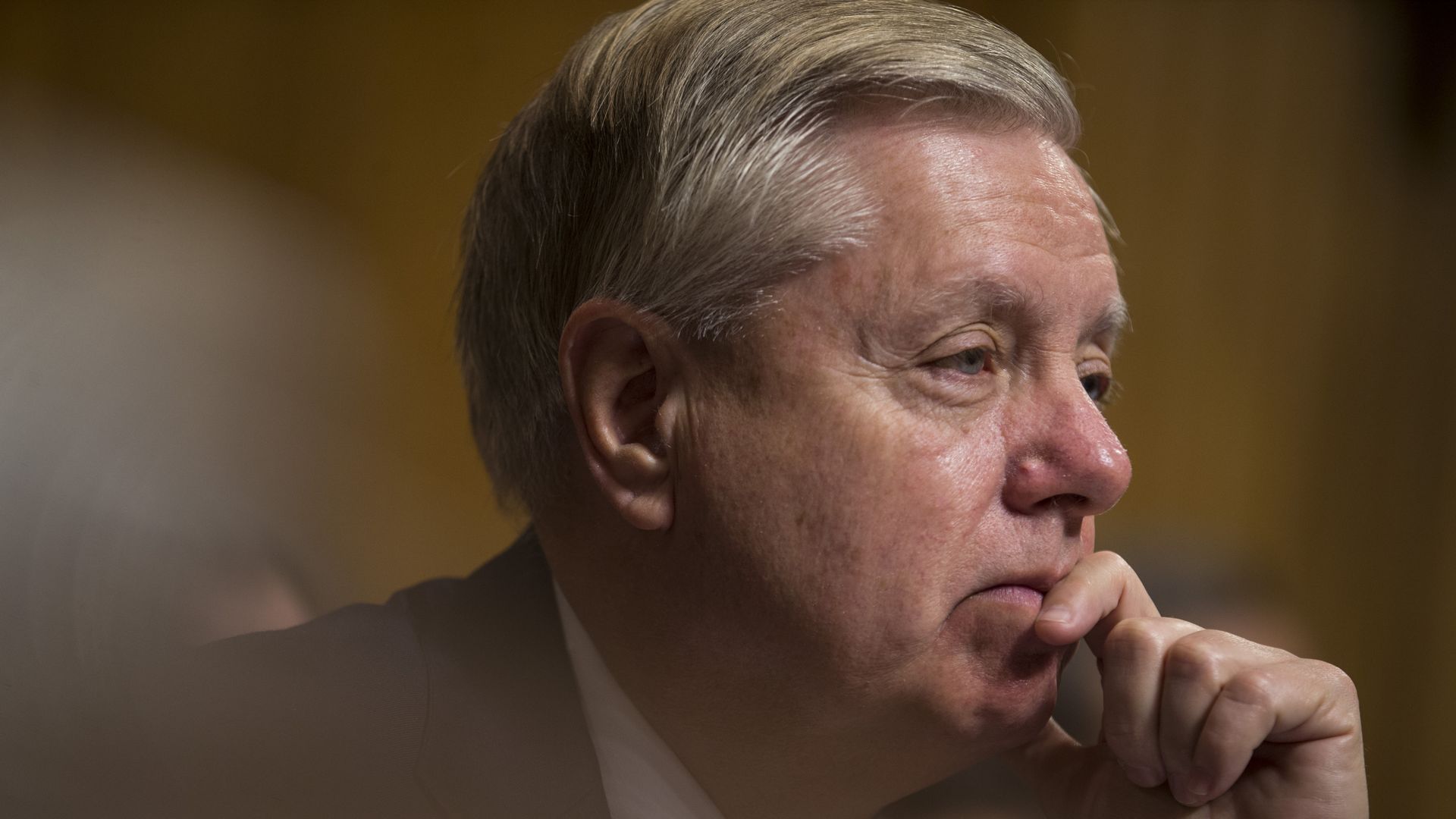 In an interview with Axios on Tuesday night, Sen. Lindsey Graham (R-S.C.) condemned President Trump in his harshest language yet for deciding to withdraw U.S. troops from northern Syria, suggesting Trump is violating his oath of office by allowing Turkey to move in and attack the Kurds.
Driving the news: Graham said Trump is making the biggest mistake of his presidency, against the advice of his national security team, and putting his presidency in peril. "I think he's putting the nation at risk, and I think he's putting his presidency at risk," Graham said. "And I hope he will adjust his policies like he did before. That would actually be a sign of real leadership."
Details: Graham told me in a phone interview:
"This is worse than when Obama left Iraq, because you've got so much information as to what happens. This would be a game changer to our national security. This would pave the way to the re-emergence of ISIS."
"If I hear the president say one more time, 'I made a campaign promise to get out of Syria,' I'm going to throw up."
"He took an oath of office to protect the nation against all enemies, foreign and domestic. There's no bigger enemy to our nation than ISIS. And there's no way we can protect the country from radical Islam without partners like the Kurds." 
"His duty as commander-in-chief, I believe, compels him to act honorably by the Kurds, and it is impossible for Turkey to go into Syria and not create a devastating ripple effect, no matter what the president says to [Turkish President Recep Tayyip] Erdogan."
"Nobody besides Trump believes the president's claim that the U.S. is not abandoning the Kurds."
The other side: The White House declined to respond directly to Graham's comments.
Earlier Tuesday, the president said on Twitter that the U.S. "may be in the process of leaving Syria, but in no way have we Abandoned the Kurds, who are special people and wonderful fighters."
Trump has long foreshadowed a withdrawal from Syria and campaigned in 2016 on a promise to bring American troops home from long-running wars in the region.
Between the lines: Graham remains a key political supporter of Trump, and his stance against impeachment remains. He opposes Democrats' calls to remove Trump from office for his dealings with Ukraine — and he is not saying Trump should be removed because of his Syria policy.
However, Graham's vocal opposition to the withdrawal reflects real and growing frustrations with Trump in his own party at a critical time.
The big picture, per Graham: "The president is not ending the war. He's creating a bigger war if he does not change course."
"It's not proper for the president to abandon the Kurds, turn northern Syria over to Iran eventually, and be responsible for the breakout of thousands of ISIS fighters." 
Trump still has a chance to correct this decision before it becomes a complete disaster but he's running out of time, Graham said. The Washington Post's David Ignatius reported on Tuesday night that "U.S. officials have just informed the Syrian Kurds that Turkey is likely to attack on air and ground in next 24 hours. The U.S. will do nothing."
Graham said he'll ready sanctions tomorrow to hit the Turkish economy and military and praised the Senate Majority Leader Mitch McConnell's supportive stance, calling him "terrific." Asked if he'd have the votes to override a presidential veto, Graham predicted he could get 90 — well past the threshold. "Who the hell supports Erdogan over the Kurds?"
Behind the scenes: Graham said that as far as he's aware, none of Trump's key national security advisers or Cabinet officials supported the announced withdrawal from northern Syria. 
"The president's doing this completely against everybody else's advice. He will get 100% of the credit if he knows something the rest of us don't. And he's going to get 100% of the blame. There'll be no middle ground."
Graham said he first learned of the decision in a 6 a.m. call Monday from someone who told him, "You won't believe what just happened." Graham said he's not spoken to Trump since: "He knows how I feel."
Go deeper