The call heard 'round the world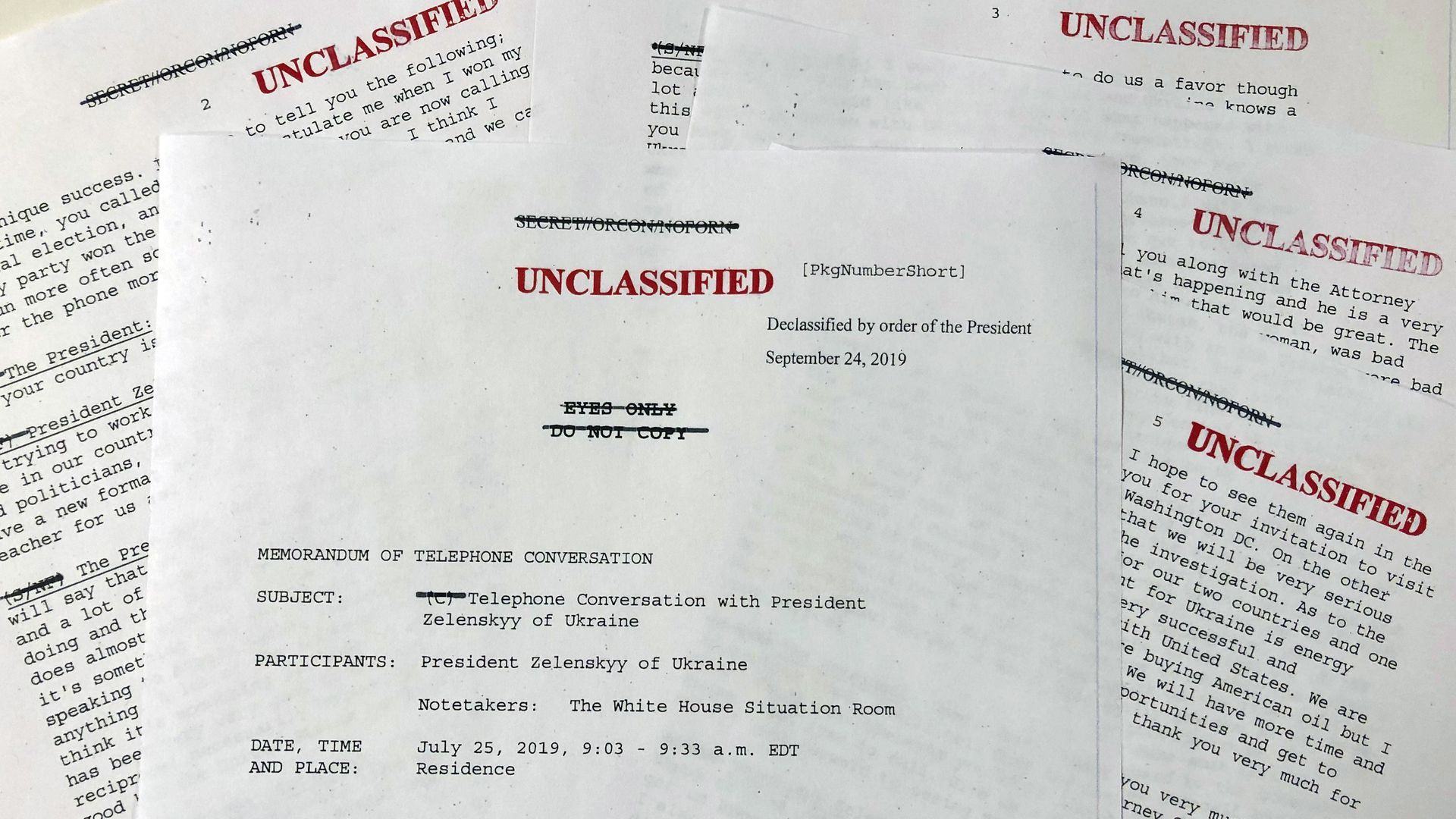 Some members of Congress on Wednesday gained access to the classified whistleblower report hours after the release of a summary of the Trump-Ukraine phone call that led to Democrats launching a formal impeachment probe.
The big picture: There is no explicit Trump promise to Ukraine in exchange for dirt or investigations in the phone call memo released today, but it's easy to read it and understand why a whistleblower would have been concerned by the conversation.
U.S. presidents don't normally ask other world leaders to intervene in American politics — especially immediately after being asked about next steps for securing military aid from the U.S.
In the call, President Trump urged Ukrainian President Volodymyr Zelensky to speak with Rudy Giuliani — who works for Trump, not the U.S. government — and Attorney General Bill Barr.
Trump asked for Ukraine's help on 2016 election interference: "I would like you to find out what happened with this whole situation with Ukraine, they say Crowdstrike... I guess you have one of your wealthy people... The server, they say Ukraine has it."
And he urged investigation into the Biden family: "There's a lot of talk about Biden's son, that Biden stopped the prosecution and a lot of people want to find out about that so whatever you can do with the Attorney General would be great."
Sometime in August, the director of national intelligence referred a whistleblower complaint involving a conversation between Trump and Zelensky to the Justice Department to investigate as a possible campaign finance violation.
DOJ declined to further investigate, stating after a review that "there was no campaign finance violation and that no further action was warranted."
The Justice Department denies that Trump ever spoke with Barr about having Ukraine investigate Biden and says Barr has never discussed this matter with Giuliani.
Between the lines: Media reports last week said a whistleblower came forward in alarm after a "promise" was made on a phone call between Trump and a world leader, the WashPost first reported.
A promise isn't clear in the non-verbatim memo out today. But the whistleblower report isn't public and we don't know whether other calls or exchanges happened that are in the report.
We also don't know the extent of exchanges between Giuliani and Ukrainian officials — although Ukraine's president noted their existence in the call.
What they're saying:
House Speaker Nancy Pelosi: "The transcript and the Justice Department's acting in a rogue fashion in being complicit in the President's lawlessness confirm the need for an impeachment inquiry."
Trump on Pelosi: "As far as I'm concerned, unfortunately, she's no longer the speaker of the House."
Go deeper: Read the memo
Go deeper