Premier Lacrosse League ends its grand continental tour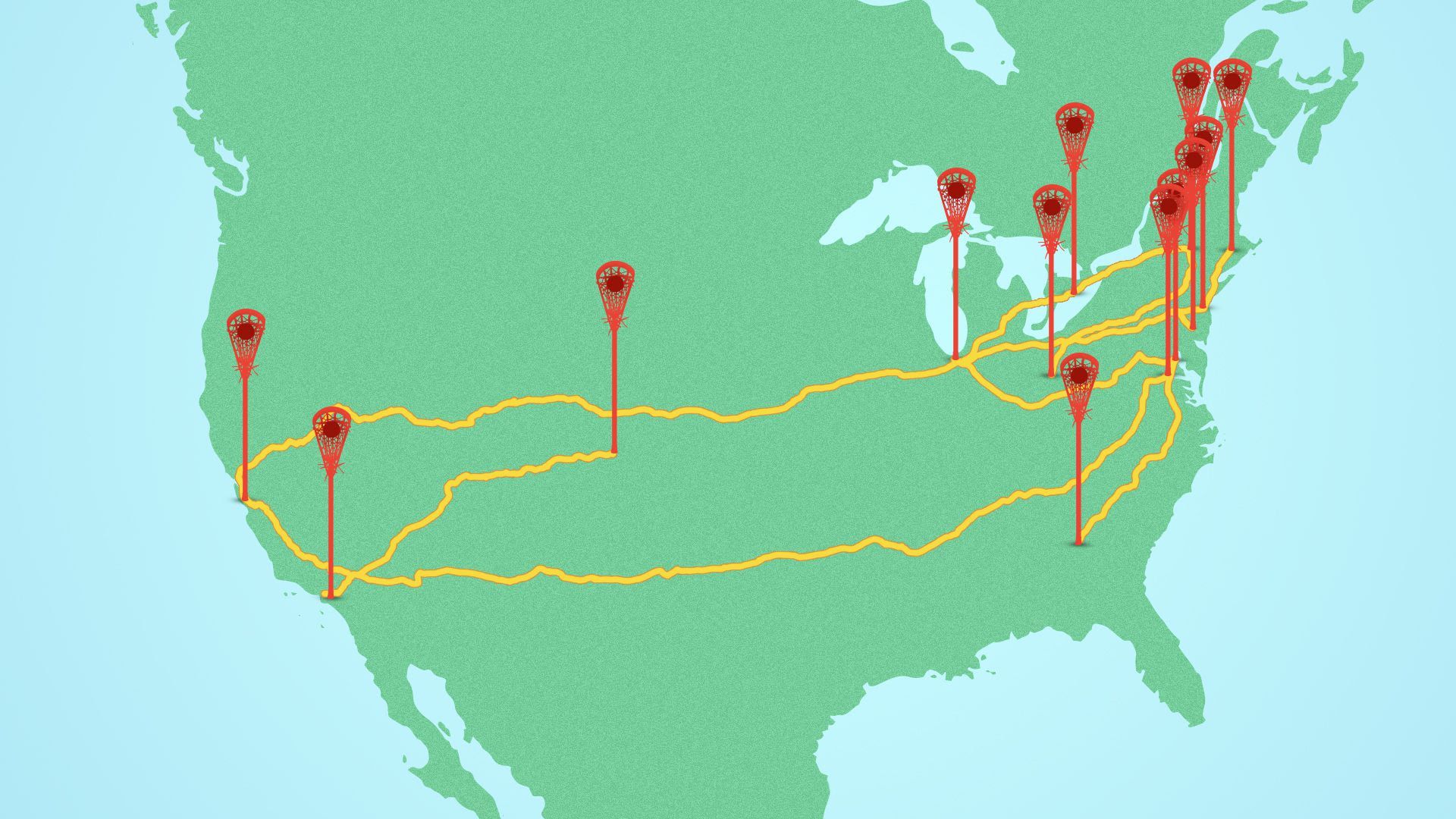 The inaugural season of the Premier Lacrosse League came to a close in Philadelphia on Saturday, with league MVP Matt Rambo and the Whipsnakes beating the Redwoods, 12-11, in an OT thriller.
Why it matters: Over the course of 4 months, the PLL was able to create more buzz around lacrosse than the sport has seen in quite some time — and maybe ever.
Exposure: 3 PLL games were broadcast on NBC, 16 were broadcast on NBCSN and every game was available to stream on NBC Sports Gold.
Broadcast innovations: In addition to changing the ball from white to yellow to make it easer to see on TV, they also mic'd up players and interviewed them in-game right after they scored. So cool.
On-field talent: Having the best talent is crucial when building a new sports league, and the PLL was able to sign nearly every big name in the sport away from the incumbent league, Major League Lacrosse.
And then there's the tour-based model. Unlike traditional leagues, where each franchise calls one city home, the PLL's 6 teams traveled to the same city each weekend to play their games.
Tour stops (pictured above): Boston; New York (twice); Chicago; Baltimore; Atlanta; Washington, D.C.; Los Angeles; Denver; San Jose, Calif.; Hamilton, Ont.; Albany, N.Y.; Columbus, Ohio; Philadelphia.
This model (which the BIG3 also uses) meshes well with modern sports fandom, where fans — particularly young ones — are increasingly following players over local teams.
Interview: I spoke with PLL co-founder (and midfielder) Paul Rabil about why they launched with a tour-based model, and he pointed to 3 main reasons:
National footprint: "With a 6-team league, if we were city-based, we would only be in 6 markets. Instead, our 6 teams traveled to 14 markets, which helped us gain a national footprint from Day 1."
Speed: "If we launched the PLL under the traditional concept of finding individual owners in respective markets, we would have had a 3-year ramp. Instead, we were able to launch in less than 8 months."
Modern fandom: "I think we get caught up in the hyper-trends of fans in leagues like the NFL, which I actually categorize in its own class because of how hereditary it is. ... Look at the English Premier League: most people born in the U.S. certainly don't take geography into account. They pick their favorite team based on players, team colors, winning percentage, etc."
What's next: Now comes the hard part — sustaining the momentum into Year 2. The PLL might also need to rethink its venue strategy after their ambitious plan to play in huge stadiums generated buzz but led to plenty of empty seats on TV.
"Initially, some of the venues that we had were a little bit too big, so I think we're going to focus more on going to venues where fans will have a much more intimate experience. When they played in those 8,000- to 10,000-seat venues, they did very well."
— Jon Miller, president of programming for NBC Sports, tells Axios
Go deeper: Premier Lacrosse League takes Silicon Valley startup approach
Go deeper