Iran to Western powers: "A limited aggression will not remain limited"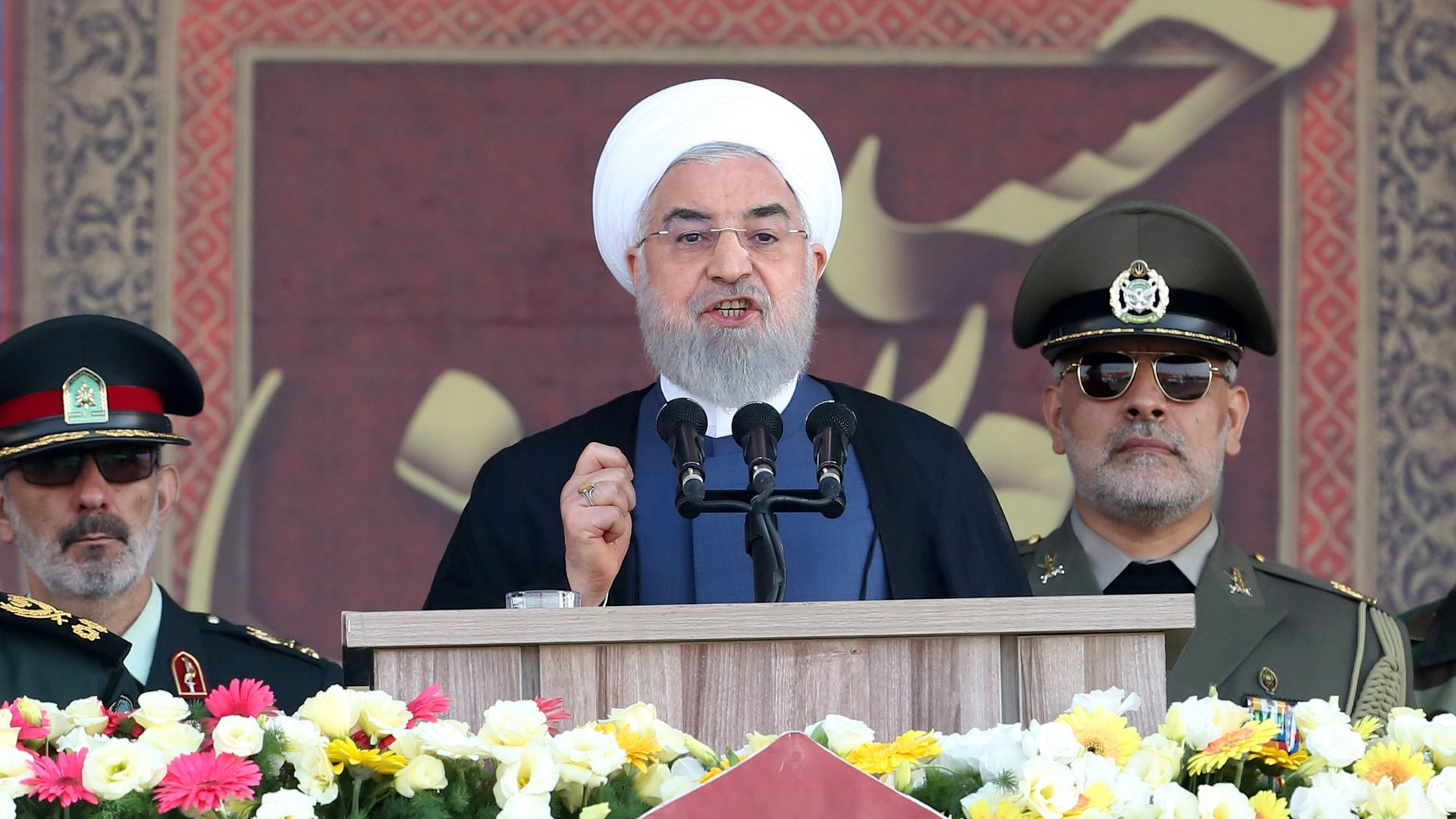 Iran's President Hassan Rouhani warned Western powers in a speech at a military parade on Sunday to cease patrolling the Persian Gulf and allow regional nations led by Tehran to secure their waterways, according to AP.
"Your presence has always been a calamity for this region and the farther you go from our region and our nations, the more security would come for our region."
Why it matters: President Rouhani's order comes 2 days after the Trump administration announced it will deploy U.S. forces to the Middle East in response to the attacks on oil processing and production sites in Saudi Arabia. The Saudis have claimed the attacks were "unquestionably sponsored by Iran," while Secretary of State Mike Pompeo has labeled them "an act of war."
What they're saying: "Those who want to link the region's incidents to the Islamic Republic of Iran are lying like their past lies that have been revealed," President Rouhani said in the speech. "If they are truthful and really seek security in the region, they must not send weapons, fighter jets, bombs and dangerous arms to the region."
The leader of Iran's powerful Iranian Revolutionary Guard Corps, Major General Hossein Salami, added: "Be careful, a limited aggression will not remain limited. We will pursue any aggressor. We are after punishment and we will continue until the full destruction of any aggressor."
House Speaker Nancy Pelosi (D-Calif.) condemned the decision to send troops and bolster arms sales to Saudi Arabia as "the latest outrageous attempt by the Trump Administration to circumvent the bipartisan, bicameral will of Congress," adding: "Americans are weary of war, and have no interest in entering another Middle East conflict, particularly on behalf of Saudi Arabia."
Of note: President Rouhani also promised to unveil a regional peace proposals in meetings at the UN General Assembly this week. After some delays, the Iranian delegation was granted visas by the U.S. last week to attend the meetings in New York.
Go deeper: U.S. to send troops to Saudi Arabia
Go deeper