Updated Jan 8, 2020 -

World
Where U.S. troops and military assets are deployed in the Middle East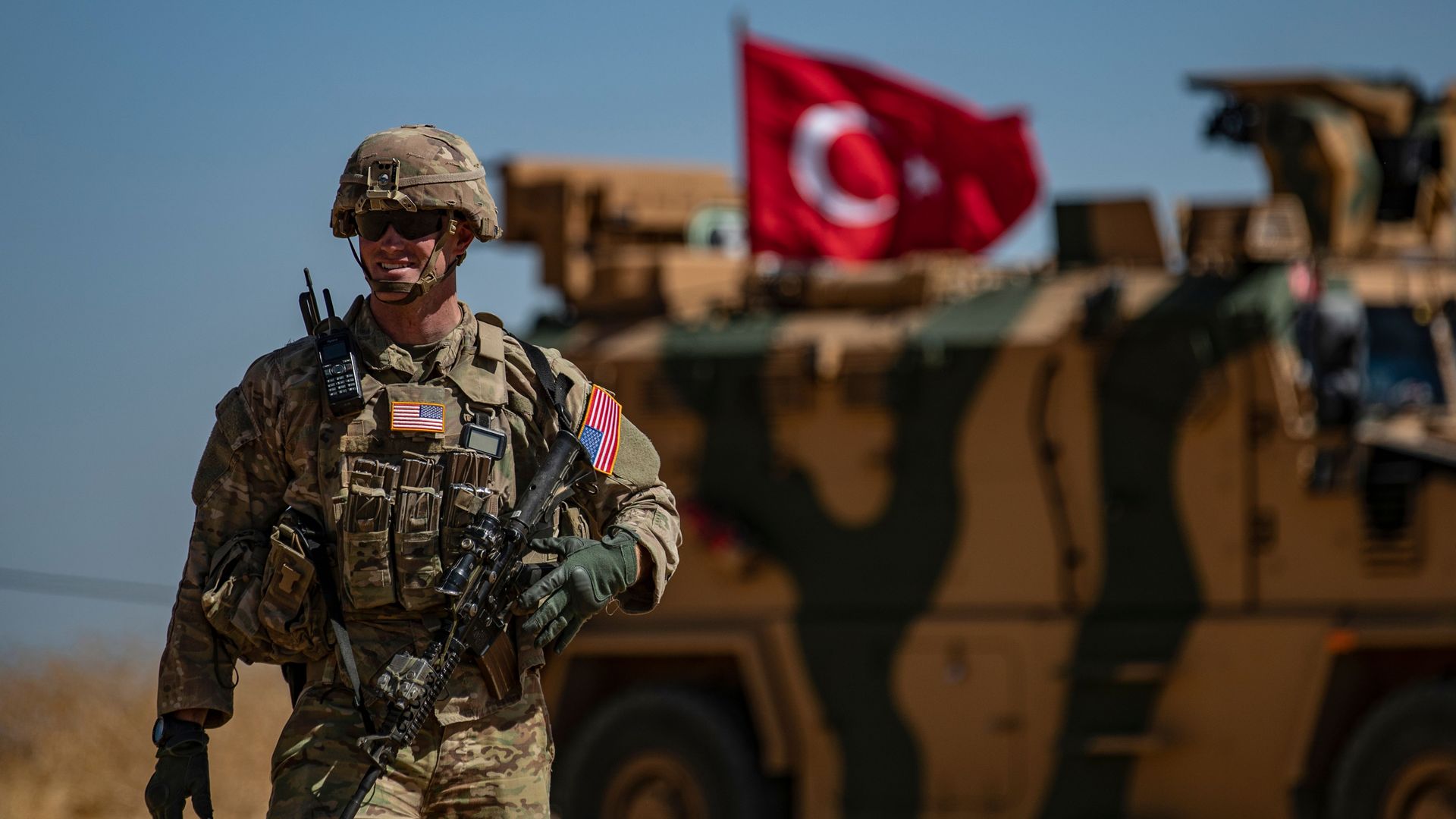 The U.S. has maintained a costly presence in the Middle East for decades, with at least 60,000 troops currently stationed around the region, according to United States Central Command.
Driving the news: The killing of Iran's Gen. Qasem Soleimani and Iraqi militia commander Abu Mahdi al-Muhandis in a U.S. drone strike has put the world on edge, with Iran promising revenge. The U.S. is preparing to deploy about 3,000 additional troops to the region, and had already sent 750 troops after protesters attacked the U.S. Embassy in Baghdad.
By the numbers: The U.S. has nearly 800 military bases around the world, and U.S. Central Command says between 60,000 and 70,000 U.S. troops are in the Middle East.
Afghanistan: 14,000 U.S. troops are in the country, plus 8,000 NATO soldiers.
Bahrain: More than 7,000 American troops, mostly Navy, maintain Persian Gulf security in Bahrain.

Troops are stationed at Naval Support-Bahrain, Shaykh Isa Air Base and Khalifa Ibn Salman Port.

Iraq: About 5,200 U.S. troops were in Iraq as of January, per the Defense Department. Secretary of State Mike Pompeo said American troops are presently deployed in Iraq to help combat ISIS.

The number is likely to change soon as the Iraqi military said U.S. troops are no longer allowed to stay in the country.

Jordan: Approximately 2,795 U.S. troops support operations to defeat ISIS and promote regional stability.
Kuwait: Over 13,000 American troops are stationed in Kuwait, including those at the U.S. Army Central's forward headquarters.

The troops are stationed at Camp Buehring, Ali al-Salem Air Base, Camp Arifjan, Camp Patriot and Shaykh Ahmad al-Jabir Air Base.

Oman: A few hundred U.S. soldiers are in Oman, near the Strait of Hormuz. The country has hosted U.S. operations since 1980 and has assisted the U.S. in combating ISIS.

The troops are stationed at Port of Salalah and Port of Duqm

Qatar: As many as 13,000 American troops are in Qatar, with plans to expand bases. The Gulf nation supports U.S. efforts to combat regional terrorism.

The troops are stationed at Al Udeid Air Base and Camp As Sayliyah.

Saudi Arabia: The Trump administration announced on Nov. 19 that approximately 3,000 U.S. troops will be deployed to Saudi Arabia to protect the region "against hostile action by Iran and its proxy forces," according to a press release.
Syria: The U.S. Central Command is unable to disclose the current number of troops due to safety concerns.

A spokesperson from the DOD said approximately 2,000 U.S. service members were in Syria before Trump pulled the troops, but around 800 might remain to protect oil resources, the Military Times reports.

Turkey: The number of American troops in Turkey isn't clear, but the country's strategic location makes it valuable for transporting arms and people.

The U.S. has air bases in Izmir and Incirlik.

United Arab Emirates: 5,000 U.S. troops are stationed in the UAE, the tiny nation near to the Strait of Hormuz.

The troops are stationed at Al Dhafra Air Base, Port of Jebel Ali and Fujairah Naval Base.
Yes, but: There are other U.S. bases in the region, but the locations aren't disclosed for security purposes.
Go deeper:
Editor's note: Updates with developments following the killing of Soleimani and al-Muhandis.
Go deeper