Expelled MP: Boris Johnson and Brexit are breaking U.K. politics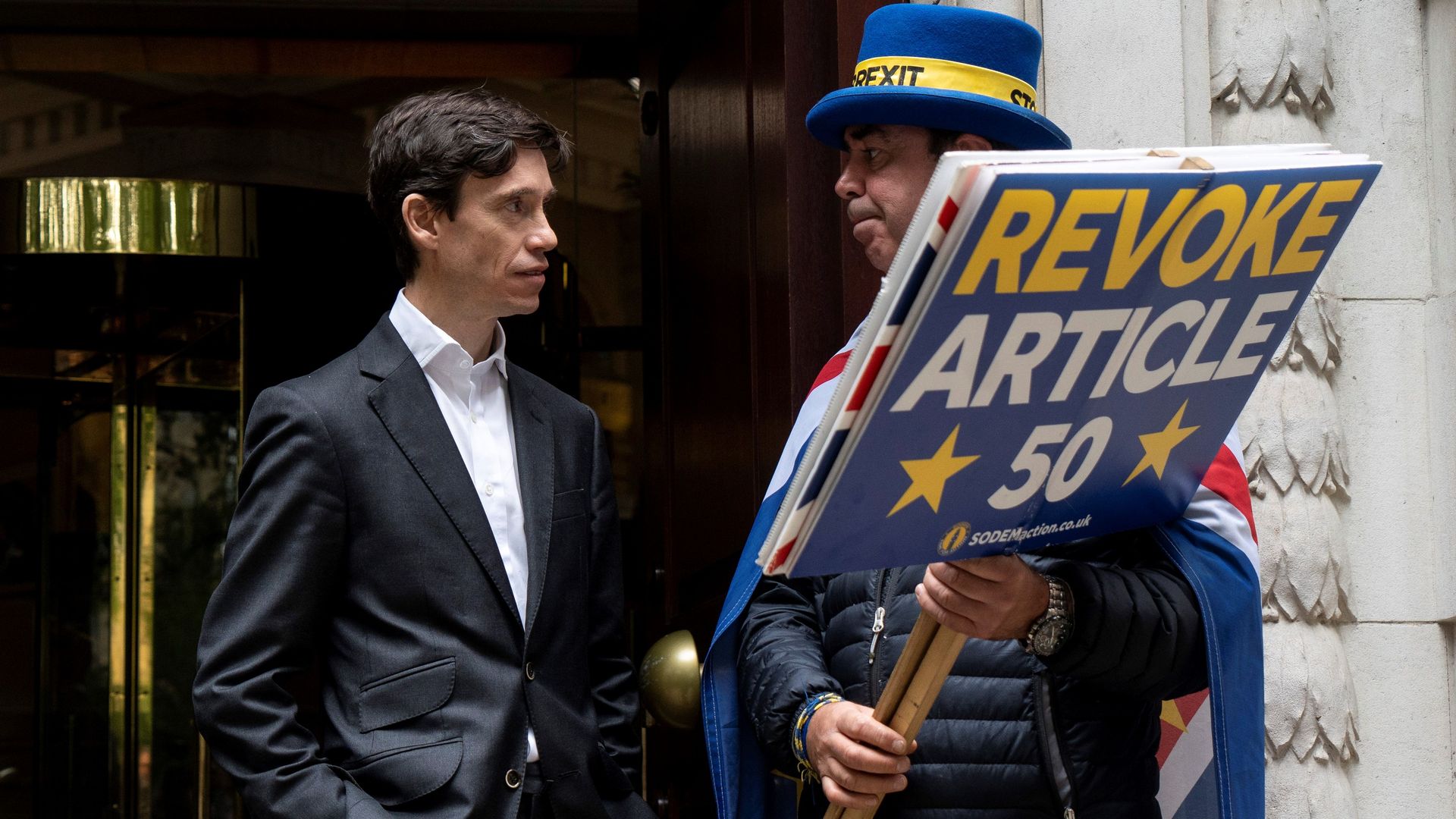 Rory Stewart, who challenged Boris Johnson for leadership of the U.K.'s Conservative Party over the summer only to see Johnson expel him from the party this month, says British politics have descended into an unrecognizable state in which ends justify any means.
"I think our politics is breaking. The parties are breaking. But unfortunately you do get a sense that the center isn't holding either."
Driving the news: As the member of Parliament and former cabinet minister sat down with Axios at a coffee shop in D.C. on Monday, Luxembourg's prime minister was standing next to an empty podium meant for Prime Minister Johnson, who backed out of the press conference due to anti-Brexit hecklers. 
Johnson spent the day trying to convince European leaders (and British voters) that he's serious about seeking a new divorce deal before his "do or die" Brexit deadline, Oct. 31.
But he's also insisting he's willing and able to pull the U.K. out without a deal. That would be chaotic and costly, with logjams at the border and shortages of some foods and medicines.
It would also mean ignoring the law that Stewart and 20 other Conservative MPs were expelled for supporting. It says Johnson has to ask Brussels to extend the deadline to avoid crashing out.
Stewart says he's "99% confident" that law will prevent a "no deal" exit on Halloween. But he notes that Johnson's advisers claim they've found a mysterious "legal loophole" to circumvent it.
Stewart says the most likely outcome is that Johnson personally refuses to seek an extension "and we're forced to find a workaround" — perhaps by enlisting an ambassador or senior civil servant to make the request, or issuing it directly from Parliament. 
He says planning for such eventualities is currently underway, "but the first step we would take is to take him to court."
A former diplomat, Stewart's resume includes tutoring princes William and Harry and writing an award-winning book on his solo travels through Afghanistan.
He says Johnson's "unprecedented" purge on Sept. 4 — which also targeted two former treasury secretaries and Winston Churchill's grandson — went far beyond what the likes of Margaret Thatcher would have countenanced.
"This is trying to knock people out of their seats on the eve of an election," he says. "It makes you wonder what the point of Parliament is if the central executive can simply fire anyone who disagrees with them."
Stewart notes that Johnson and his allies repeatedly defied his predecessor, Theresa May. "I'm looking at a Cabinet where they basically destroyed the prime minister with impunity and are now demanding total loyalty to themselves," he says.
What to watch: Stewart predicts a general election later this year. Barred from running as a Conservative, he's considering an independent candidacy.
No U.K. party currently echoes Stewart in advocating a "soft" Brexit that delivers on the referendum but avoids the harshest economic consequences.
He compares Brexit to the gun debate in the U.S., with the two sides "so disinclined to agree on anything" that compromise is nearly impossible.
Stewart won't join colleagues who've decamped to the centrist Liberal Democrats. That party's position of ignoring the referendum result is "extreme in the other direction" and "a constitutional horror," Stewart argues.
Between the lines: That leaves Johnson's Conservatives and a hard-left Labour Party under Jeremy Corbyn.
"I'd vote Conservative. I'd vote Conservative," Stewart repeats, an apparent attempt to convince himself. A lengthy pause follows. "But ... would I?"
Go deeper