Team USA's FIBA World Cup loss spotlights international basketball's strength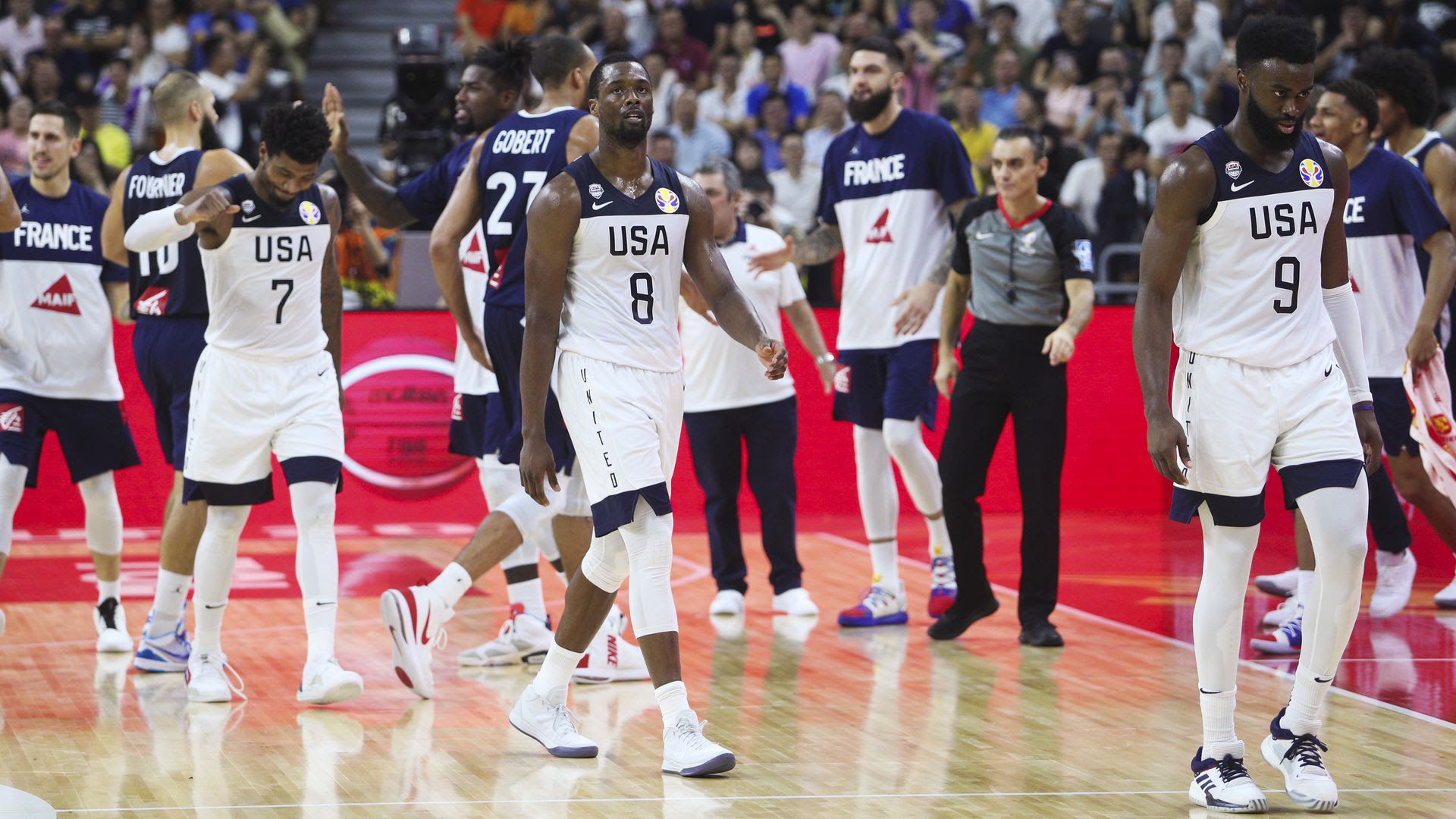 The U.S. men's national basketball team lost to France, 89-79, in the quarterfinals of the FIBA World Cup — a loss that fans knew could happen but never actually believed would.
The big picture: The warning signs were there for months, France is really good and this seems to happen every 16 years.
The U.S. had won 58 straight games in FIBA and Olympic competition, dating back to its loss to Greece in the 2006 world championship, which led to a bronze medal.
Game recap: France's inside-outside combination of NBA stars Rudy Gobert (21 pts, 16 reb) and Evan Fournier (22 pts, 4 ast) dominated, while Gobert's Jazz teammate, Donovan Mitchell, led all scorers with 29 points. (Highlights)
The silver lining: It's "hard to view this development as anything other than a positive, for several reasons," writes The Ringer's Zach Kram, citing growth of the sport, among other things.
"[A] clean U.S. sweep through the 2019 World Cup field, lackadaisical roster and all, might have appeared to be more of a calamity for the international game than the U.S. loss appears to be for the Team USA program," which might actually be able to recruit a better Olympic roster as a result.
"In the past, the sport expanded in part because of Team USA's dominance. But now, international basketball has never looked stronger; ironically, it's up to the Americans to keep up with the rest of the world."
What's next: Team USA plays Serbia today in the 5th-place game, while France plays Argentina in tomorrow's semifinal (the other semifinal is Spain-Australia).
Go deeper: The NBA playoffs are a global affair
Go deeper