College towns are becoming economic powerhouses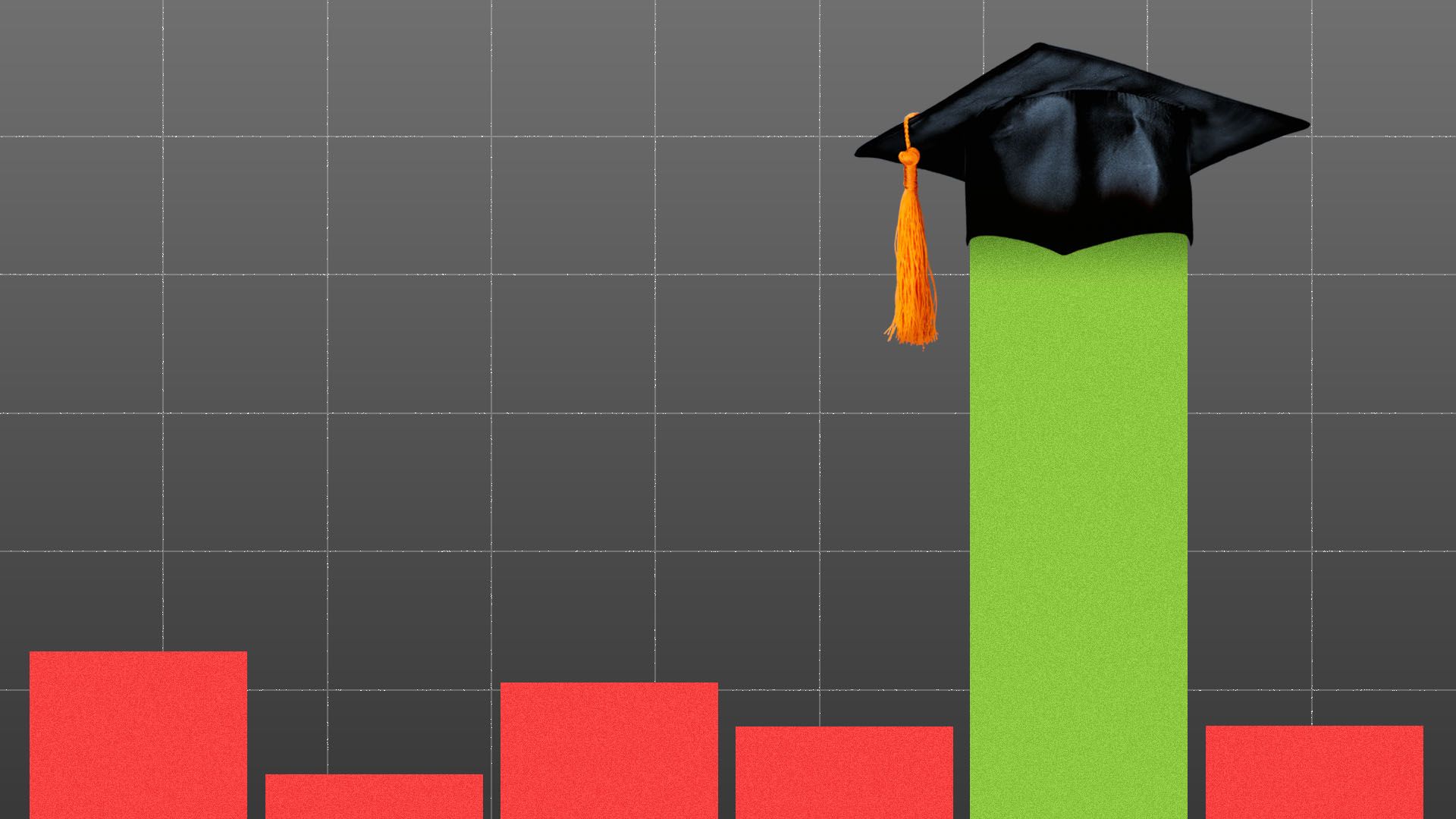 College towns are emerging as economic powerhouses, thanks to their outsized share of the young, highly educated workers who are in such high demand. And as more students stay put after graduation, college towns' potential is only growing.
The big picture: Major universities — particularly research institutions and those affiliated with nearby medical centers — employ tens of thousands of people and spend billions annually.
"But [universities'] power in an urban economy is not limited to what happens inside their doors. They generate billions more indirectly, through spin-offs and through the spending of their employees and — increasingly — their student bodies," Alan Mallach writes in his book, "The Divided City."
By the numbers: College-centric towns are well-positioned to see 11% employment growth over the next decade by leveraging their well-educated worker pools in STEM, health care and creative jobs, according to a recent McKinsey Global Institute study.
College towns' populations are young — more than three-quarters of residents are typically younger than 55 — and also highly educated, with 43% having a bachelors degree or higher.
Major universities also tend to have hefty R&D budgets. Successful research projects can lead to spin-offs, patents and lucrative commercial licensing of technology.
The farther a school is from most students' homes, the greater its economic impact, because more students will live on their own.
And now, instead of leaving for bigger cities right after graduation, a growing number of grads start businesses and hire people, creating new feedback loops of investment and driving more amenities that attract other talent to the area.
What's happening:
Ann Arbor, Michigan: The University of Michigan is cultivating its expertise in mobility. Toyota and Hyundai, for example, have opened large R&D centers there.
Boulder, Colorado: High-paying tech jobs have lured workers from Silicon Valley, as well as venture capital investors. But the cost of living is higher than other college towns.
South Bend, Indiana: The city retro-fitted a dilapidated Studebaker factory as an "innovation hub," and Notre Dame in 2008 opened "Innovation Park" focused on turning its tech research into new businesses.
Ames, Iowa: It's one of the fastest-growing cities in Iowa, due in part to Iowa State's Research Park to draw STEM talent.
That growing entrepreneurial ecosystem is relatively new for college towns, which historically haven't given much thought to economic development.
"20 years ago, if you wanted to start a business, capital was king. Now talent is king. Having those connections to that constant feedstock of graduates is very attractive to industries. It means certain areas that are a little further from metro areas can carve out a niche."
— Scott Andes, National League of Cities
Yes, but: College towns still struggle to attract venture capital funding to spur high-growth companies to keep startups from leaving. And while they have relatively low costs of living, these towns tend to have higher-than-average poverty rates.
What's next: Mid-size, post-industrial cities are increasingly leaning on universities and medical centers —"eds and meds" — to replace dwindling manufacturing jobs.
"University cities" — like Pittsburgh, home to Carnegie Mellon; Baltimore, home to Johns Hopkins; and St. Louis, home to Washington University — have the benefits of larger populations, an existing employment base and generally higher research budgets, Andes said.
Go deeper