German far-right party posts best-ever results in key state elections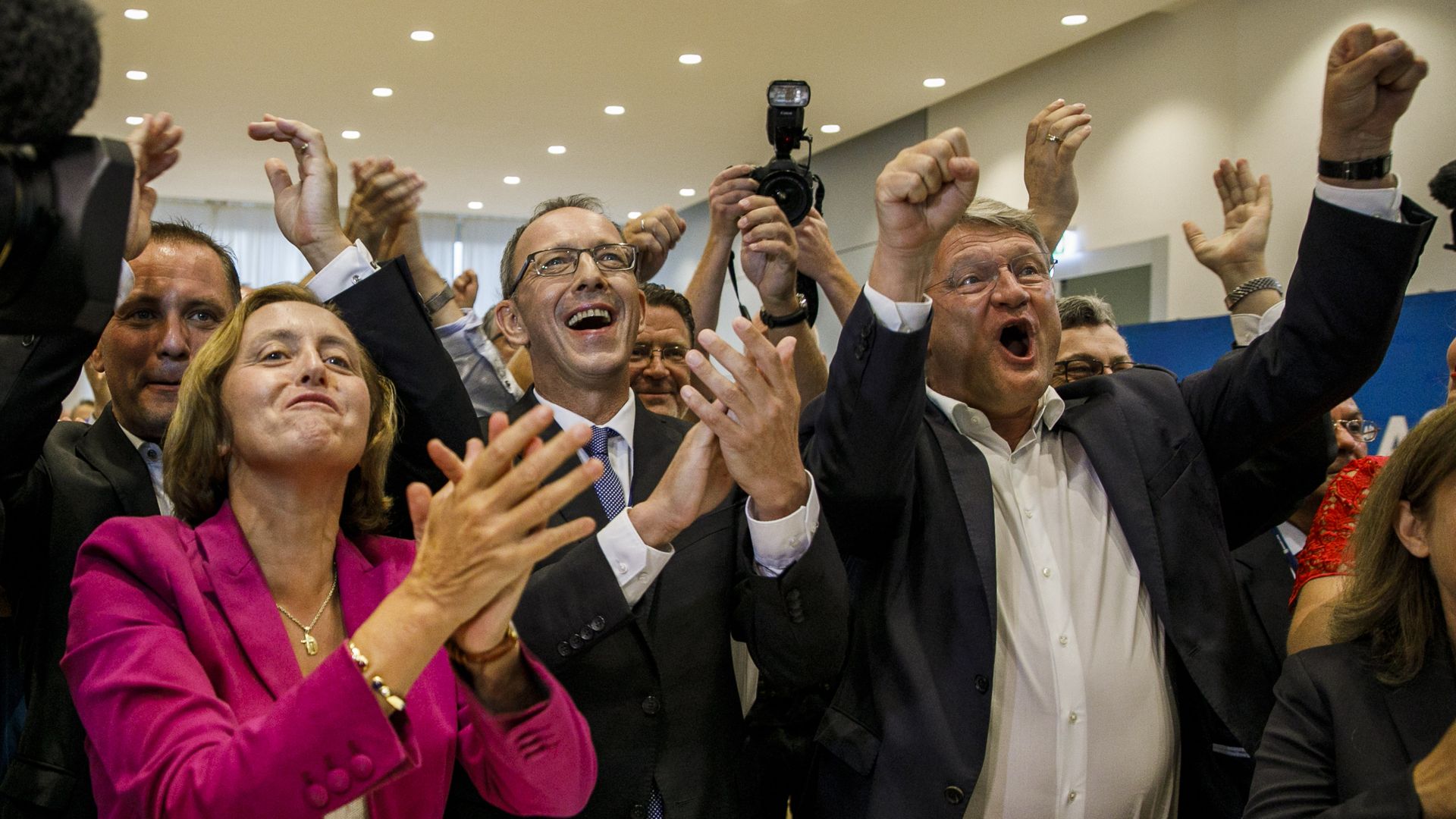 The far-right Alternative for Germany (AfD) came up short of victory in eastern state elections in Saxony and Brandenburg on Sunday, but still finished with its highest vote share ever, Politico reports.
Why it matters: The anti-immigrant, nationalist AfD is one of several far-right parties across Europe that have made significant gains at the expense of the political establishment, including in May's European Parliament elections. Angela Merkel's center-right Christian Democratic Union (CDU) remained the strongest party in Saxony with about 32%, while the center-left Social Democrats (SPD) held onto first place in Brandenburg with 27.2%, according to initial results.
Worth noting: The results are being viewed as a victory for AfD, but all parties have sworn not to work with the far right in a coalition government. That could be a difficult promise to keep, however, with vote share dispersed across a number of smaller parties.
The big picture: The state elections are being viewed as a crucial test for Annegret Kramp-Karrenbauer (AKK), the hand-picked successor to Merkel. A series of missteps have Germans — including some in AKK's own party — questioning her leadership. Her CDU has become especially vulnerable with AfD chipping away at its popularity in recent elections.
CDU: 32.3% (-7.2% from 2014)
AfD: 27.8% (+18.1%)
The Left: 10.3% (-8.6%)
Greens: 8.6% (+2.9%)
SPD: 7.6% (-4.8%)
Free Democratic Party: 4.8% (+1%)
SPD: 27% (-4.9% from 2014)
AfD: 23.8% (+7.3%)
CDU: 15.5% (-7.3%)
The Left: 10.4% (-8%)
Greens: 10.2% (+4.3%)
Free Democratic Party: 4.7% (+3.2%)
Go deeper: More early election analysis from Politico
Go deeper