DOJ inspector general releases report on James Comey investigation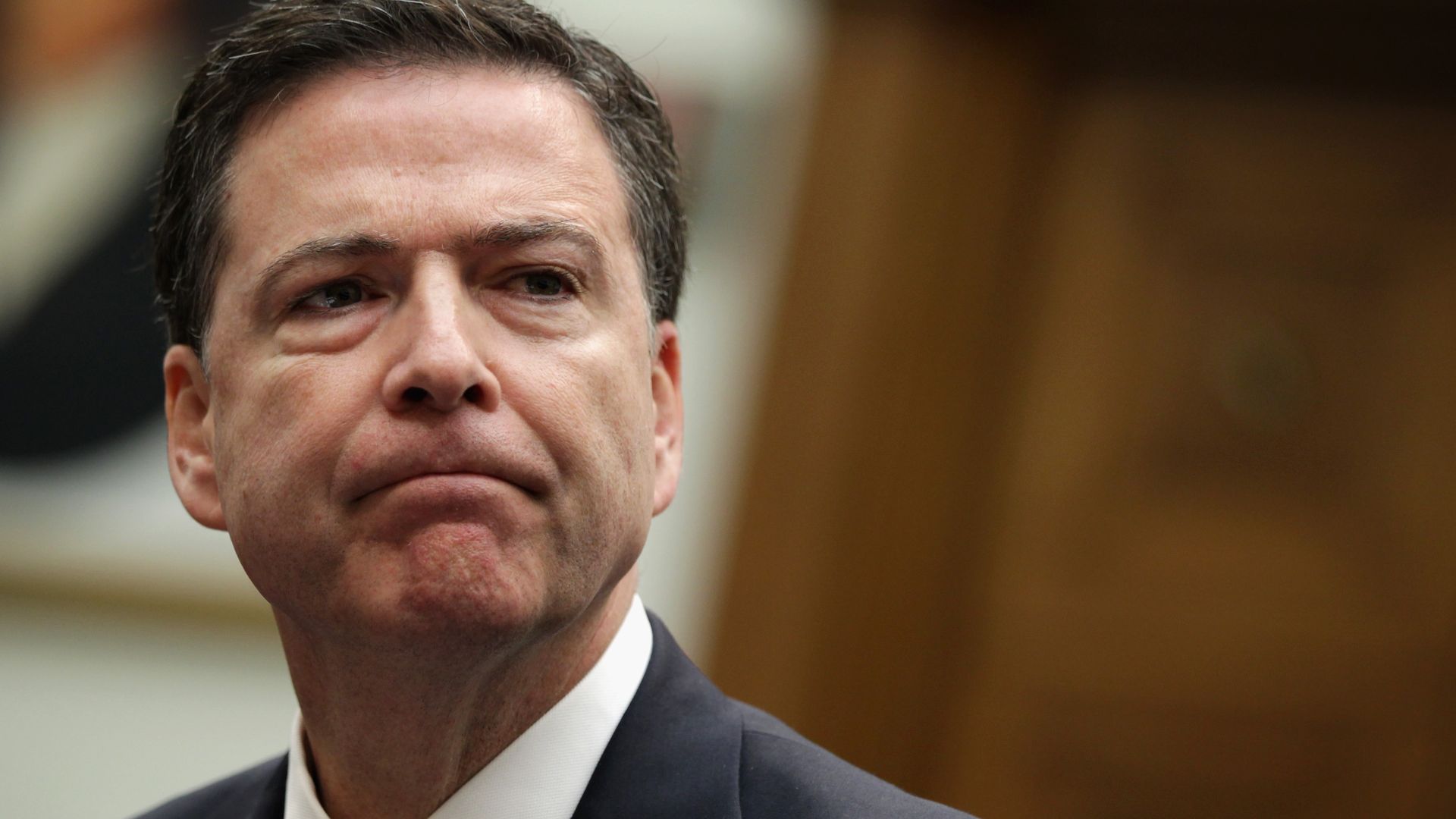 The Justice Department's inspector general has released a blistering report finding that former FBI Director James Comey broke department policy and his employment agreement in his handling of sensitive information in the Russia investigation.
Why it matters: The report, which calls Comey a "dangerous example" for the FBI, is jet fuel for President Trump and allies determined to aggressively investigate the intelligence community's conduct. After evaluating the findings, however, the Justice Department ultimately decided not to prosecute.
"The responsibility to protect sensitive law enforcement information falls in large part to the employees of the FBI who have access to it through their daily duties. ... Former Director Comey failed to live up to this responsibility. By not safeguarding sensitive information obtained during the course of his FBI employment, and by using it to create public pressure for official action, Comey set a dangerous example for the over 35,000 current FBI employees—and the many thousands more former FBI employees—who similarly have access to or knowledge of non-public information."
Details: The report said it found no evidence that Comey or his attorneys leaked any of the classified information contained in the memos about his personal conversations with President Trump. However, it harshly criticizes him the way for taking the memos home with him and disclosing some of the contents to a friend for the purpose of leaking them to the media and prompting a special counsel investigation.
"Comey had several other lawful options available to him to advocate for the appointment of a Special Counsel, which he told us was his goal in making the disclosure. What was not permitted was the unauthorized disclosure of sensitive investigative information, obtained during the course of FBI employment, in order to achieve a personally desired outcome."
The big picture: Trump and Republican lawmakers, who have repeatedly accused Comey of lying and leaking, had hoped that this report would vindicate Trump's claims that the Russia investigation was a witch hunt.
Comey's memos of his private conversations with Trump, some of which included classified information, were reviewed in former special counsel Robert Mueller's investigation into whether Trump obstructed justice.
DOJ said they declined to charge Comey "in part because they didn't believe there was evidence to show Comey knew and intended to violate laws on handling classified information."
What they're saying:
In response to the report, Comey tweeted: "DOJ IG 'found no evidence that Comey or his attorneys released any of the classified information contained in any of the memos to members of the media.' I don't need a public apology from those who defamed me, but a quick message with a 'sorry we lied about you' would be nice."
House Oversight Ranking Member Jim Jordan said in a statement: "Today's report is a disappointing reminder that the former FBI Director put partisanship and personal ambition over patriotism and his legal obligations to the American people. By leaking his confidential communications with the President in an attempt to save face in the wake of his firing, Mr. Comey believed he was above the rules of the DOJ."
Go deeper