Trump administration can't say when first section of new wall will be built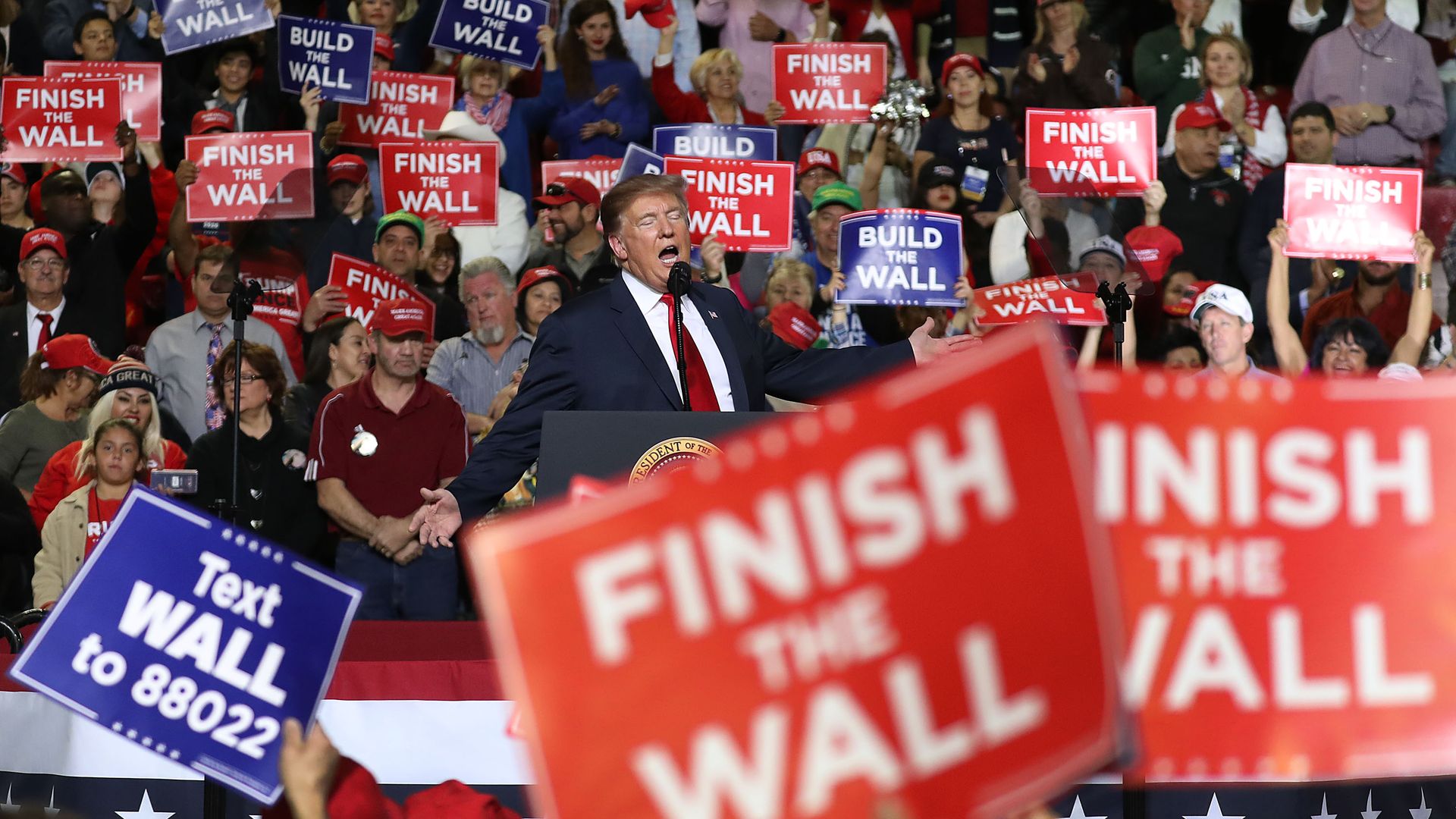 More than 2 1/2 years after President Trump took office with an ardent promise to build a wall along the southern border, his administration cannot tell us when it will add its 1st mile of new wall to a border area that doesn't have pre-existing barriers.
Why it matters: The wall has been Trump's most iconic and polarizing promise — one he was willing to declare a national emergency and shut down the government for weeks over.
So far in Trump's presidency, more than 60 miles of existing barriers and fences have been replaced with new wall, according to a Department of Homeland Security official.
DHS has been referring to replacement wall as "new," but to date, not a single mile of wall has been built where no barrier previously existed. The official did not provide an answer when asked when the first section of "new" wall would be built.
"The Department is committed to confronting the humanitarian and security crisis at our border, stemming the flow of illegal and irregular migration, and protecting our rule of law and the American people from traffickers, child smugglers, and transnational criminal organizations exploiting our system to profit from human misery and suffering," the DHS official said.
What's next: The Trump administration says it expects to build 450 miles of border wall — which has typically consisted of tall, steel slats — in "strategic locations" by the end of 2020, according to the same official.
DHS is currently replacing 124 miles of fencing with new wall in the El Paso, El Centro and Tucson sectors. In mid-September, the government expects to start building an additional 5 miles in the Yuma sector.
The big picture: Most of the funding lawmakers have secured for Trump's border security demands has specifically excluded building a border wall where there is no existing barrier. Democrats have opposed this funding, deeply frustrating the president.
A recent Supreme Court decision has enabled the Trump administration to begin building new wall with Pentagon funds through Trump's emergency declaration. Some of that money is now being used on border barrier projects, AP reported.
Go deeper: What the fight over Trump's border wall is really about
Go deeper