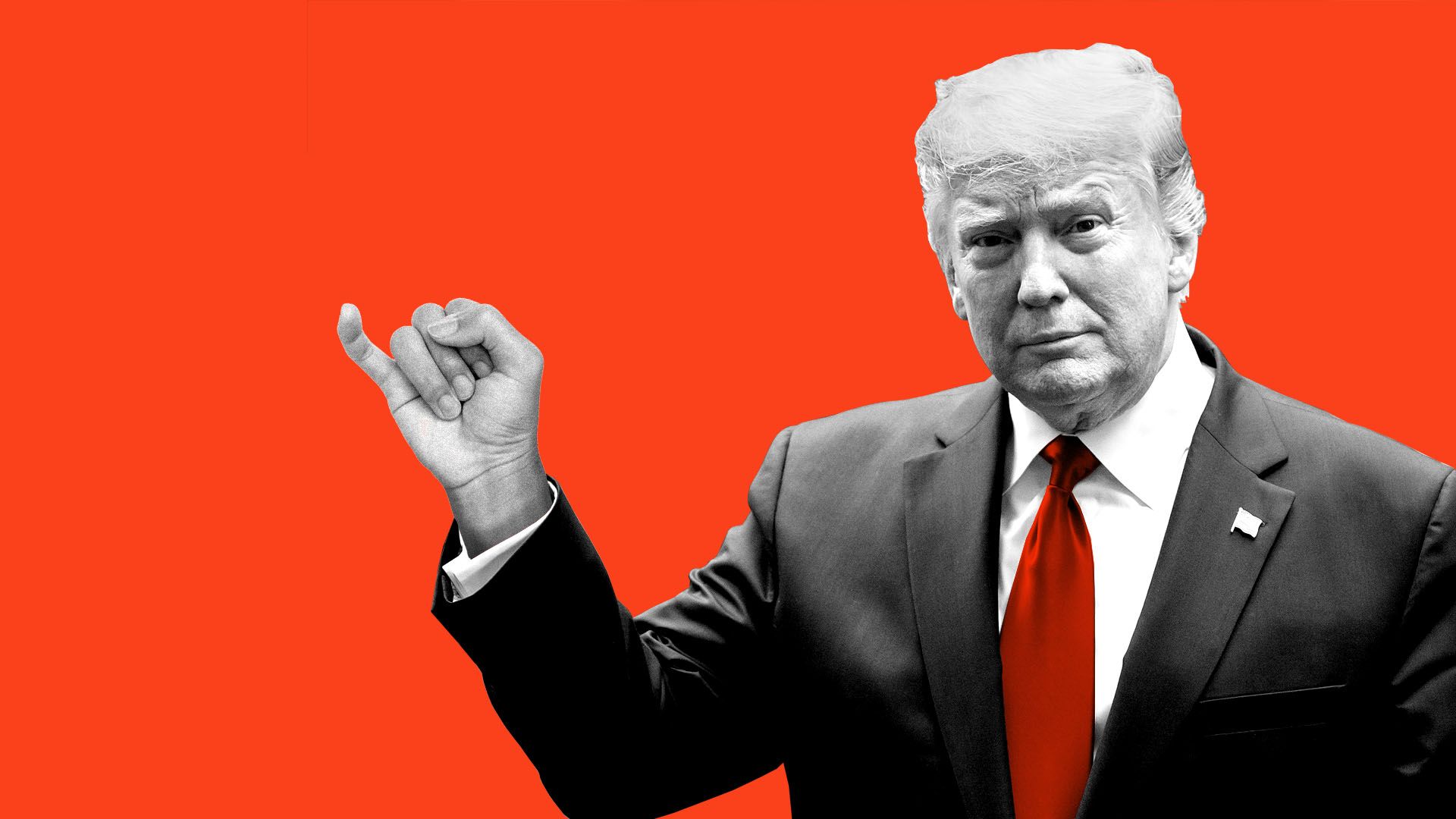 One of President Trump's under-appreciated re-election assets is something all politicians promise but few do: He has largely done precisely what he promised his base he would do.
Why it matters: In our travels around the country, when we push people on why they're sticking with Trump, this is the #1 reason they cite.
Love him or hate him, Trump fixates on turning campaign promises into reality— or at least making the case that he tried:
Conservative Supreme Court justice? Check and double-check.
Tax cuts? Check, although they were heavily weighted toward corporations rather than the middle class.
Gut regulations, especially from the Obama era? Check.
Crack down on immigration? Even this is a check, despite his failure to build a wall. 
Tariffs on China? Check.
Declaring China a currency manipulator? Check.
Withdrawing from Paris climate agreement? Check.
Withdrawing from the Iran nuclear deal? Check.
Withdrawing from the Trans-Pacific Partnership, the giant Pacific Rim trade deal? Check.
Renegotiating NAFTA? Check. (Pending congressional approval.)
Then there are the huge promises Trump hasn't kept:
He promised in a 2016 interview, with the WashPost's Bob Woodward and Robert Costa, to wipe out the national debt in eight years. Instead, he's increased the deficit and inflated the debt by trillions.
He promised to build "a great wall," but inflates the mileage he claims by mixing replacement projects with new construction.
He promised Mexico would pay, but of course it hasn't.
He promised to repeal the Affordable Care Act and give amazing health care to everyone. Failed on both scores.
He promised to reverse trade deficits. Instead, the U.S. trade deficit with Europe has grown.
Trump, who yesterday called Afghanistan "the Harvard University of terrorism," had pushed to end America's longest war. But he hasn't withdrawn all U.S. troops, and said: "[W]e'll always have somebody there."
Other areas where reality has fallen short: infrastructure ("We will build gleaming new roads, bridges, highways, railways and waterways all across our land") and ending the opioid crisis.
Perhaps Trump's most absurd broken promise: to drain the swamp. Instead, he brought us Scott Pruitt and friends.
What's next: Watch for Trump to argue that unfulfilled promises are the fault of others.
Go deeper: Trump's shaky policy legacy
Go deeper