Schumer, Pelosi demand McConnell cancel Senate recess to pass gun control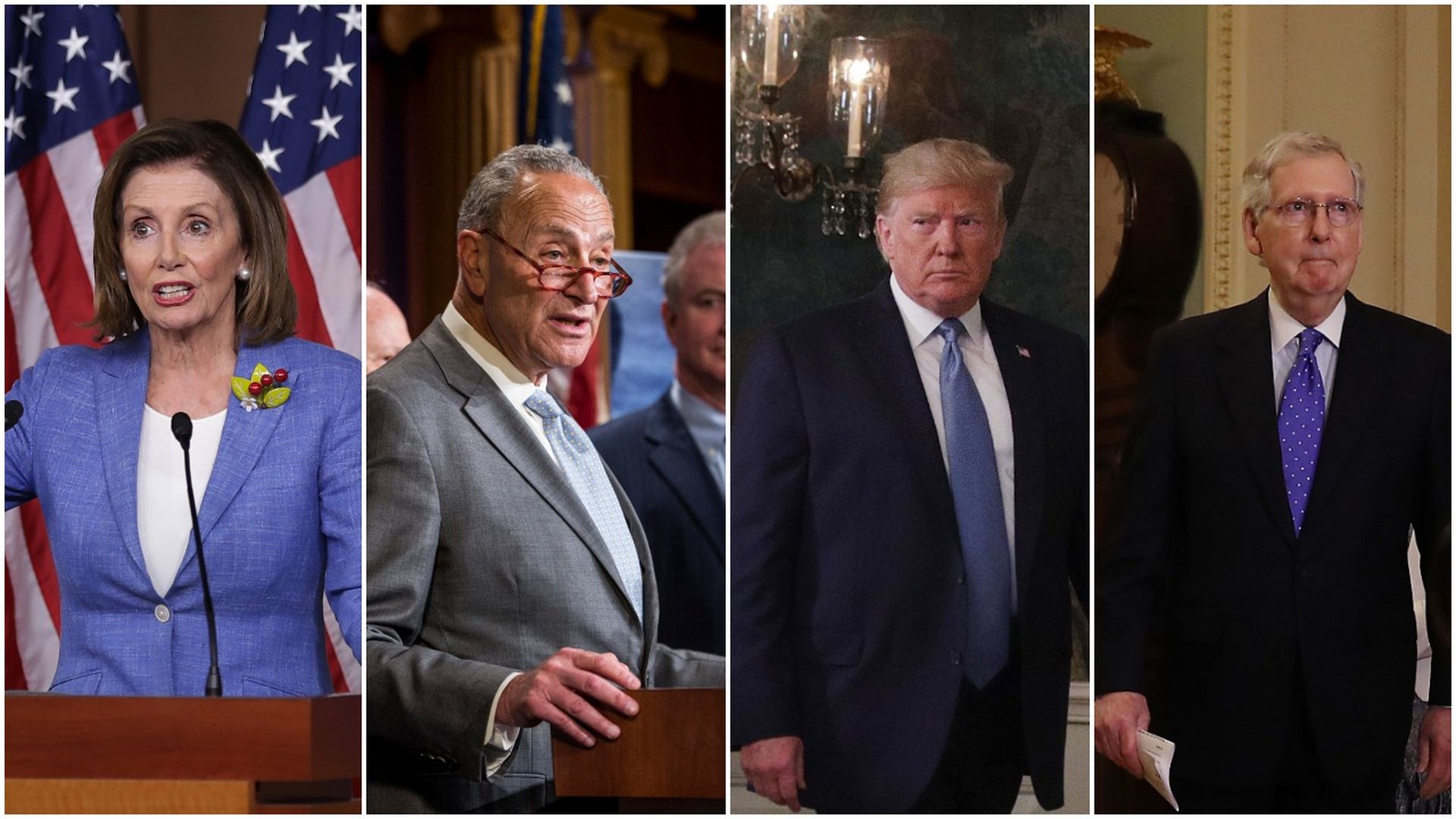 House Speaker Nancy Pelosi and Senate Minority Leader Chuck Schumer urged Senate Majority Leader Mitch McConnell to return the Senate from August recess to "immediately" vote on a House-passed background check bill and send it to President Trump's desk.
The big picture: Pelosi and Schumer are putting the pressure on McConnell to respond to the weekend's 2 mass shootings, pointing to the fact that the House passed 2 gun-control bills earlier this year. Pelosi led a noon call with the House Democratic Caucus on Monday to discuss how to move forward.
Both background check bills are currently sitting in the Senate:
HR 8 would establish new background check requirements for firearm transfers between private parties.
Rep. Jim Clyburn's Charleston loophole bill, meanwhile, would extend the review period for the FBI to complete its background checks for gun purchases from 3 days to 10 days.
President Trump did not name any specifics in his address to the public on Monday about future legislation, but urged "real bipartisan solutions." Earlier on Monday, Trump tweeted in favor of "strong background checks" and suggested tying the legislation to "desperately needed immigration reform," prompting backlash from some Democrats.
Full Pelosi and Schumer statement:
"In February, the new Democratic House Majority promptly did its duty and passed the Bipartisan Background Checks Act of 2019, which is supported by more than 90 percent of the American people and proven to save lives. 
"However, Senate Republican Leader Mitch McConnell has called himself the 'grim reaper' and refuses to act on this bipartisan legislation.  It is incumbent upon the Senate to come back into session to pass this legislation immediately. 
"It took less than three hours for the President to back off his call for stronger background check legislation. When he can't talk about guns when he talks about gun violence, it shows the President remains prisoner to the gun lobby and the NRA.
"The public must weigh in and demand passage of this legislation for the safety of our children."
Go deeper: Mass shootings in El Paso and Dayton force America to confront its gun problem
Go deeper