Mark Esper becomes first Senate-confirmed defense secretary in 204 days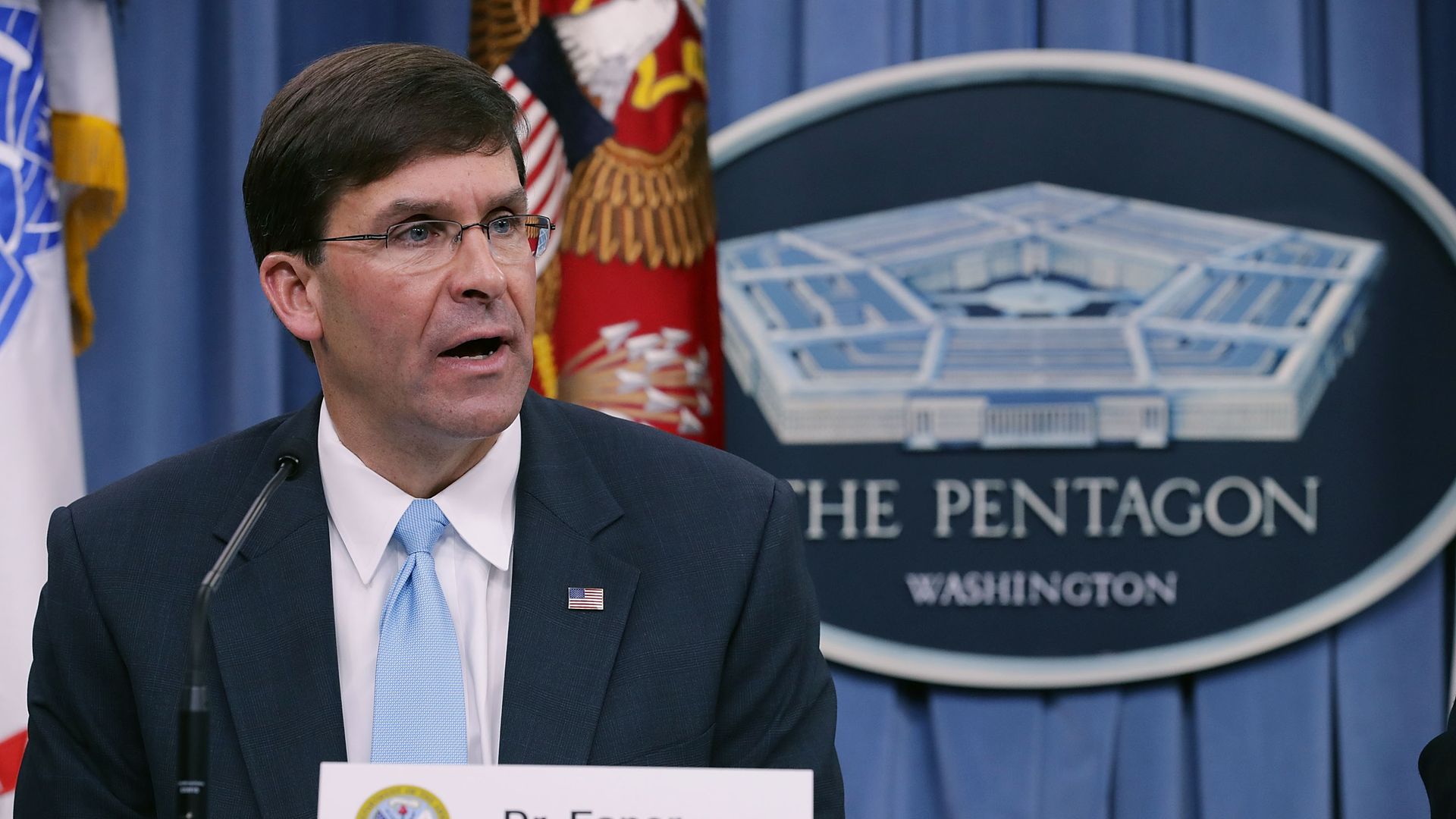 The Senate voted 90 to 8 on Tuesday to confirm Mark Esper as the new secretary of defense.
Why it matters: The Trump administration went a record 204 days without a Senate-confirmed defense secretary, following the resignation of James Mattis in December and the withdrawal of acting Pentagon chief Patrick Shanahan last month.
Throughout that period, the U.S. has seen a rising threat of military conflict in both Iran and Venezuela, with Iranian tensions in particular reaching new heights over the last few weeks in the Strait of Hormuz.
The U.S. military also remains actively engaged in Syria and Afghanistan, in addition to providing arms sales and having troops deployed in dozens of other countries around the world.
What to know: Esper is a veteran of the Gulf War and served as Trump's acting Army secretary. He worked as a policy staffer on Capitol Hill and later as a lobbyist for defense contractor Raytheon. During Esper's confirmation hearing, he declined to say that he would recuse himself from issues involving Raytheon after being grilled on his lobbying record by Sen. Elizabeth Warren.
Under the Federal Vacancies Reform Act, Esper was prevented from serving as acting defense secretary while engaged in the Senate confirmation process. He will now replace Richard Spencer, who is the Trump administration's third acting defense secretary this year, per AP.
Of note: Of the eight Democrats who voted against Esper's confirmation, five are running for president. That includes Sens. Kamala Harris (Calif.), Amy Klobuchar (Minn.), Cory Booker (N.J.), Elizabeth Warren (Mass.) and Kirsten Gillibrand (N.Y.). Bernie Sanders (I-Vt.) did not vote.
Go deeper: Trump's incredibly empty Cabinet
Go deeper