Axios fact check: Trump campaign's tweets on the Dems' debate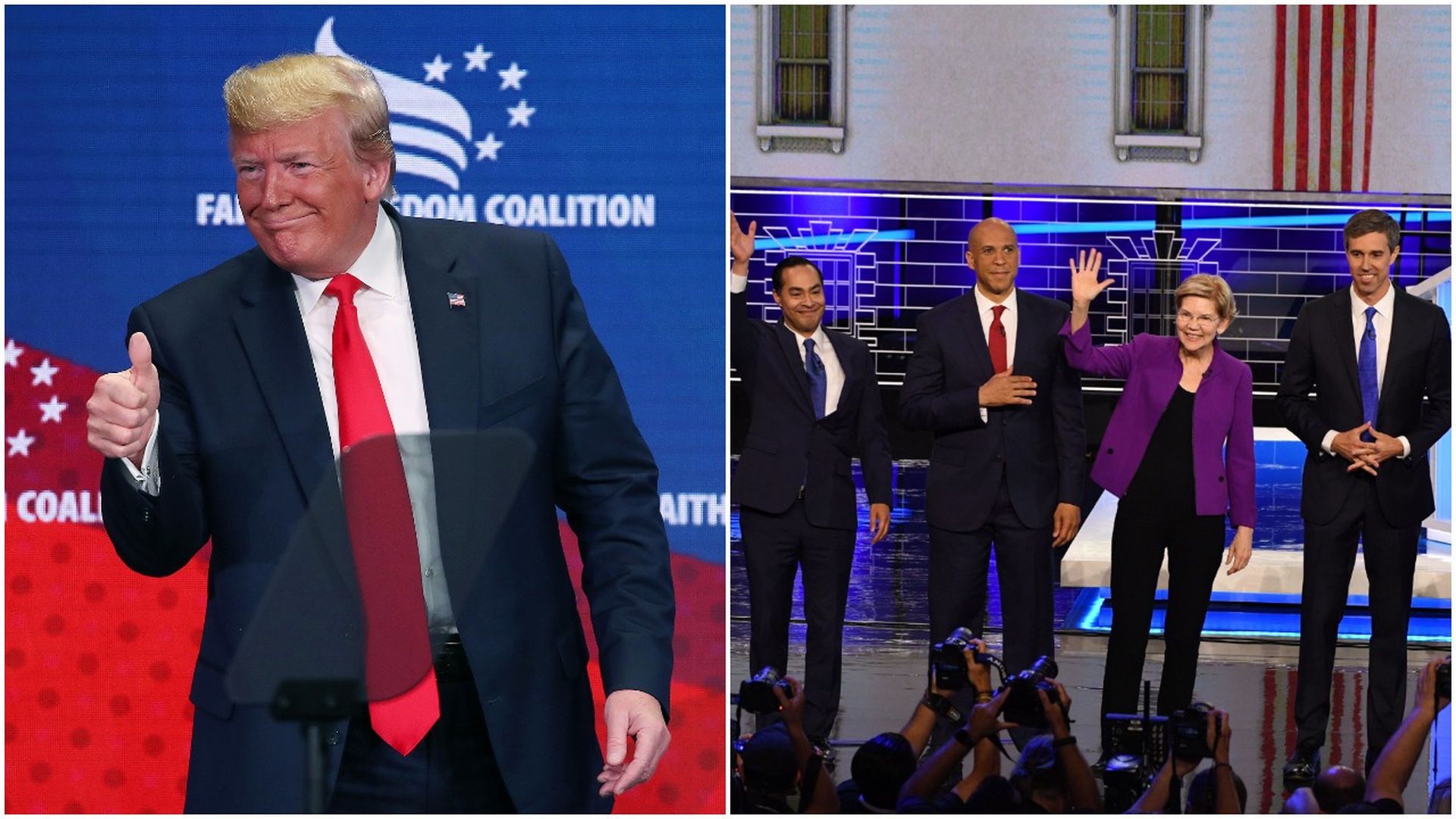 From the Trump War Room on the president's record on gun control:
"FACT: President Trump signed bipartisan legislation to improve the federal firearm background check system and keep guns out of the hands of dangerous criminals. #DemDebate."
Details: Trump signed a bill into law in 2017 that rolled back an Obama-era regulation that made it harder for people with mental illnesses to purchase a gun.
The Justice Department issued a ban in March on bump stocks, which enabled the Las Vegas shooter to create a semi-automatic firearm. However, Trump has threatened to veto two bills pending in Congress. The House passed separate measures, one to strengthen background checks and the other lengthening the background check review from three to 10 days.
Director of communications Tim Murtaugh on the Green New Deal:
"In case you're keeping score at home, the $93 trillion price tag of the Green New Deal is more than the combined Gross Domestic Product of every nation on Earth."
Details: The total GDP for all economies is $87.27 trillion, according to the International Monetary Fund.
The Green New Deal has been touted as a manifesto with no estimated costs. The $93 trillion comes from a study from a conservative think tank and is based on speculative analysis on the costs, given the absence of policy specifics in the GND resolution.
Director of Strategic Communications Marc Lotter:
"Democrats UNANIMOUS in getting back into IRAN deal that sent pallets of cash to the largest state sponsor of terror in the world and provided a road map for Iran to have nuclear weapon. BAD FOR ISRAEL!"
Details: Sen. Cory Booker is opposed to the United States returning to a nuclear deal with Iran.
Lotter tweeted on the economy:
The economy is working under @realDonaldTrump:
6,000,000 new jobs
Paychecks rising fastest in 10 years
Paychecks growing faster for lower income workers
Lowest unemployment in nearly 50 years
1,600,000 more available jobs than unemployed
Reality check: The economy added 5.1 million jobs since Trump has been in the Oval Office, not the 6 million Lotter claims.
Economic growth quickened, but not as much as Trump promised. The average weekly earnings of all private-sector workers, adjusted for inflation, rose 2.6% during Trump's first 23 months, after going up 3.9% during the previous four years.
On unemployment, Lotter is correct. The Bureau of Labor Statistics recorded unemployment in January 1969 at 3.4%. The unemployment rate for May 2019 was 3.6%.
The BLS also reported that over the 12 months ending in April, hires totaled 69.6 million and job separations totaled 66.8 million, yielding a net employment gain of 2.8 million.
Campaign press secretary Kayleigh McEnany criticized Sen. Cory Booker for saying during the Democratic debate that small businesses are suffering under the Trump administration:
"Another lie at the

#

DemDebate! Cory Booker says small businesses are suffering. Meanwhile, small business confidence has hit a RECORD HIGH under

@

realDonaldTrump!"
Reality check: Optimism from small businesses has been up since the new year and has continued to rise according to data by the right-leaning National Federation of Independent Business.
Go deeper