Survey: Millenials, Gen Zers comfort with LGBTQ people dips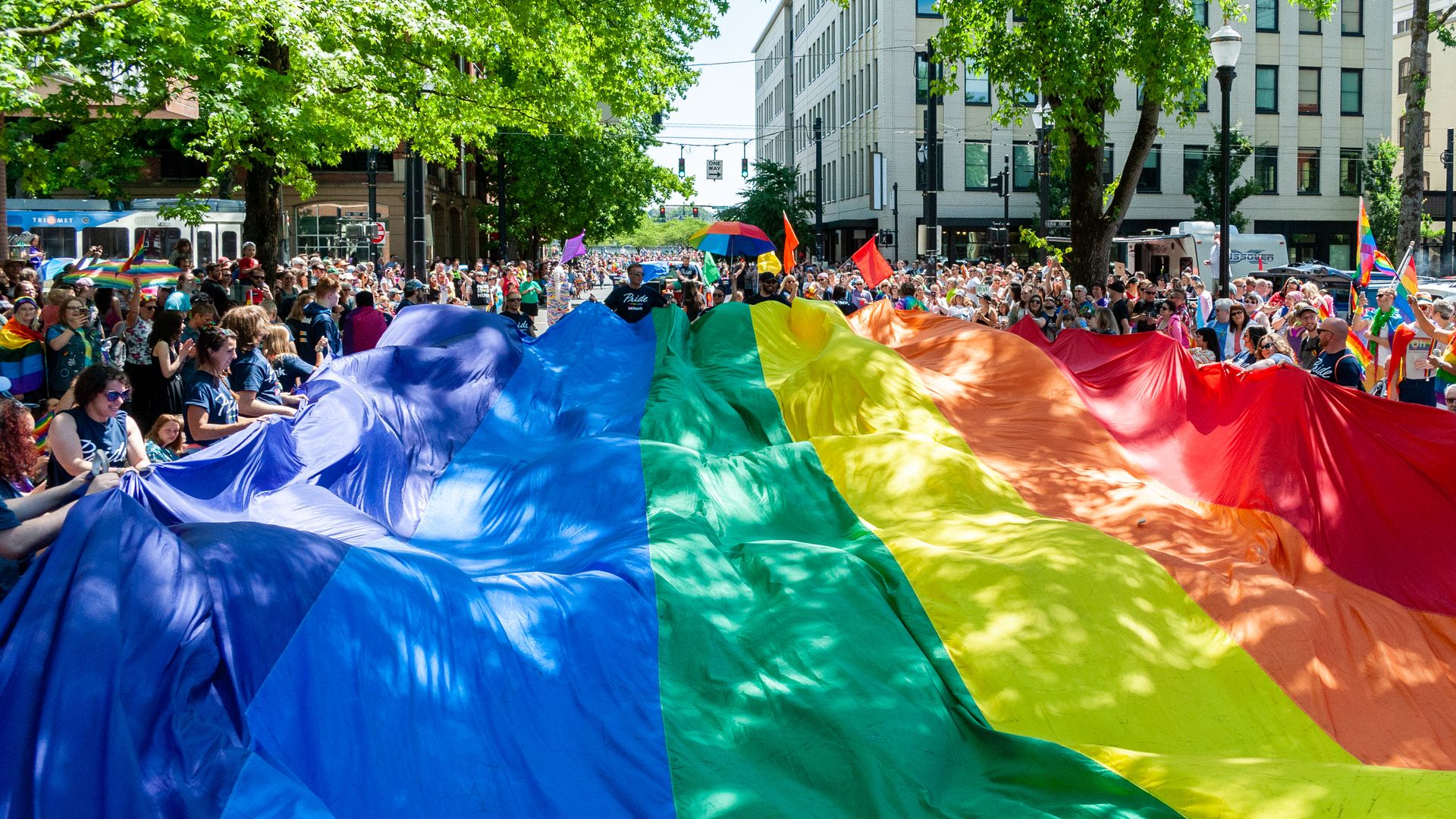 People ages 18–34 — a mix of millennials and Gen Zers — feel less comfortable around LGBTQ people than their older counterparts, new polling from Harris Poll/GLAAD shows.
Why it matters: This age group has shown its lowest level of LGBTQ support since 2015, when GLAAD began its annual "Accelerating Acceptance" survey. GLAAD's findings also contradict the assumption that younger generations — which have grown up with legalized same-sex marriage and better LGBTQ media representation— are more accepting of LGBTQ rights than previous generations.
What they found:
Only 45% of 18- to 34-year-olds are comfortable with LGBTQ people across 7 proposed social situations — a drop from 53% in 2018. This is the second consecutive year that this age group has been less comfortable with LGBTQ people, according to Harris Poll/GLAAD.
18- to 34-year-olds were the only age group to decline in this area in 2019. The most significant decline came from women aged 18–34, for whom comfort levels fell from 64% in 2018 to 52% in 2019.
80% of non-LGBTQ Americans support equal rights for the LGBTQ community, despite "the erosion in comfortability."
The intrigue:
"We typically see in our surveys that younger Americans can be counted on to advocate for issues like gender equality, immigration and climate change. ... So it is surprising to see a notable erosion of acceptance for the LGBTQ community, which counters many of the assumptions we make about their values and beliefs."
— John Gerzema, CEO of Harris Poll
Methodology:
Survey respondents were asked to respond to 7 social situations: Learning a family member is LGBTQ; learning their doctor is LGBTQ; having LGBTQ members at their place of worship; seeing an LGBTQ co-worker's wedding picture; having their child placed in a class with an LGBTQ teacher; seeing a same-sex couple holding hands; and learning their child has a lesson on LGBTQ history in school.
GLAAD's survey was conducted online among a nationally representative sample of U.S. adults (18+), which yielded a sample of 1,970 adults of whom 1,754 were classified as non-LGBTQ adults and used in the analysis. The online survey was administered Jan. 8–11.
Harris Poll, which conducted the survey with GLAAD, told Axios it does not use a margin of error to measure its surveys.
Meanwhile, the Public Religion Research Institute) found that support for LGBT nondiscrimination protections declined slightly among younger Americans in 2018.
Go deeper: Trump targets LGBTQ protections
Go deeper