How automation could make airports more efficient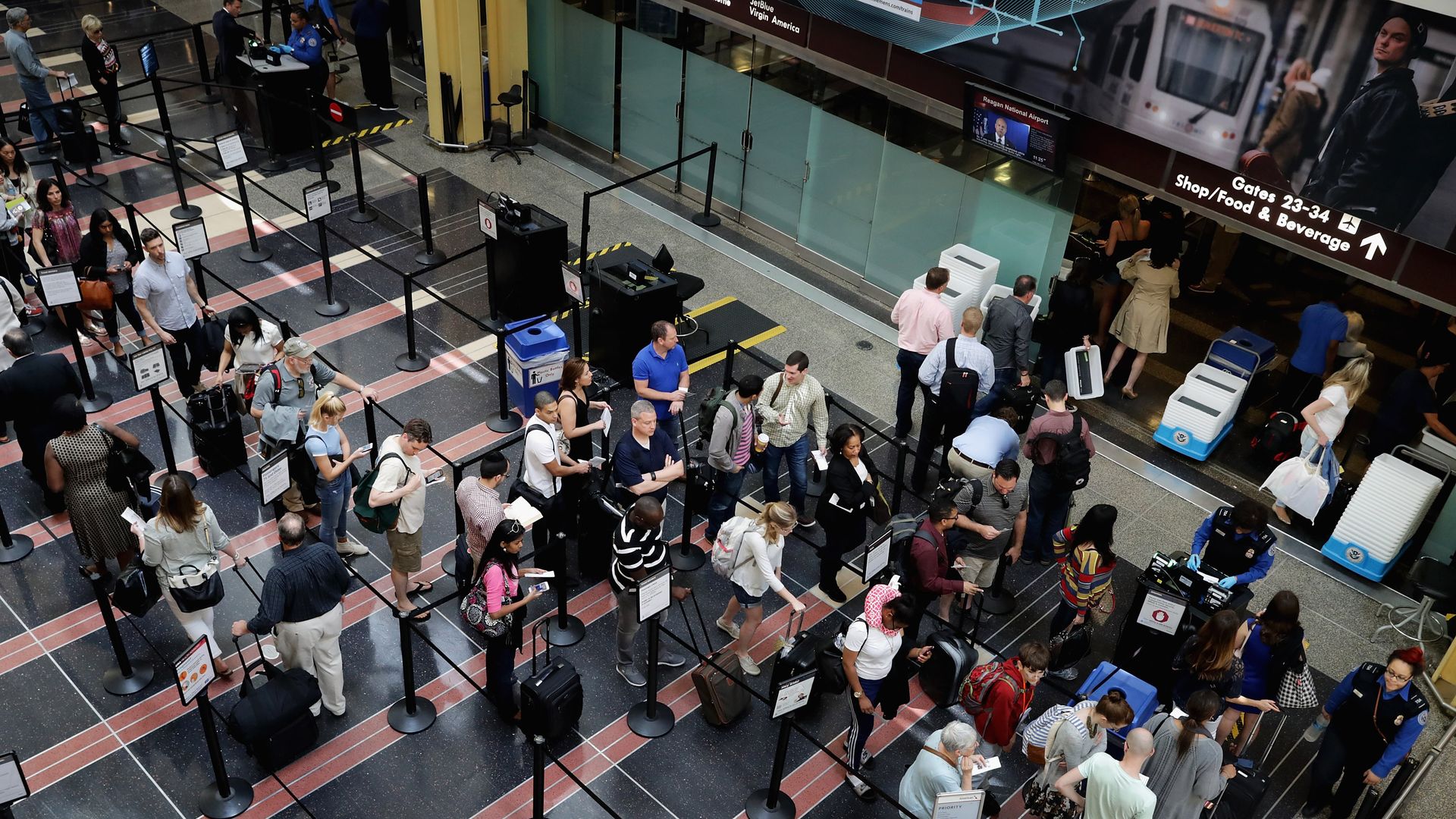 Implementing automation at airport bottlenecks could expedite drop-off, check-in, security, and boarding for flyers and employees.
Why it matters: Between 2016 and 2019, the number of passengers using U.S. airlines has increased by 10.9%. Last year, 1 in 7 travelers in the U.S. missed a flight due to long security lines.
Transportation authorities, airlines, tech companies, and others are experimenting with ways to automate and streamline airport pain points.
Curbside pick-up and drop-off: Ride-hailing services account for 62% of airport transportation for business travel, leading to increased congestion.
Check in: Many airports have self-serve "bag-drop" systems, where passengers interact with airport staff to confirm passenger identity. Delta Airlines is experimenting with automated biometric check-in screens that use facial recognition.
Security: The TSA allocated $71.5 million for adding more than 145 machine learning–based CT scanners into security checkpoints to expedite carry-on baggage inspections.
The further expansion of this technology could automate the detection of firearms, knives, explosives, lithium ion batteries and other prohibited items.
Metro21: Smart Cities Institute at Carnegie Mellon University and the Pittsburgh International Airport developed a model for estimating security wait times and distributing passengers across checkpoints.
Boarding: Since the 1970s, boarding times have more than doubled.
The impact: Automation of these processes could lead to job losses, but could also reduce TSA employee turnover.
The bottom line: Most major airports are projected to experience "Thanksgiving-peak traffic volume" at least once each week this year, and these technologies could potentially help alleviate the worst bottlenecks.
Karen Lightman is executive director of Metro21: Smart Cities Institute at Carnegie Mellon University.
Go deeper