House Judiciary Committee releases transcript of Hope Hicks interview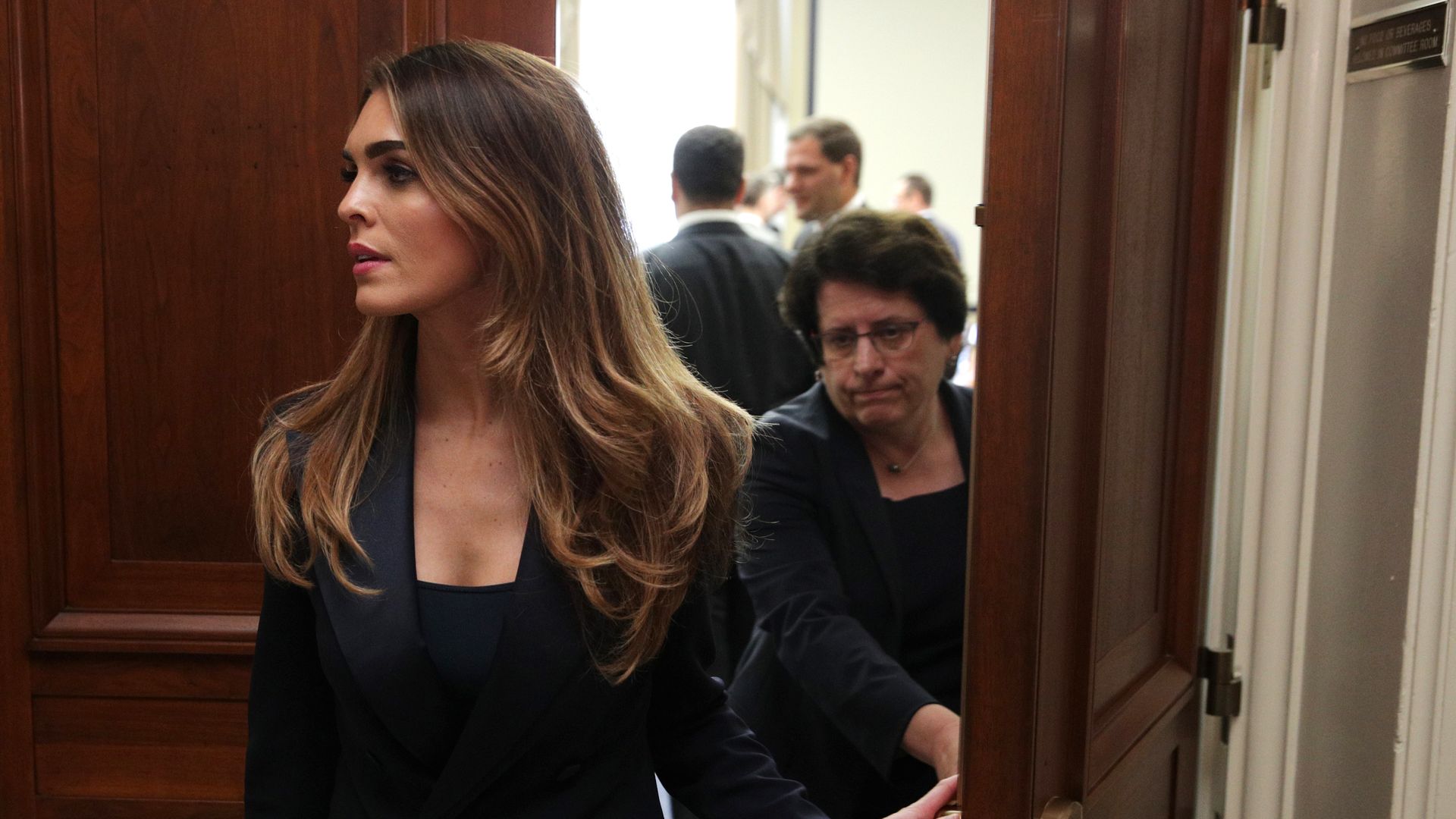 The House Judiciary Committee on Thursday released a transcript of its closed-door interview with former White House communications director Hope Hicks.
Why it matters: Hicks was the first Trump official to testify in the committee's investigation into potential obstruction of justice by the president. She was blocked from answering any questions about her time in the Trump administration or transition team by the White House, which claimed "absolute immunity."
Worth noting: One of the lawyers present for the interview acknowledges on page 11 that the White House is not asserting executive privilege in blocking Hicks' answers, but rather the "longstanding executive branch precedent" of "absolute immunity" from discussing an adviser's work with the president. Chairman Nadler calls the lawyer's argument "absolute nonsense as a matter of law."
Highlights: The committee claims that White House lawyers blocked Hicks from answering questions 155 times during the interview. The lawyers allowed her to answer one question from her time at the White House: the weather on her first day of work.
Hicks confirmed that the Trump campaign welcomed Russian interference and defended the campaign's use of hacked WikiLeaks materials as "publicly available information." However, she added that she would not today accept "foreign oppo information from a foreign government" and that she would report such an offer to the FBI.
Hicks was blocked from answering questions about Trump's potential obstructive conducted outlined in the Mueller report, including the firing of FBI director James Comey, efforts to fire the special counsel, attempts to get Attorney General Jeff Sessions to "unrecuse" himself, the drafting of a misleading statement about the infamous June 2016 Trump Tower meeting, and more.
Hicks said that she has spoken to Trump five to ten times since leaving the White House, with the most recent occasion coming in April over dinner. Lawyers objected to Hicks answering a question about whether she discussed congressional investigations with the president.
What they're saying:
House Judiciary Chair Jerry Nadler (D-N.Y.): "These interruptions are a gimmick designed to interfere with the Committee's investigation. ... The Trump Administration's claim of 'absolute immunity' has no basis in law.  The courts have already decided that 'absolute immunity' is 'entirely unsupported by existing case law' and 'virtually foreclosed' by the Supreme Court."
Ranking Member Doug Collins (R-Ga.): "Eight hours and 273 pages later, we've learned nothing new from a witness who has been cooperating with this committee for months. ... If Chairman Nadler were truly interested in gathering new facts, he would issue a subpoena to Robert Mueller, since no privileges or immunities would apply to his appearance or testimony, and Congress has yet to hear from him."
Read the transcript:
Editor's note: This piece has been updated to reflect a corrected quote issued by House Judiciary Chair Jerry Nadler that absolute immunity is "entirely unsupported by existing case law" (not supported).
Go deeper