David Miliband: We're living in an Age of Impunity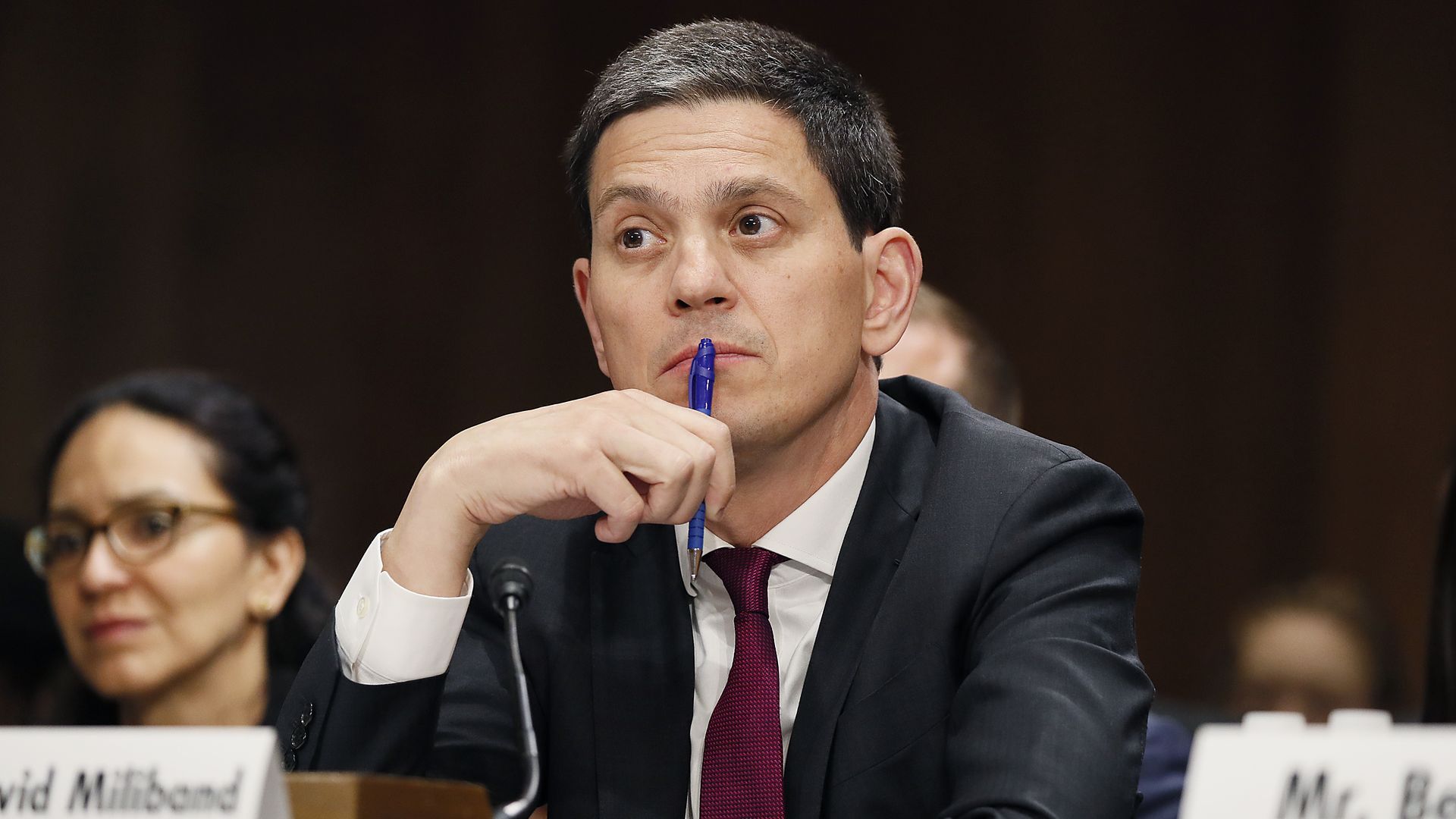 David Miliband, chief executive of the International Rescue Committee and former U.K. foreign secretary, says we've entered an "age of impunity" in which bad actors all over the world "believe they can get away with anything" — and are being proven right.
The big picture: Miliband tells Axios that brutal acts are being carried out in a "vacuum" caused in part by a U.S. retreat from "global responsibility," a "castration" of U.K. foreign policy by Brexit, and widespread disdain for international norms and institutions. In Miliband's view, the "world's most vulnerable" are paying the heaviest price.
Miliband spoke with Axios from Edinburgh before delivering the 2019 Fulbright Lecture.
In his speech, Miliband cites the image of Russia's Vladimir Putin and Saudi Arabia's Mohammed bin Salman high-fiving at last year's G20 summit, weeks after the murder of Jamal Khashoggi, as illustrative of a new global reality.
He writes that Russia and China have been "defending indefensible actions" for years "on the grounds that what a state does within its own borders is its own business." Now, the U.S. has joined them.
When leaders attack civil liberties and the rule of law at home, Miliband argues, the consequences reverberate around the world.
Miliband contends that from the mid-1990s to mid-2000s, the world seemed to be moving toward a future where such values were protected internationally.
But, but, but: "The voters in the West clearly became disillusioned with foreign policy failings, notably in Iraq and Afghanistan," he says. Economically, globalization in that period was "too unequal for its own good and too insecure for its own good, and therefore unsustainable."
Miliband adds that leaders took advantage of the backlash. He points to Brexit (which he opposes) as an example of misleading claims meeting public discontent with explosive results.
Flashback: Miliband plays a central role in alternative histories of the Brexit era. Had he not lost the Labour leadership to his brother Ed, some argue, he could have won the 2015 U.K. general election and disposed of the prospect of a Brexit referendum.
Now, another former foreign secretary is preparing for a move to Downing Street. Asked whether Boris Johnson is likely to reverse the U.K.'s "castration," Miliband says only that Johnson's Foreign Office tenure was "marked by a series of misadventures that partly reflect on the realities of Brexit and partly reflect on him."
As for whether the Labour Party is offering a strong alternative vision of global leadership under Jeremy Corbyn, Miliband said "not good enough."
What to watch: Miliband referred to China as a "swing voter" in the future of multilateral cooperation because Beijing fears instability and favors global collaboration on issues like climate change.
But he conceded that cooperation doesn't extend to human rights because of China's paranoia about criticisms of its internal affairs. "If anyone's going to defend human rights, it's going to have to be the West," he said. "And that's why divisions in the West are so dangerous."
Go deeper