Booker blasts Biden for praising his "civility" with Senate segregationists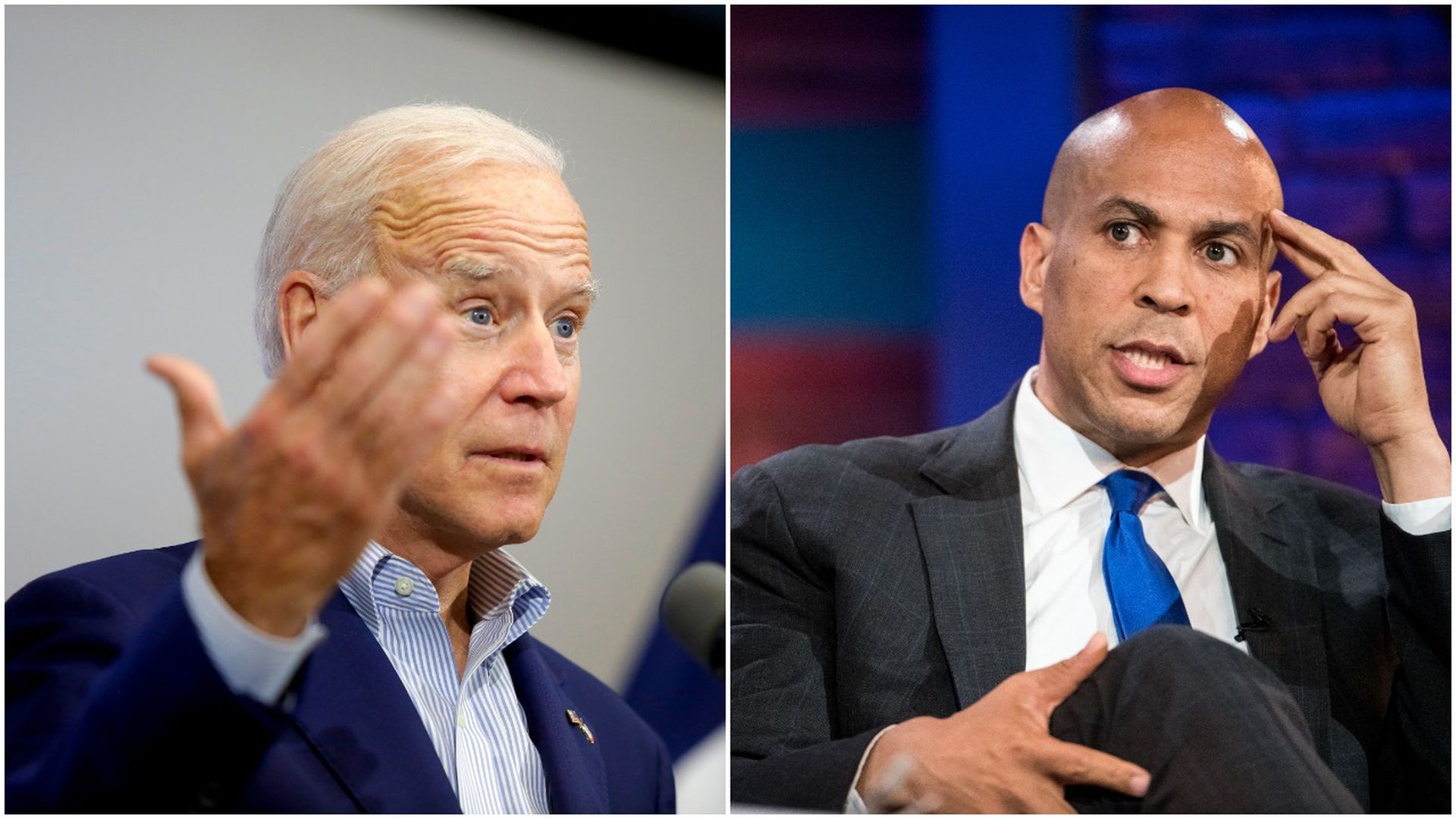 2020 Democratic contender Sen. Cory Booker (N.J.) criticized former Vice President Joe Biden on Wednesday for his statement during a fundraiser this week that there was "some civility" when working with Senate segregationists in the 1970s.
The big picture: Biden also recalled how former Mississippi Sen. James O. Eastland used to call him "son" rather than "boy" — apparently a reference to Biden's youth after his election to the chamber at the age of 29 in 1972 — leading Booker to blast the use of "boy" as language meant to "perpetuate white supremacy and strip black Americans of our very humanity."
Booker issued his statement on Juneteenth, the annual commemoration of slavery ending in the U.S., after testifying at the first House hearing in 12 years on the issue of slavery reparations.
Rep. Jim Clyburn (D-S.C.), the House majority whip and a member of the Congressional Black Caucus, defended the former vice president, saying that "Biden didn't say anything different than what describes his work with Strom Thurmond," per Politico's Jake Sherman.
A thought bubble, from CNN's Rebecca Buck: "It is really unusual for Booker to respond to something another candidate does or says. ... So this is a big deal."
Booker's full statement:
"You don't joke about calling black men 'boys.' Men like James O. Eastland used words like that, and the racist policies that accompanied them, to perpetuate white supremacy and strip black Americans of our very humanity.
Vice President Biden's relationships with proud segregationists are not the model for how we make America a safer and more inclusive place for black people, and for everyone. I have to tell Vice President Biden, as someone I respect, that he is wrong for using his relationships with Eastland and Talmadge as examples of how to bring our country together.
And frankly, I'm disappointed that he hasn't issued an immediate apology for the pain his words are dredging up for many Americans. He should."
The latest: On Thursday evening in an MSNBC interview, Booker said "we should hope for a nominee or for the leader of our party to advance the cause of racial reconciliation and get us to a point where we feel mutually invested in healing a lot of these racial disparities that exist in our country." He described a "constructive" phone call with Biden earlier this week, during which Booker said he "had an opportunity to explain ... how and why African-Americans, men who have been called boy before."
Go deeper: Where the 2020 Democratic candidates stand on reparations
Go deeper