U.S. Navy assists 2 oil tankers in Oman Sea after reports of explosion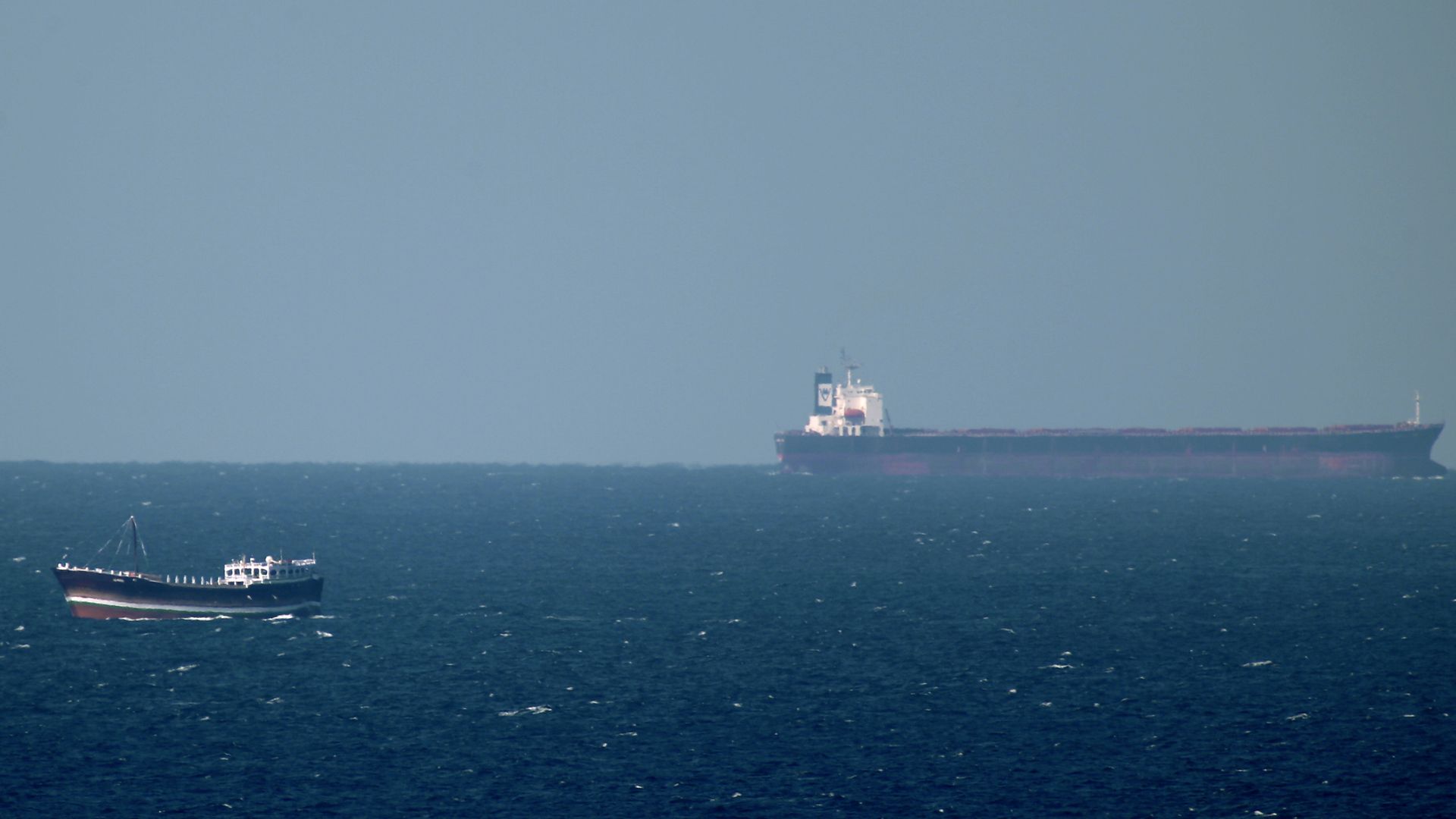 The crews of two oil tankers were evacuated and the U.S. Navy's Bahrain-based 5th Fleet told AP it's assisting after a "reported attack" on the vessels near the strategic Strait of Hormuz in the Gulf of Oman on Thursday.
Details: The Bermuda-based Frontline Ltd. said its vessel Front Altair was on fire, per the Wall Street Journal. BSM Ship Management, which manages the other vessel, Kokuka Courageous, said in a statement that one crewman was "slightly injured" in the incident. International Tanker Management, which manages Front Altair, issued a statement saying it's "urging nations to defuse tension" after the "attacks."
What we know: The 5th Fleet said in a statement on its website it received two separate distress calls at 6:12 a.m. and 7:00 a.m Bahrain time. The U.K. Maritime Trade Operations, operated by the British Navy, issued an alert earlier Thursday saying it was assisting with an unspecified incident in the region.
Japan's Trade Ministry said the oil tankers had "Japan-related cargo" as Prime Minister Shinzo Abe was wrapping up a high-stakes visit in Iran, which sought to ease tensions between Tehran and Washington, according to AP.
Iran's state-run news agency IRNA said its navy had rescued 44 crew members from the tankers "which were hit by explosions."
Oil prices jumped 4% to more than $62 a barrel at one point after the latest incident was reported, according to CNBC.
The big picture: The reported attacks come a month after Saudi Arabia said two of its oil tankers sustained "significant damage" in sabotage attacks off the United Arab Emirates coast. BIMCO Head of Maritime Security Jakob P. Larsen said in the company's statement "the tension in the Strait of Hormuz and the Persian Gulf is now as high as it gets without being an actual armed conflict."
The state of play, per the New York Times: "The attacks escalated tensions in an already tense region, where Iran has long been at odds with Saudi Arabia and the United Arab Emirates, and they are backing opposite sides in the civil war in Yemen. Relations between the United States — allied with the U.A.E. and Saudi Arabia — and Iran have also worsened."
Go deeper: Saudi Arabia: 2 oil tankers damaged in sabotage attacks near UAE
Go deeper