Poll suggests 6 2020 Democrats would beat Trump in head-to-head matchup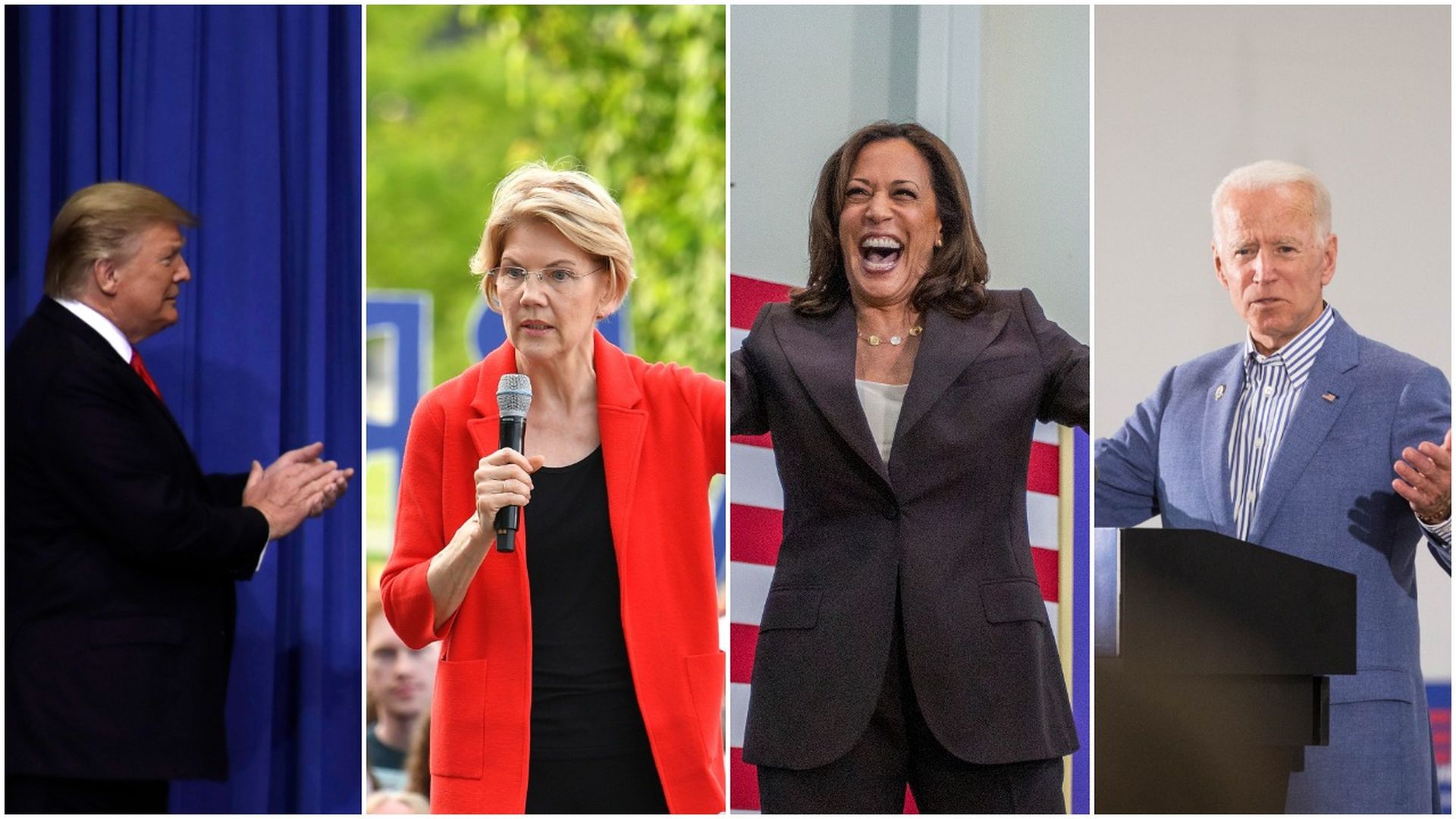 At least 6 Democratic presidential hopefuls would defeat President Trump in a head-to-head matchup if it were held now, according to a new Quinnipiac University national poll that surveyed 1,214 registered voters nationwide.
The bottom line: In descending order, former Vice President Joe Biden, Sen. Bernie Sanders, Sen. Kamala Harris, Sen. Elizabeth Warren, South Bend Mayor Pete Buttigieg and Sen. Cory Booker all polled higher in a direct one-to-one matchup with Trump.
By the numbers: The phone survey, conducted June 6–10, found...
Biden 53%, Trump 40%
Sanders 51%, Trump 42%
Harris 49%, Trump 41%
Warren 49%, Trump 42%
Buttigieg 47%, Trump 42%
Booker 47%, Trump 42%
In the Democratic primary field, meanwhile, Biden still appears to be dominating. However, he has dropped from 38% in Quinnipiac's April poll to 35% in May and 30% in June. Per Quinnipiac, Democrats or those leaning to Democrat would vote for the following (out of the 24 current candidates and 14% selecting DK/NA) ...
Biden: 30% (-5)
Sanders: 19% (+3)
Warren: 15% (+2)
Buttigieg: 8% (+3)
Harris: 7% (-1)
O'Rourke: 3% (+1)
Methodology: From June 6 - 10, Quinnipiac University surveyed 1,214 voters nationwide with a margin of error of +/- 3.5 percentage points, including the design effect. The survey includes 503 Democrats and Democratic leaners with a margin of error of +/- 5.4 percentage points, including the design effect. <br/>
Go deeper